Culture
Marce Norwest remembered by Tribe, veterans as 'highly respected'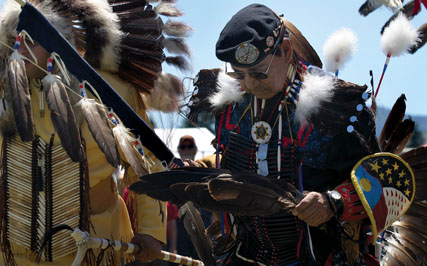 Tribal Elder Marcellus "Marce" Norwest walked on Sunday, May 22, in McMinnville at the age of 82.
Norwest is being honored by fellow veterans and Tribal members for a life of service to the Confederated Tribes of Grand Ronde as the Forest Patrol officer and to the nation as a Korean War veteran.
Norwest was born May 8, 1929, in the Klamath Agency, a tiny town in southern Oregon just northwest of Chiloquin. He lived on a 1,500-acre ranch with his parents until moving to Grand Ronde, where he spent his entire life.
He entered the U.S. Army in the early 1950s and served in the Korean War as a machine gunner with the 532nd Combat Engineers, firing 50-caliber cannons. He also served as a heavy equipment operator in other locations, such as Fort Lewis, Wash., and Camp San Luis Obispo and Fort Ord in California. He also served in Germany as a military policeman and earned eight medals and ribbons during his service.
Upon returning to Grand Ronde, he worked for the Tribe for 18 years, part of that as Forest Patrol officer for the Natural Resources Division.
"They talk about people in the woods needing protection," said Tribal Council Vice Chair Reyn Leno, "but I always thought that Marce was mean enough that he didn't need any protection."
Norwest usually was master of ceremonies at the Tribe's annual Memorial Day ceremonies, but this year the Veterans' Special Event Board asked Leno to do the honors.
"I said, 'You better clear that with Marce,' " said Leno.
Tribal member and longtime Norwest friend Brent Merrill saw Norwest "grow from being feared to being respected" during his years in Grand Ronde.
Norwest was one of the founding members of the Grand Ronde chapter of the Northwest Indian Veterans Association and became a member of the West Valley Veterans Honor Guard.
He also was a driving force for construction of the West Valley Veterans' Memorial located on the Grand Ronde Tribal campus.
"He had the respect of the veterans and the community," Merrill said, "so he often spoke to the Tribal Council when we (West Valley Veterans Memorial Committee) needed something. He always got what we needed." Merrill was the committee's vice president.
Leno remembers Norwest as "a committed, dedicated Tribal member, and a good friend to many. He set the standard for the Veterans Honor Guard. He initiated the Veterans Powwow. He really put us on the map as far as people requesting our Honor Guard."
Norwest served as Forest Patrol officer on Tribal lands after the federal government returned some of the original Grand Ronde Reservation in the late 1980s.
"He did his job very well," said Tribal member and Natural Resources Division Manager Michael Wilson, who supervised Norwest in the years before Norwest retired in 2009.
"He took a great deal of pride in his role," said Wilson. "He was very dedicated to his job."
Norwest was honored by the Tribe and local veterans' groups in January 2009 after he retired to fight pancreatic cancer.
Merrill also remembered Norwest's friendship.
"Marce always looked out for me," said Merrill. "As a young man fresh out of college and working here on the reservation in my first career-type job, he went out of his way to show me respect and kindness. He told me stories about my grandfather (former Tribal Elder Fremond Bean) and of their adventures as running buddies in their younger years."
"All I can say," said Tribal Elder Dakota Whitecloud, "is that I will never forget him."
Speaking of his Forest Patrol work, Whitecloud added, "If anyone knew where the deer and elk hung out, it was Marce, but he told me he would rather go hunting with a camera because they were so beautiful; even though he loved venison and elk meat as much as anyone.
"Marce was probably one of the most highly respected Elders I've ever known and I'm proud to have been his friend."
"I knew him as a businessman, a generous man and a stern man," said Tribal Elder Gene LaBonte, former chairman of the Governor's Task Force on Veterans Affairs and longtime member of the Grand Ronde Honor Guard. "He helped people and families in hard times with good sums of money. As a Forest Patrol officer, he was fearless. He had binoculars and always knew the good vantage points. He took care of (wife) Sharon and she took care of him. He will be missed."
"Two things I can tell you about Marce that impressed me the most," said Jim Willis, director of the Oregon Department of Veterans Affairs. "One, his private dignity. He was a man of few words. And two, his commitment to young people. He was always setting a good example for youth, and had good expectations for them, for their future. He did that very eloquently and well.
"I'm positive there are Tribal members that were positively affected by Marce that we'll never even know about. That was the kind of guy he was. He was just always somebody you could hold up, who you knew would do the right thing. And he did the right thing when nobody was looking. He was not a man looking for recognition."
"The legacy that he created," said Grand Ronde Honor Guard member and Veterans Powwow Chairman Chris Tinney (Lower Eastern Cherokee), "the standards that he had set were still in play when he retired, and we hope they will continue to be in play.
"I always tried to listen to what he had to say," said Tinney. "He didn't have trifle conversations. There was always some life lesson in his words."
Tinney took over leadership of the Veterans Powwow a few years after Norwest retired. That first year, things seemed to have gone well under Tinney's leadership, but then Norwest called him after the event and complimented him on the job.
"That was the only critique I needed to hear," said Tinney.
The Veterans Powwow Committee has renamed the Veterans Powwow in Norwest's honor. Starting this summer, it will be called The Marcellus Norwest Memorial Veterans Powwow.
A funeral service was held for Norwest on Friday, May 27, in the Tribal gymnasium and interment followed in the Grand Ronde Tribal cemetery.
Norwest is survived by his wife of 45 years, Sharon; sisters and Tribal Elders Marcella "Deedee" Selwyn and Marilee Davis Norwest; a half-brother, Duane Wheeler; and seven children. Four children preceded him in death.