Culture
University exhibit featured Tribal member Stephanie Wood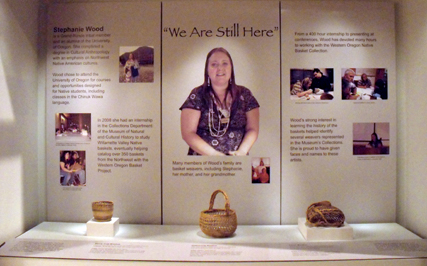 For the last year, an exhibit at the University of Oregon's Museum of Natural and Cultural History titled "We Are Still Here" has featured Tribal member and recent Cultural Resources Department employee Stephanie Wood.
Her piece of the exhibit received the subtitle, "Stephanie Wood on baskets and biography."
The exhibit was part of the museum's Contemporary Native American series that has featured other Native Americans.
The museum is on the university campus near the Many Nations Longhouse.
The 5-by-6-by-3-foot exhibit included Wood in interviews, describing her activities at the university's Native American Student Union, and also the basket project she did as an undergraduate that was reported in Smoke Signals in June 2008.
In the interviews, she also describes reasons why she is studying Grand Ronde Tribal culture and traditions, and "why I think it's important."
It included photographs of her family and a basket made by her great-great-grandmother, former Tribal Elder Hattie Hudson, and passed down through the family.
"My mom loaned it to the museum to be on display with my other stuff," Wood said.
The display also included photos of Wood working with baskets.
Wood's part of the on-going exhibit went on display in June 2010 and comes down on July 1, 2011.
In very concrete ways, the show is leading Wood to the career she has studied for.
"From the exhibit," she said, "I've been asked to do some consulting work and the restoration of a cradle board basket."
Last February, Oregon State University contracted Wood to do a three-day basket making workshop.
In the last month, she did a basket consultation for an Oregon woman whose great-grandfather gave her an 80-year-old basket.
"She wanted me to identify it. It's not a Pacific Northwest or Willamette Valley coastal basket, but it is beautiful," Wood said. "It's more like southern Oregon or California work."
The University of Oregon hired Wood to do a 10-week basket making workshop that just ended.
For this project, she will work with Tribal member Shelby Olson Rogers, who runs the Title VII Indian Education program for the Salem-Keizer schools. Wood will lead an all-day program to teach basket making for Native American Title VII students on July 20.
Also this summer for four weeks, Wood has been contracted by Oregon State to participate in an archeological dig at Fort Yamhill State Park.
Her possibilities have expanded since leaving the Cultural Resources Department last summer to attend graduate school at the University of Oregon. She is now one year completed and 1.5 years to go for her master's degree.
She also was just hired as an archival assistant for the University of Oregon's Tribal Legacies of Oregon project, running from September 2011 to June 2012.
Funded by the National Park Service, the project will require Wood to work with Tribal colleges and other educational systems on an extensive collection of Pacific Northwest Tribal Archives from university libraries for teaching learning and research related to Native American experiences in the area.
"This repository and research center would signal the university's strong commitment to preserving the all-inclusive historical record of the Pacific Northwest and integrating it into the curriculum of both K-12 and higher education," according to the university's description of the position. "The team's primary objective would be to collect, curate and improve the visibility and accessibility of these rich resources."
"Since the exhibit's gone up," Wood said, "I've been real fortunate to have these job opportunities come my way. Not only that, but also the support of the Indian community in Eugene, the support of our Tribe and our Tribal Elders, family and friends. If it wasn't for everyone's support, I wouldn't be here today, getting the master's degree or the job opportunities I have right now."
"This is kind of what I was hoping would happen with her," said Tribal member and Cultural Resources Manager David Lewis. "When she worked here last year, it was obvious she wanted to go back into education. She's always talked about wanting to learn how to weave and study baskets and our Native history. This is really something she feels drawn to.
"This also makes her more valuable to the Tribe," Lewis added, "because later on, and even now, we can draw on her knowledge."