Tribal Government & News
Tribe, BPA staff meet to discuss consultation process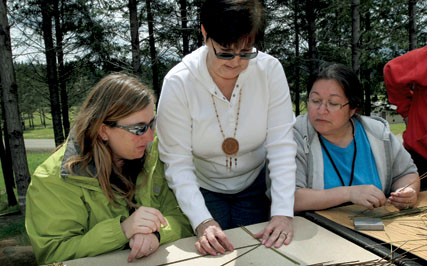 In a series of events and lectures held Tuesday and Wednesday, May 17-18, in Grand Ronde, Tribal leaders and staff members described the workings of the Confederated Tribes of Grand Ronde to employees from the Bonneville Power Administration.
Bonneville Power is the federal energy agency tasked with bringing electricity to the Northwest and mitigating the side effects unleashed on traditional Indian lands, waters and habitat by dams.
Under the title "People Working Together," the program stressed the cooperative role the Tribe plays in statewide and national politics regarding Grand Ronde's longstanding interests. It fostered the cooperative role that Bonneville Power can play in the process.
"It's important, when dealing with state and federal agencies, to know that we won't always be mitigating problems," said Tribal Environmental Resources Specialist Brandy Humphreys, who organized the program. "By getting involved at the beginning, the Tribe can help prevent problems from happening in the first place."
Bonneville Power, like Oregon state agencies, has a responsibility to consult with Tribes. The two-day session held with some 25 Bonneville employees was all about describing "the best way to consult with the Grand Ronde Tribe," said Humphreys.
"We've learned to work with people," Tribal Council member Jack Giffen Jr. told the group. "A line of communication is just vital to move forward."
"All through Restoration," said Tribal Elder and longtime Tribal Chairwoman Kathryn Harrison, "it was consultation, consultation, consultation."
"This is the most information I've had about the Tribe since I came to Oregon six years ago," said Shelley Fenton, a Bonneville Power Realty specialist.
"So many agencies don't even know that we're here," said Humphreys.
Presentations included summaries of Tribal history, culture, law and Tribal resource management with plenty of time for questions, field trips and introductory classes on flint knapping and basketry.
Tribal Public Affairs Director Siobhan Taylor described the fate of the many Tribes and bands under the Western Oregon Indian Termination Act. Thrown together to form a single Grand Ronde Tribe, the Tribal experience serves as an example of what it would be like for Bonneville Power staff members, for example, to have their own ethnic, religious or racial affiliation denied to them.
At the same time, Taylor said on the upside of these difficulties, "Colors, shapes, ethnicities - those are the things that make us who we are. Those differences are what make our country strong, and adding the Native American element makes us all stronger together."
"We also have many strong women in leadership positions," Taylor said.
In short, she said, "Grand Ronde is a resource for you."
Bonneville Power employees participated in breakout sessions where they learned either the art of flint knapping, led by Tribal member and Cultural Resources Protection Coordinator Eirik Thorsgard, or basket weaving, led by Tribal Elder Connie Graves with help from Tribal Elders Julie Duncan, Gladys Hobbs, Marion Mercier, Claudia Leno and Laura Gleason.
Tribal member Greg Archuleta led the group on a walk through Cowboy Camp, which is between the Adult Education Building and the Elders' Activity Center, to talk about local plant resources.
The group also took a field trip to Chankal, a culturally important site south of Salem.
Lectures by Ceded Lands Program Manager Michael Karnosh and Thorsgard provided an engaged audience with information differentiating reservation lands from ceded lands from "usual and accustomed" places.
Through a brief Tribal history, Karnosh reminded the audience, "All Tribes are different culturally and organizationally."
Karnosh also described the many different treaties Tribal forebears signed. Some were recognized by Congress, but more were not. Still, important law has emerged from judicial decisions all the way up to the 1974 Boldt Decision at the Supreme Court.
The doctrine of "reserved rights," for example, defines a group of rights that have come about because they were "not expressly given up" in the treaties.
Those have come to include hunting, fishing, gathering and other cultural practices.
"Do you have an heirloom in your family that you pass down through the generations?" Harrison asked the group. "That's what hunting and fishing rights are to us. They're our heirloom."
Bonneville Power employees had a lot of practical questions. Monica Stafflund, the agency's Keizer Realty specialist, wanted to know who to contact as she goes about her work.
"I recommend three letters," said Thorsgard. "One to Tribal Council, one to Cultural Resources and one to Natural Resources." Sent all at once, the letters will allow Tribal staff to get right on the job while keeping Tribal Council informed in case policy questions arise.
"There are so many people and levels of Tribal government that need to be consulted," said Fenton. "It's coming together now. I understand, and I want to do it right."
Jim Burgess, manager of the Bonneville Power's Geospatial Group, wanted to know about subsurface mineral rights.
"I like the energy I'm seeing here," Burgess said.
Calling himself, "a kindred spirit" who grew up as "a mountain man," he noted, "At Bonneville, we support and do everything possible to work with the Tribes."
For Karnosh, "The thing I hope this type of meeting will accomplish will be (successful) wildlife mitigation that BPA has embarked on for the hydro projects in the Willamette Basin."
Under a 2010 agreement with the state of Oregon, Bonneville Power promised to mitigate some 26,000 acres; 1,700 acres remain.
The mitigation of this acreage is "making up for habitat lost in the 1950s and '60s," Karnosh said. "And there's a lot of opportunity."
Although Bonneville Power regulations require 25-foot vertical clearance under and around high voltage transmission wires, they open the door to low-growing vegetation like camas and wapato bulbs.
"We have good goals in common," said Burgess.
"It's all a growing process," said Thorsgard.
"We've been kind of learning about ourselves as well," said Bonneville Power Tribal Account Executive Corrina Ann Ikakoula (Navajo).
"Value added," said Karnosh.
In addition to the people mentioned above, Humphreys said Ceded Lands staff would like to acknowledge Tribal Council member Steve Bobb Sr., the Elders Committee, Kristy DeLoe and her Food Service crew, Tribal Canoe Family, David Harrelson and Bobby Mercier from Cultural Resources and all of the Natural Resources staff who contributed to the success of this event, particularly Angella McCallister.