Tribal Government & News
General Council briefed on Tribal lands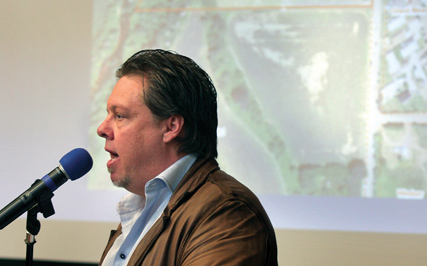 The history of the Confederated Tribes can be told through the land.
Before the 1850s, the Tribes "owned" most of western Oregon.
Then Tribal members were forced on to a 69,100-acre reservation given to them by presidential order.
By the time the Tribe was Terminated in 1954, land holdings had dwindled to only the Tribal cemetery - about five acres.
"All we had was the Tribal cemetery," Tribal member and Tribal Lands Manager Jan Michael Reibach said at the April 3 General Council meeting held near Washington Square Mall in Tigard. "It was the only land they couldn't sell."
In 1988, five years after Restoration, the federal government returned 9,811 acres of the original reservation to the Tribe and the Tribe has been slowly purchasing former reservation land since then.
Currently, the Tribe has added more than 2,700 acres of land to its real estate portfolio.
"Now, we're coming back," Reibach said as he discussed two recent purchases in the Grand Ronde area.
In February, the Tribe closed on purchasing the Rink properties, a combined 139 acres that Reibach called a "very strategic purchase" because it connects Tribal lands together in Grand Ronde.
In addition, the Rink properties provide the Tribe with income since a tenant is renting a house on one tax lot and the Tribe can license hay harvesting on about 100 acres to the northeast of Grand Meadows.
Reibach said the Tribe, through its longstanding effort to buy property at fair market value, purchased the Rink properties for less than $5,000 per acre, which was almost $1 million less than the original asking price.
And more recently, the Tribe purchased almost two acres immediately north of the Tribal cemetery in March for $50,001, $1 more than the starting auction bid price.
"That was a good deal," Reibach said, especially because of the property's proximity to the Tribal cemetery.
Reibach, who has worked in Tribal Realty for almost 15 years, said the Tribe continues to take a conservative approach in purchasing property and is looking at purchases that can aid economic diversification.
He stressed that good land acquisitions do not happen overnight, often requiring many, many hours of staff and Tribal Council member time to ensure wise investment of Tribal dollars.
Reibach said that the Tribal Lands Department is currently overseeing 49 projects, as well as working on creating an online Tribal lands database and developing a real estate investment criteria, among other projects.
Most of the department's functions relate to property management and federal realty. "We work very closely with Tribal Staff Attorney Jennifer Biesack. Her expertise in real estate deserves credit for the success of the Tribe's realty projects," he said.
Tribal member and Commercial Real Estate Manager Ann Lewis briefed the Tribal membership on the Tribe's commercial real estate holdings.
She said the 62,000-square-foot Cherry City Center in south Salem continues to be a "really profitable" investment for the Tribe.
The Tribe owns a new 20,000-square-foot Portland office off Barbur Boulevard on slightly more than 1 acre. Lewis said the Tribe purchased the building and land for much less than it was appraised at and will soon be marketing the second floor space for potential tenants.
She said the Tribe's stake in Chemawa Station in Keizer is being re-assessed for it highest and best use. Chemawa Station is a joint effort with the Confederated Tribes of Siletz.
And Lewis said the Tribe recently sold its interest in Russellville Commons, a 283-unit apartment complex in Portland. She said the Tribe received more than three times its initial 1998 investment in return.
Lewis added that she is working on a real estate investment criteria to ensure that future investments "best fulfill the needs of the Tribe," particularly in respect to economic diversification.
Tribal member Eric Bernando asked if Tribal Lands staff were investigating purchase of property for a permanent Eugene-area office.
Lewis said she is looking at properties in the area, but is awaiting a needs assessment from new Eugene office Coordinator Perri McDaniel, as well as completion and adoption of the real estate investment criteria.
Bernando also asked if the Tribe will be purchasing the land on which Spirit Mountain is located.
Reibach said the Tribe looks at local land that is offered at fair market value, but there are no current discussions occurring between the Tribe and Hampton Lumber regarding Spirit Mountain.
Tribal member Bryan Mercier asked how much money the Tribe allocates annually to land acquisition.
"There are no limits," Reibach said, adding that if a good property at a fair price comes on the market that Tribal Council agrees to buy, Finance helps find the money to make the purchase.
"Now is an optimal time to be buying property with prices at an all-time low," Mercier said as he encouraged Tribal Council to fund land acquisitions more.
McDaniel and Debi Bernando, both Tribal members, also encouraged the Tribe to investigate whether recently purchased Tribal lands can be used to support Tribal self-sufficiency more than just leasing the land to grow hay.
Bernando suggested investigating the growing of hazelnuts on the properties while McDaniel supported the purchase of and building of green buildings.
Before Reibach's presentation, Tribal Royalty members Amelia Mooney, Amaryssa Mooney, Madison Aaron and Makenzie Aaron performed "The Lord's Prayer."
Tribal members also sang "Happy Birthday" to Tribal Chairwoman Cheryle A. Kennedy, who turned 63.
The next General Council meeting will be held at 10 a.m. Sunday, May 1, in the Tribal Community Center. It will be followed by a Community Input meeting at 1 p.m. in the Tribal gymnasium to accept Tribal member comment on Tribal services and economic development.
Tribal Elders Kathryn Harrison and Richard Ray and Tribal Royalty member Amelia Mooney won the $50 door prizes and Tribal Royalty member Amaryssa Mooney won the $100 door prize.