Culture
Tribal members address Clackamas County Historical Society about Willamette Falls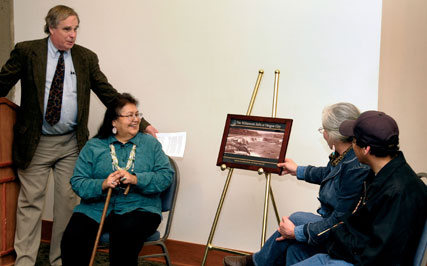 From the third floor ballroom overlooking Willamette Falls, Tribal Chairwoman Cheryle A. Kennedy described to a full house the way her family used to harvest lamprey down below.
They used to row to the falls, she said, and then "just grab them and throw them in a sack."
Her sister, Tribal member CeCe Kneeland, remembered her brothers wielding sticks with hooks at the end, leaning way over rocks to get to the lamprey down below, hooking them and tossing them up for the sisters to catch and stuff into the sacks.
"You had to be careful," said Kennedy, "or they would sink their teeth into you."
The March 24 program was the first in a series of lectures sponsored by the Clackamas County Historical Society highlighting six themes of the Willamette Falls Heritage Area Coalition's effort to bring national status to the area.
In this "Tribal Culture" lecture, Kennedy was joined by Kneeland and their cousin, Greg Archuleta, also a Tribal member, to tell Native stories from the area, to describe Native efforts to right environmental destruction in the area and to note the loss of access to traditional foods, medicines and practices that helped Native peoples thrive here for thousands of years.
"Each of us has a path," Kennedy said, "and it's not all predestined. Listening to your inner voices, sometimes called intuition, leads you down paths that you never expected."
She said it was important "to always be mindful, and not just of the tangible things," and to "call on the Creator."
And she talked about the many lessons her grandmother, former Tribal Elder Pauline Johnson, taught her.
"Today, we don't listen enough," she said.
Archuleta told some of the old stories using Kalapuya words as they were traditionally used.
"Stories connect us to the river," he said. "Today, it's quite a challenge to access traditional resources." And even finding them, he added, "We don't know if they are safe to eat."
Kneeland described the importance of ancestors in her life. "If you don't know where you came from," she said, "how can you know where you're going?"
"I loved hearing the true stories of the people," said Susan Hansen, who lives on a farm south of Molalla. "My grandparents were to me what theirs mean to them. They also had a connection to the land."
"Fascinating," said Irene Coppa of nearby Estacada. "It was interesting to hear how they caught eels and processed them."
"I was glad to hear of their environmental concerns," said Nan Hage of Oregon City, a former assistant director of the John Inskeep Environmental Learning Center.
"I'm just so appreciative that folks like our speakers tonight are willing to share like this," said Sue Heublein of Molalla. "I've always heard stories of when the Europeans pushed westward. The took what they needed from the Indians, but didn't want to give anything back. Here we are all these years later, and maybe we're going to get it right this time."
Archuleta described Tribal protocols when other Tribes came to the area for the lamprey.
"They would bring gifts when they arrived," he said. "When they would leave, we would give them gifts."
To end the program, Society President Wade Byers presented the speakers with a historic photograph of Willamette Falls by local photographer Ralph Eddy.
Referring to Archuleta's comments on Native protocol, he said, "We're quick learners."