Tribal Government & News
Community Fund tops $95 million mark in giving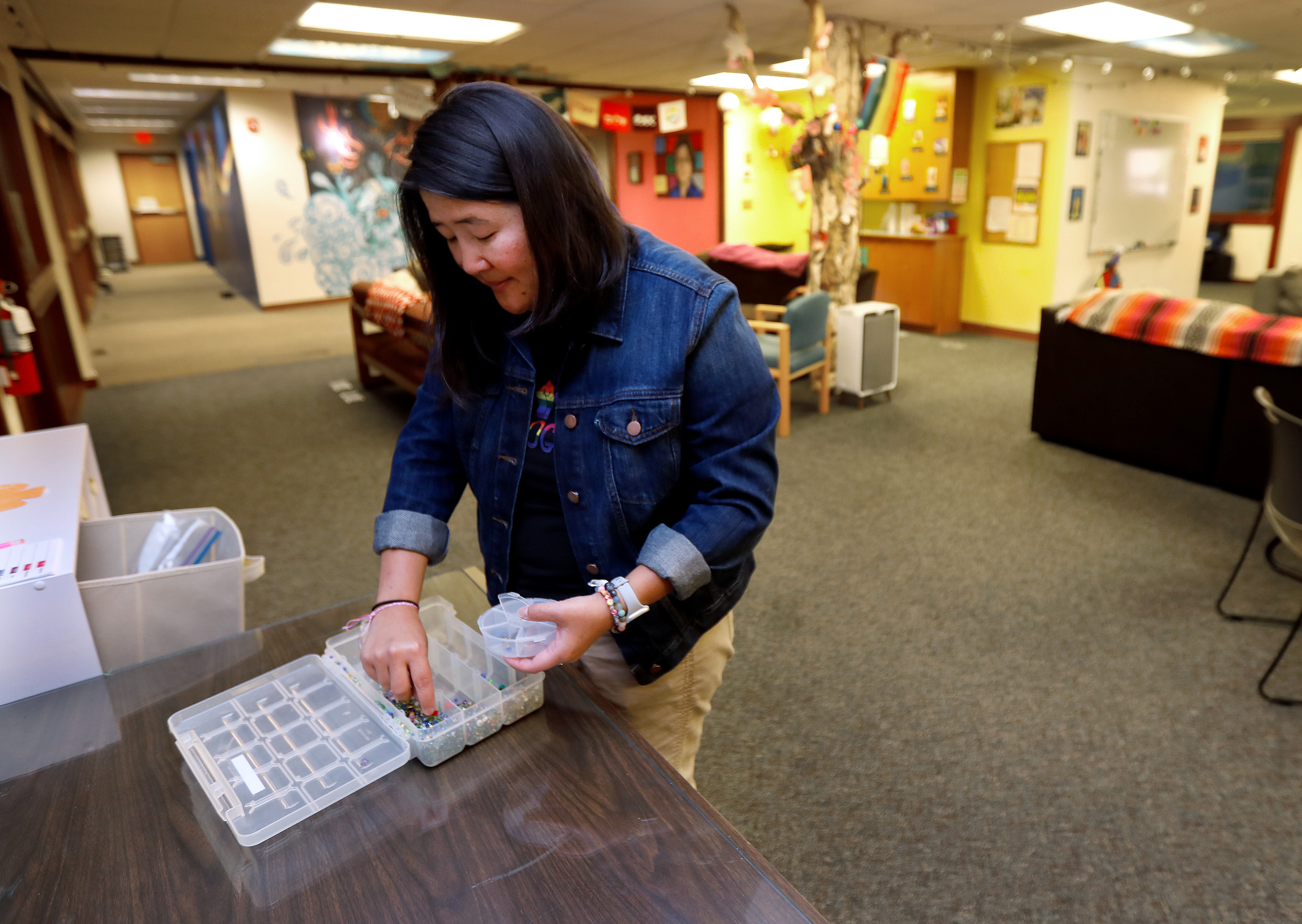 By Danielle Harrison
Smoke Signals editor
Spirit Mountain Community Fund awarded almost $1.5 million in grants on Wednesday, Sept. 13, during its second in-person check presentation in more than three years held in the Governance Center Atrium.
The Community Fund receives 6 percent of proceeds from Spirit Mountain Casino and awards that money to nonprofits in 11 northwest Oregon counties to fund efforts in the areas of arts and culture, environmental preservation, education, health, historic preservation and public safety, and to the nine federally recognized Tribes in Oregon under the fund's Tribal Grants program.
As of the third quarter of 2023, the Grand Ronde Tribe's philanthropic giving now exceeds $95 million.
The Community Fund was created as part of the Tribe's gaming compact with the state of Oregon. It is supervised by an eight-member Board of Trustees that includes Tribal Council members Denise Harvey, Brenda Tuomi and Michael Cherry, who is also a former Community Fund director.
Tribal Council members who attended the check presentation included Chairwoman Cheryle A. Kennedy, Vice Chair Chris Mercier and Tuomi, Cherry, Kathleen George, Jon A. George and newly elected Matthew Haller.
Eugene-based Ophelia's Place is one of the Community Fund's beneficiaries, receiving a $50,000 grant on Wednesday for its partnerships with Albany schools to promote positive female youth development.
Ophelia's Place was founded as a nonprofit in 2005 by biologist and community advocate Rosaria Haugland, who believed that prevention-based services dedicated to helping girls ages 10 to 18 make healthy life choices through empowerment, education and support were essential. She and her family remain involved with the organization in various ways.
The organization has three locations – Eugene, Junction City and Albany – where it provides after-school drop-in services, social-emotional learning activities, therapy, parent education and referrals.
The $50,000 grant from the Community Fund will go toward increased access to behavioral health resources for girls and teenagers at the Albany location through site-based and school-based resources.
These services will include individual therapy, therapy groups, empowerment groups, classroom presentations for all youth, and after and non-school day activities and workshops. Services are offered on a sliding scale or free of charge, including at local school districts.
"We believe that cost should never be a barrier to any girl who wants to come here," Executive Director Laura Sanchez said. "That goes for our school district partnerships, too."
The organization opened its Albany location in 2022.
"There is a real unmet need for youth services there," Sanchez said. "My primary goal is to reach the kids who are the hardest to reach and we're looking at ways to make our programs more equitable in general."
Since most of the organization's funding comes through donations and grants, being a $50,000 beneficiary of the Community Fund is extremely helpful to achieving their mission, Sanchez said.
"I want to give a huge thank you to them for supporting our work," she said. "We can't do of it without funders like these. Specifically in Albany, we're still trying to get our foot in the door and let the community know who we are, so this grant is really important. … There's a big benefit for the girls knowing there is a space just for them, and coming to a space that is open and welcoming. The hope is that all who come here feel hopeful, validated and safe."
Check presentation
Community Fund Director Angie Sears welcomed the approximately 50 attendees to the event. 
The check presentation opened with a prayer and flute song from Tribal Council member Jon A. George.
Tribal Council member Kathleen George, who is a former director of Spirit Mountain Community Fund, said that the Community Fund continues the Native tradition of potlatch of sharing the bounty.
"These quarterly check presentations are such a joy to us, celebrating you and your work," George said. "The work that you do in your communities is what Spirit Mountain Community Fund is all about. … These quarterly get-togethers are some of our absolutely favorite days."
Sears introduced Community Fund employees: Program Coordinator Angela Schlappie, Administrative Assistant Pamala Warren-Chase and Grants Coordinator Jesse Knight. 
The approximately 50 attendees then watched a video on the history of the Tribe. After the video, representatives from three organizations – Neurotherapeutic Pediatric Therapies, Transformation by Salem Angels and Vision to Learn – gave brief descriptions about what their organization seeks to do in the community.
Neurotherapeutic Pediatric Therapies works with children with development disabilities through a nature-based program while Transformation by Salem Angels supports the foster family community in Marion and Polk counties by recruiting mentors to help provide foster youth with more normalcy and stability in their lives.
Vision to Learn National Director Damian Carroll said his organization will use its $75,000 Community Fund grant to outfit its 51st mobile vision clinic that will visit schools and provide free eye exams, vision care and glasses to youth in need.
After the three presentations, Knight and Schlappie announced the grant recipients.
During the check distribution portion, the Community Fund awarded 10 small grants worth $65,000, 15 large grants worth $707,000 and seven Tribal grants worth $700,000.
Additionally, $25,000 in annual Youth Grantmaking grants were awarded at a check presentation in August by the Community Fund's summer youth interns. The organizations selected were Hearts with a Mission of Newport, CASA-Voices for Children of Benton & Lincoln Counties, A Family for Every Child of Eugene, Center Against Rape and Domestic Violence of Corvallis and Willamette Riverkeeper of Oregon City.
Small grant recipients were:
Admire Teachers of Portland, $6,000, for resources for Title 1 students and staff;
Bloomin' Boutique of Oregon City, $7,500, for clothing and supplies for children from low-income families in distress;
Center for Community Counseling of Eugene, $7,500, for child abuse prevention;
Connecting from the Heart of Lane County, $3,000, for its Surviving and Thriving in Times of Darkness program;
Kindred Matters of Salem, $4,000, for the Lane County KINnect program;
Multicultural Integrated Kidney Education Program of Portland, $7,000, for creating opportunities for underserved youth through health education;
Neskowin Valley School, $7,500, for its Tech for Teachers program;
Network Charter School of Eugene, $7,500, its outdoor credit recovery adventure program;
Solid Strides of Eugene, $7,500, for equine facilities learning training;
Unlock the Arts of Portland, $7,500, for its writing kinship program.
Large grant recipients were:
AC Portland, $35,000, for its STEM to Engage and Empower Girls for Success program;
Adelante Mujeres of Forest Grove, $50,000, for ensuring school readiness in Latino children;
CASA for Children of Multnomah County, $50,000, for more CASAs for children in foster care;
Family Justice Center of Washington County, $25,000, for family support services;
Hearts With a Mission of Lincoln County, $50,000, for its safe families for children program;
Neurotherapeutic Pediatric Therapies Inc. of Canby, $50,000, for its nature-based therapy expansion project for children and families;
Open School Inc. of Portland, $50,000, for its workforce and life skills program;
Ophelia's Place of Eugene, $50,000, for its Albany partnership program to promote positive female youth development;
Oregon Mind Body Institute of Eugene, $10,000, for a mindfulness-based mental health video series;
Oregon Native American Chamber of Portland, $50,000, for its clean energy and green construction program;
Reality Kitchen Nonprofit of Eugene, $30,000, for its Indigenous home cooking project;
Vincent de Paul Society of Lane County Inc., $100,000, for its Green Lane trauma-informed services of veterans with mental illness project;
Transformations by Salem Angels, $20,000, for mentorship for youth in foster care;
Vision to Learn of Multnomah County, $75,000, for vision care access for Multnomah Education Service District students;
Yakona Learning Center of Newport, $62,000, for its Creating Connections program.
Tribal grant recipients were:
Burns-Paiute Tribe, $100,000, for its economic development building;
Confederated Tribes of Coos, Lower Umpqua & Siuslaw, $100,000, for its Native Language Enhancement Program;
Confederated Tribes of Siletz, $100,000, for operationalizing Ghii Dee-Ne Dvn, A Place for the People;
Confederated Tribes of Grand Ronde, $100,000, for its nature playground project;
Coquille Indian Tribe, $100,000, for a behavioral health suite remodel at its Ko-Wel Wellness Center;
Confederated Tribes of Warm Springs, $100,000, for the renewal of its museum's HVAC system and support for 2024 Camp Naimuma;
Klamath Tribes, $100,000, for its public safety headquarters infrastructure project.
Three beaded necklaces made by the Community Fund's summer youth interns were raffled off to Hearts With a Mission, Network Charter School and Unlock the Arts. An Ikanum saddle blanket designed by Travis Stewart went to Multicultural Integrated Kidney Education Program.
Cherry gave closing remarks after the grant awardees were announced.
 "This is one of my favorite presentations to do," Cherry said. "And I want to thank you all for your gift of time and gift of service."
During the past 26 years, the Community Fund has awarded 3,259 grants totaling more than $95.9 million.
 Includes information by Publications Coordinator Dean Rhodes.