Health & Education
Grand Ronde Education Summit draws record attendance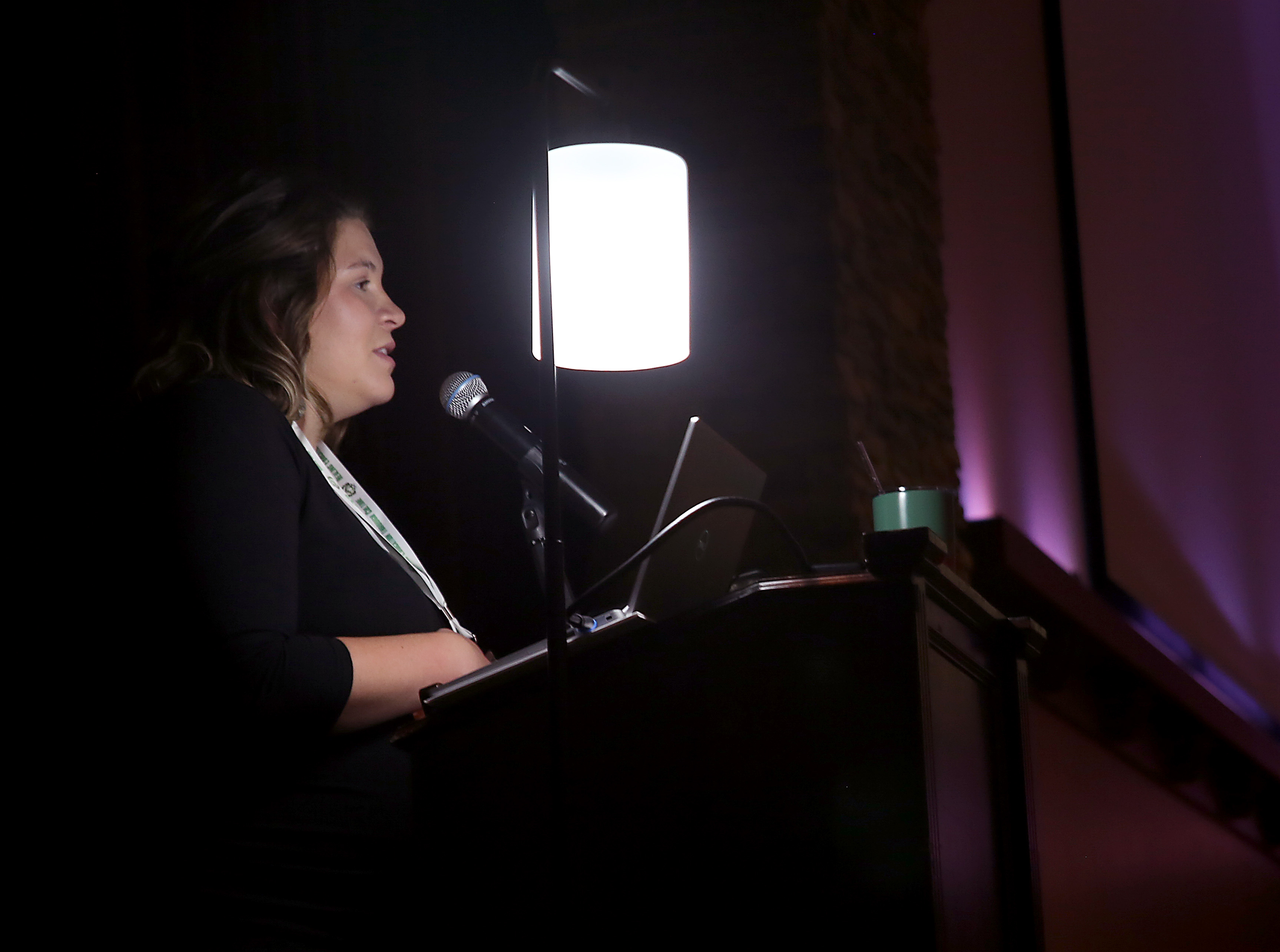 By Dean Rhodes &
Katherine Warren-Steffensmier
Smoke Signals staff members
The Grand Ronde Education Summit returned to Spirit Mountain Casino's Events Center on Friday, Aug. 25, and saw record attendance with more than 250 educators registered to attend.
The summit, now in its seventh year, seeks to educate educators about the history of the Confederated Tribes of Grand Ronde.
The summit opened with an invocation delivered by Tribal Council member Brenda Tuomi and welcome from Tribal Council Secretary Michael Langley following a welcome announcement from Curriculum Specialist Cheyanne Heidt.
"Education and continuous learning is something that my grandfather preached the importance of and I feel it in the very marrow of my bones," Langley said. "… I can't help but look at this program in front of many of you today and look at the results of the investments we have made in education as a Tribe. Look at those biographies. I am so proud of our youth who have chosen to embrace the value of an education. It is a living testament to the many sacrifices that it took to get to this moment."
Cultural Resources Department Manager David Harrelson and Heidt gave a crash course on Tribal history in western Oregon, telling attendees that Tribal oral histories date back to recount the Missoula floods that occurred between 13,000 and 18,000 years ago.
Curriculum and Professional Development Program Manager Justine Flynn and Shawash Academic Teacher Adam Langley then discussed reinforcing Native identities in school environments.
Langley discussed being one of only two Native American students while attending Rainier High School in Rainier, Oregon, and being disconnected from his Native American heritage for most of his youth while Flynn talked about attending Willamina High School, where there were more Indigenous students and she was closer to Grand Ronde.
"Look at the students in your school and allow your school to reflect those students," Flynn said. "If you have a high population of Indigenous students, those students want to see themselves in the school that they're attending. They want to see language, they want to see your investment in learning yourself who they are as people. That also includes genuine conversations with your local community. Genuine connections and genuine attempts to connect."
Grand Ronde Tribal member and Eugene-area middle school teacher Tyla LaGoy delivered the keynote address, talking about how teachers can instill a love for learning in their students.
After the opening introductions, educators were offered four groups of breakout sessions with one being offered in the morning and three in the afternoon.
Morning sessions included Heidt giving an overview about implementing the Tribe's sixth- through 12-grade curriculums and Education Department Manager Angela Fasana discussing best practices for developing a collaborative relationship with the Grand Ronde Tribe.
Fasana told the 80-plus seminar attendees about the Tribe's Education Department and the various services it provides, noting that there are approximately 100 employees serving more than 100 students.
She also discussed the Tribe and its desire to share its history and people with the community.
"One of the ways that the information is getting out there is our curriculum implementation that's on our education website," she said. "We currently have a memorandum of understanding with Willamina, Salem-Keizer and Scappoose (school districts) and (are) finalizing contracts with Sheridan and Beaverton."
She said that the MOU renewal process is done every five years with a yearly check-in.
"Part of the contract is to have releases for data gathering as well as notification of events that can be important for either side to attend," she said. "Each district can be different for what is required and asked of them due to the location and needs of the area." 
Fasana added that she and others are in the process of developing an assessment as to how the curriculum is being shared and how it's being implemented, and will be conducting site visits.
After a lunch that featured a roasted pork loin buffet, attendees chose from breakout sessions ranging from how to visit Chachalu Tribal Museum & Cultural Center, to ways to infuse Native American culture in the classroom, to how to use cultural artifacts in the classroom in an appropriate manner.
Scheduled presenters included Cultural Education Specialist Cristina Lara, Chinuk Immersion K-5 Teacher Ali Holsclaw, Language Preservation Specialist Zoey Holsclaw, Cultural Protection Specialist Chris Bailey, Cultural Education Coordinator Jordan Mercier, Chinuk Wawa Language Immersion Program teachers Jeff Mercier and Halona Butler, Native Plant Nursery Supervisor Jeremy Ojua, and Chachalu Cultural Center employees Crystal Starr Fullerton and Stephanie Craig.
Two of the educators who attended included Cynthia McGean, a second-third grade teacher with the North Clackamas School District, and Susan Parrish, who is a writer for Clark College in Vancouver, Wash.
Parrish said she was attending the summit because Clark College hosts an annual powwow and she wanted to learn how to appropriately write about Native American culture in the Pacific Northwest.
Carrie Zimbrick, superintendent of the nearby Willamina School District, said in 2022 that the annual Education Summit helps the district's teachers incorporate more Native American culture and history into their lessons and classrooms.
Zimbrick said that since the Education Summit started in 2017, the Willamina School District has created a Native American first foods garden and almost all of the signage at the district has been translated into Chinuk Wawa and English.
The Willamina School District has approximately 40 percent Native American students, with most of those students either being members or descendants of the Grand Ronde Tribe.
Senate Bill 13, passed by the Oregon Legislature in 2017, requires the Oregon Department of Education to develop curriculum relating to the Native American experience in Oregon. This includes Tribal history, sovereignty, culture, treaty rights, government, socioeconomic experiences and current events.
In addition to Langley and Tuomi, Tribal Council member Michael Cherry attended the Education Summit's morning session.
The summit wrapped up around 4 p.m. with a question-and-answer session and closing remarks from Heidt.