Culture
Public memorial for Kathryn Harrison slated for Sunday, June 4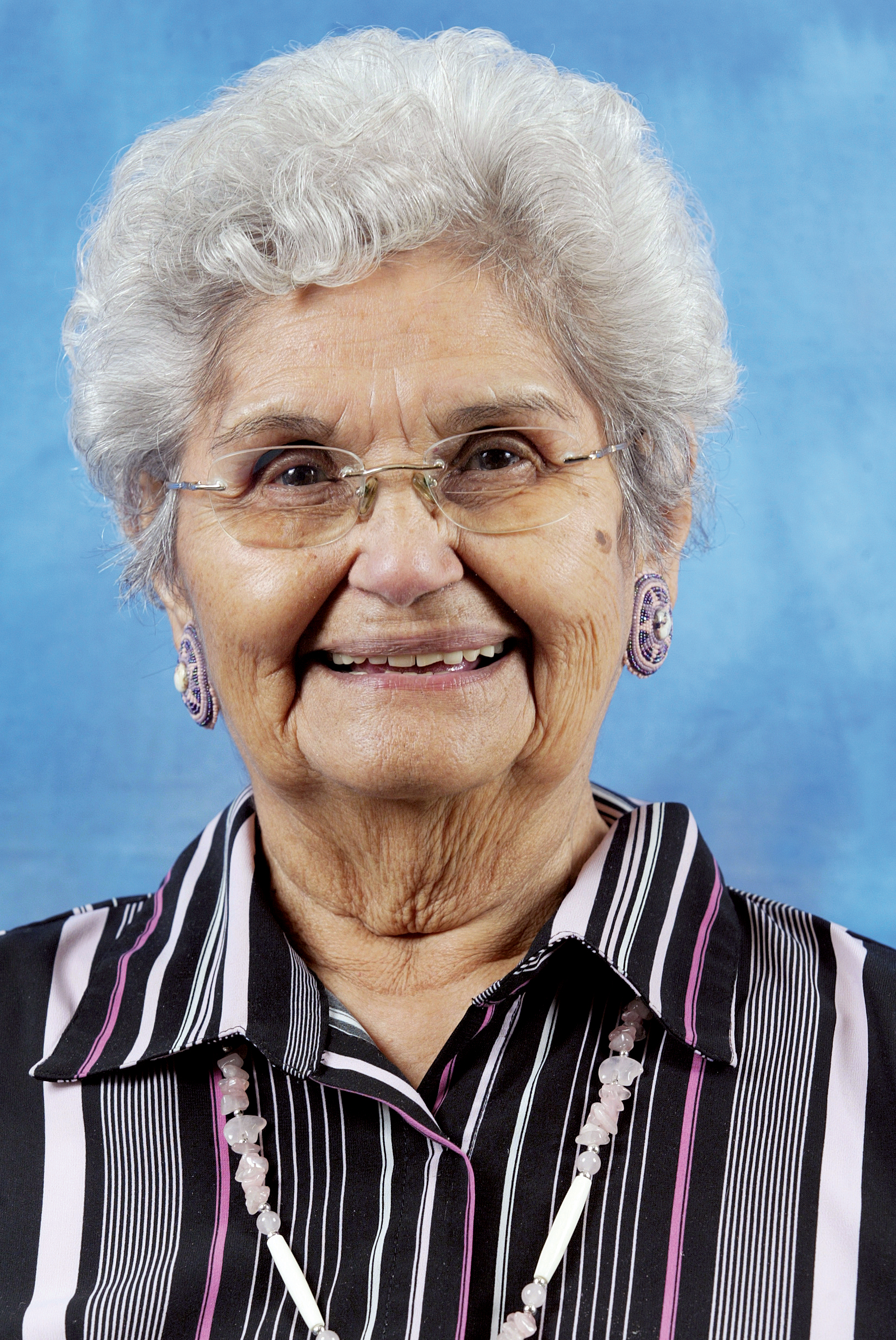 By Dean Rhodes
Smoke Signals editor
Grand Ronde Tribal matriarch Kathryn Jones Harrison walked on Sunday, May 21, at the age of 99.
Harrison was a key participant in the Grand Ronde Tribe's early 1980s Restoration efforts and was one of five Tribal members who testified before the U.S. House of Representatives on Oct. 18, 1983, in support of restoring the Tribe to federal recognition. The Tribe's federal recognition had been Terminated 29 years earlier in 1954.
After the Tribe was restored on Nov. 22, 1983, she continued serving her people on Tribal Council from 1984 to 2001. During her time on Tribal Council, she served as secretary, vice chair and six years as Tribal chairwoman. She never lost a Tribal Council election and was the first woman elected Tribal chair.
During her time on Tribal Council, she helped guide the Tribe into gaming through the signing of a compact with Oregon Gov. Barbara Roberts in July 1993. She also suggested the Tribe start endowment funds to benefit education, health care, economic development, and social and cultural programs. Those funds continue to be an important economic resource to this day for the Tribe.
Harrison was born Kathryn Mae Jones on March 28, 1924, in Corvallis to Harry William Jones and Ella Flemming. Her father was Molalla and her mother Eyak from Alaska. Her grandparents were George A. Flemming Sr. and Elena Kal'Tane and Billy Jones and Philomene Nellie Jones. Her name honored her great-great-aunt, Molalla Kate.
Her parents walked on when she was 10 years old from a flu epidemic and she was raised in an abusive foster care environment. She eventually graduated from Chemawa Indian School in Salem in 1942.
She married Frank Harrison and had 10 children before enrolling at Lane Community College in Eugene. In the mid-1970s, she became the first Native American graduate of the college's nursing program and worked at Sacred Heart Hospital in Eugene and then Lincoln City Hospital. She then went to work as an alcohol rehabilitation counselor for the Confederated Tribes of Siletz on the Oregon coast.
She returned to Grand Ronde in 1980 with Restoration experience under her belt, having helped the Siletz Tribe secure federal recognition in 1977.
By 1982, Harrison was a lead community organizer for the Grand Ronde Restoration effort, mustering support for federal recognition and convincing opposition groups of the justice of Restoration.
In October 1983, Harrison, Marvin Kimsey, Jackie Colton and two of Harrison's children – Frank and Karen – traveled to Washington, D.C.
"It has taken a lot of hard work, depressing and discouraging at times, but there's always been the feeling that, as extensions of our ancestors, this Restoration effort is the carrying out of their vision – and so we could always reach back to their strength and wisdom," she testified before Congress. "We are not only looking at strengthening our culture, we are also interested in working for economic betterment, and so by helping ourselves, we are helping the total community."
Because of her service to her Tribe and Indian Country, Harrison received many honors in her lifetime.
Upon her retirement from Tribal Council in 2001, 400 people attended an event at Spirit Mountain Casino to honor Harrison. Attendees included former Gov. Kate Brown, who was a state senator at the time, and former Gov. Vic Atiyeh.
Her name was inscribed on the Wall of Honor at the National Museum of the American Indian at the Smithsonian in Washington, D.C., 2001.
She also received the prestigious Tom McCall Award, created to recognize outstanding contributions from individuals who mirror the spirit and service shown by the former Oregon governor, in 2001.
"What Kathryn has done for Grand Ronde, Native Americans and the people of Oregon has been a guiding light for us all," said then-Stop Oregon Litter and Vandalism Executive Director Jack McGowan in November 2001. "Kathryn Harrison manifests the best we can be as people and as Oregonians."
She was the first Native American recipient of the Oregon History Maker honor in 2012 given out by the Oregon Historical Society. She also received the Betty Roberts Women in Leadership Award from Emerge Oregon, a Portland-based training program for Democratic women that same year.
Harrison received honorary degrees from Portland State University in 2003, the University of Portland in 2013 and Willamette University in Salem in 2014.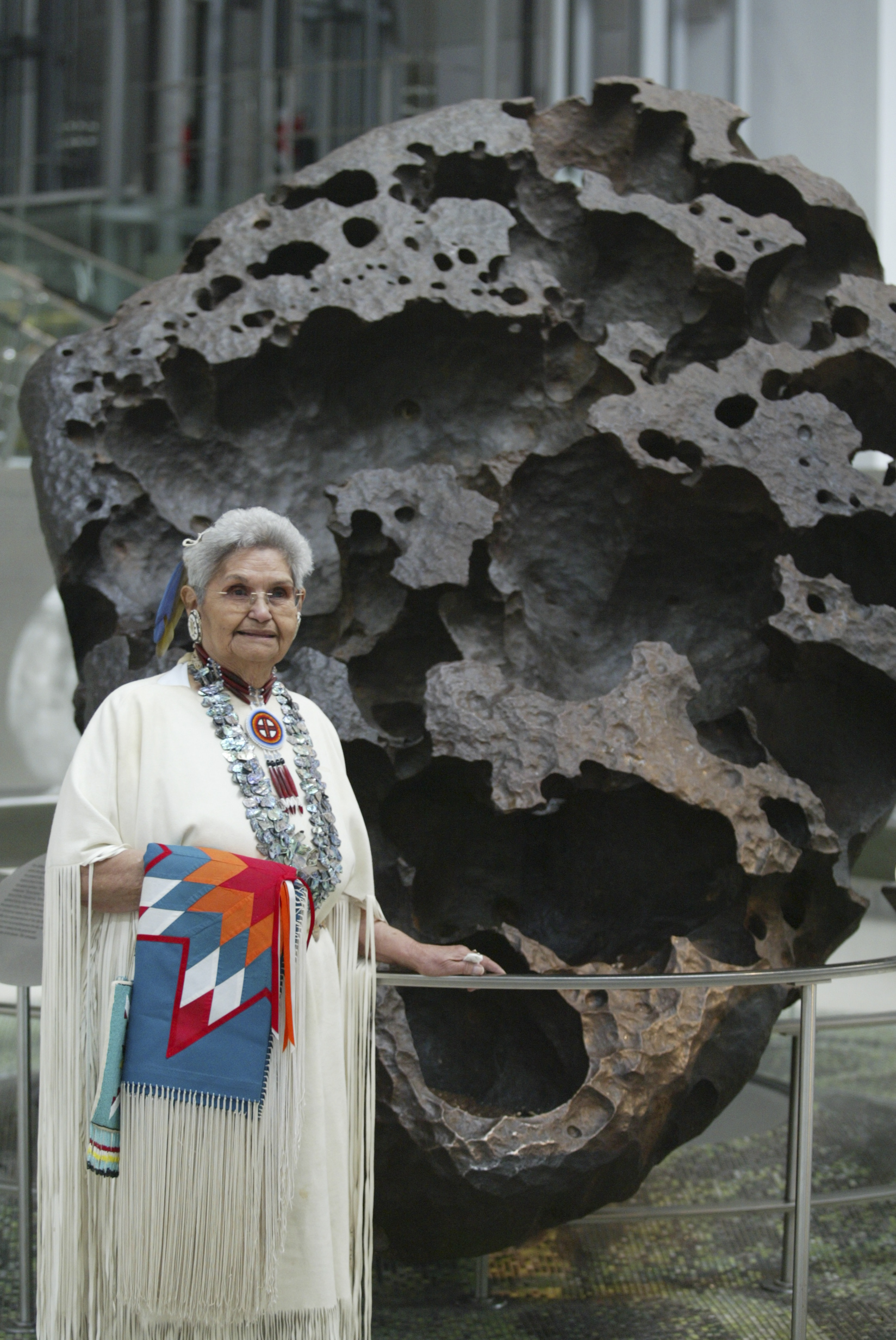 Kathryn Harrison visited Tomanowos at the American Museum of Natural History in New York City in 2010. (Smoke Signals file photo)
She became the first Native American to serve on the Board of Directors of the American Museum of Natural History in New York City in 2018. During Harrison's tenure as Tribal Council chair, the Tribe and museum reached an agreement in 2000 regarding Tomanowos, or the Willamette Valley meteorite. The agreement settled a claim to Tomanowos filed by the Tribe under the Native American Graves Protection and Repatriation Act.
Most recently, the Corvallis School District renamed one of its elementary schools after Harrison in May 2022.
"We haven't reached our potential yet, and we probably never will in my time and I hope that is true," Harrison said about the Grand Ronde people in 2001. "I think for our children we are leaving the right tools for them to follow and to use."
During an interview for the Tribe's 25th Restoration celebration held in 2008, Harrison said, "We are living out the dreams of our Elders and our ancestors."
In her latter years while confined to a wheelchair, Harrison remained a revered fixture at Tribal events, attending Spirit Mountain Community Fund check presentations, an occasional Tribal Council or General Council meeting and many cultural events. Her most recent public appearances were attending Bruce Thomas' retirement party held at Spirit Mountain Casino on May 4 and the Wellness Canoe Naming Ceremony held Saturday, May 20, at the achaf-hammi plankhouse.
She resided at the Adult Foster Care lodges in Grand Ronde.
Harrison had 10 children: Frank Harrison, Tom Harrison, Ray Harrison, Roger Harrison, David Harrison, Patsy Pullin, Jeanette Harrison, Kathy Coley, Diane Harrison and Karen Askins. She is survived by numerous relatives.
At the time of her passing, Harrison was the oldest Tribal member at the age of 99. That distinction now passes to Lorene Belle Smith, who is 98.
Funeral services are being arranged by West Valley Funeral Home in Sheridan. A public memorial service will be held at 10 a.m. Sunday, June 4, at Spirit Mountain Casino with a meal being served at 1 p.m. The service also will be streamed at www.grandronde.org.
The Tribal government shut down for the day on Monday, May 22, after the news was announced.
"The Tribe lost one of its great leaders over the weekend with the passing of former Tribal Chairwoman Kathryn Harrison," Interim General Manager Chris Leno said in an all-employee e-mail, adding that Tribal governmental offices would close to honor her life and memory.
"Words cannot express the magnitude of sadness and loss that we're expressing with the passing of our beloved Tribal Elder Kathryn Harrison," the Tribe posted on its governmental Facebook page. "She dedicated her life to the service of others and contributed a great deal to Indian County and the Confederated Tribes of Grand Ronde. May we honor her, and her legacy, as we carry what she started into the future."
On Tuesday, May 23, Congressman Earl Blumenauer released a statement regarding Harrison's passing.
"It was an honor to have worked with, and learned from Kathryn Harrison," Blumenauer said. "She was a source of wisdom and dignity whenever she attended one of our Tribal roundtables. She imparted a special value, her dignity, insight and great respect. Her words carried special significance because of her history, leadership and accomplishments. I count myself lucky that our paths crossed many times. She was a powerful symbol of determination – helping secure justice for her people and providing inspiration for Native Americans across the country."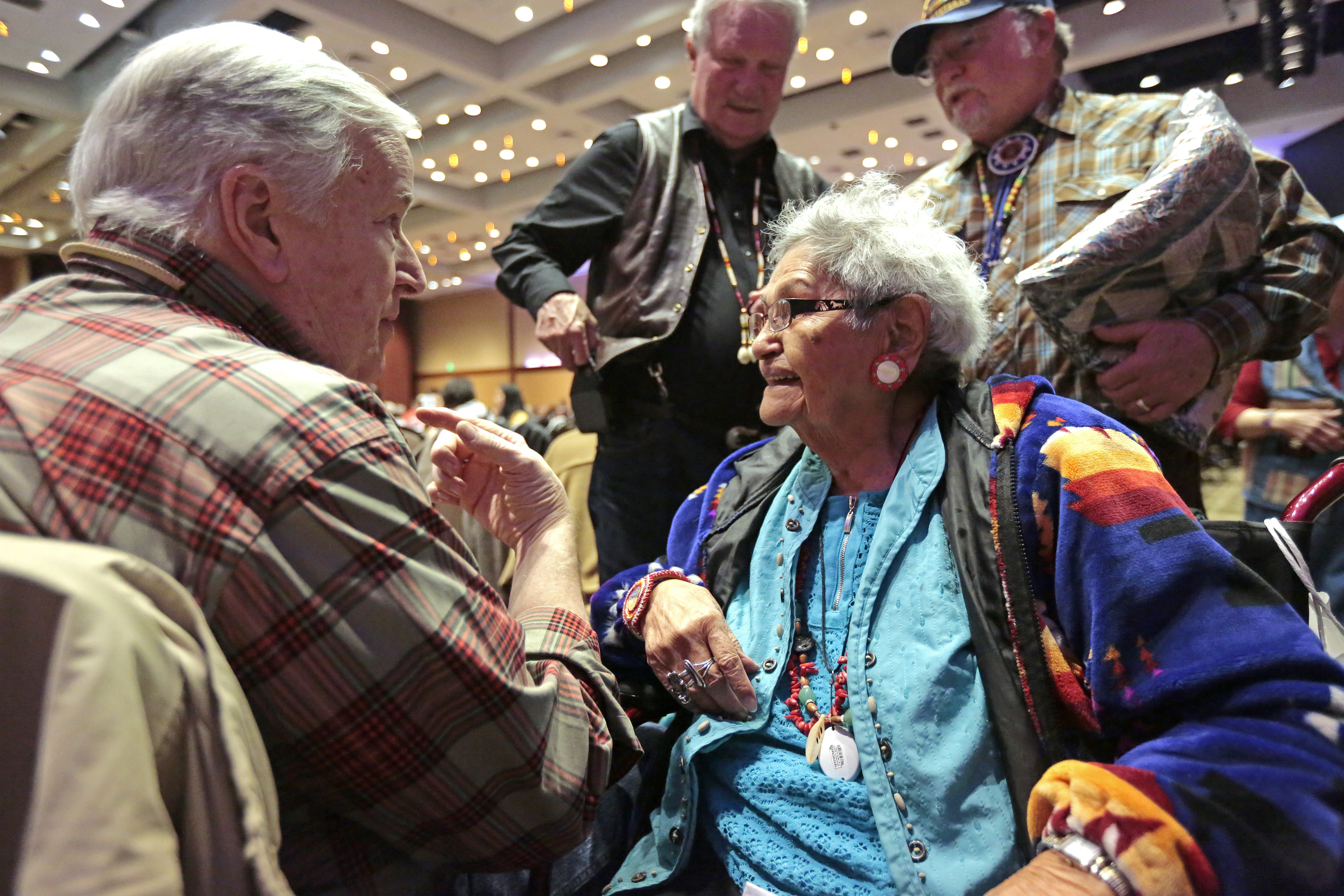 Kathryn Harrison speaks with former Oregon U.S. Rep. Les AuCoin during the Tribe's 35th Restoration Celebration held at Spirit Mountain Casino in November 2018. AuCoin introduced the Grand Ronde Restoration Act in the House of Representatives in 1983, paving the way for eventual Restoration of the Grand Ronde Tribe. (Smoke Signals file photo)
Former Oregon U.S. Rep. Les AuCoin, who introduced the Grand Ronde Restoration Act in the House of Representatives in 1983, said he and his wife, Sue, were saddened to hear the news of Harrison's passing.
"Her groundbreaking life has inspired legions of open-hearted people throughout Oregon and the country," AuCoin said in an e-mail. "I have lost one of my most faithful friends. Kathryn and I journeyed many miles together to make the world a kinder and fairer place for all, not just for some. Her joy lit up the lives of all who knew her. Born into humble beginnings, she inspired countless souls with her unforgettable example of compassion, benevolence and goodwill.
"I met Kathryn long before the Grand Ronde people were restored as a federally recognized Tribe, before the creation of the Tribal Reservation and gaming compact. When she told me about the Trail of Tears the Grand Ronde people endured during their forced relocation and subsequent betrayal by the U.S. government, her eyes told me her ancestors were speaking to me. Now Kathryn is reunited with her forebears. To have walked at her side is an honor I cherish."