Tribal Government & News
Tribe rehires David Fullerton as new Community Transitions Program manager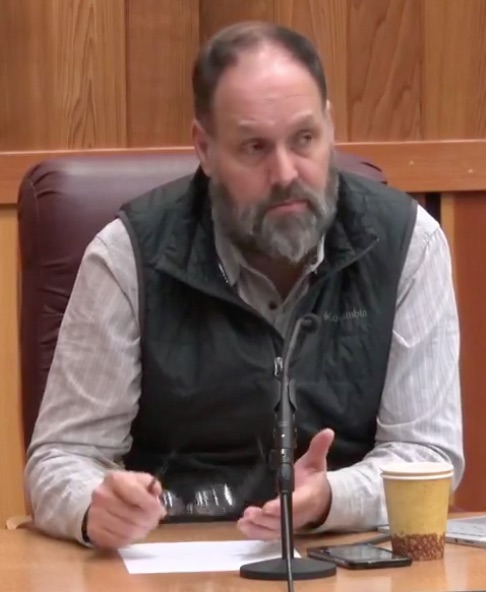 By Dean Rhodes
Smoke Signals editor
Former General Manager David Fullerton, who was relieved of his duties on Jan. 13, did not stay unemployed for long.
Less than four months later, Fullerton has been hired as the new Community Transitions Program manager for the Health & Wellness Department, according to an all-employee e-mail distributed on Tuesday, May 9.
Fullerton's new duties will be ensuring the community transition properties are developed and ready for occupancy. He also is accountable for establishing program policies and procedures for the transitional housing sites supported by Health & Wellness.
No official reason for Fullerton's termination as general manager was given since personnel matters are considered confidential.
The general manager, who is a direct report to the nine-member Tribal Council, exercises direct authority over most Tribal departments in carrying out day-to-day operations of the Tribal government.
Tribal Council Chairwoman Cheryle A. Kennedy said during the Jan. 25 Tribal Council meeting that the decision to dismiss Fullerton was not unanimous. Following his termination as general manager, Fullerton received support from community members who signed a petition and spoke at Tribal Council meetings.
An online petition calling for Tribal Council to reconsider Fullerton's "without cause" termination was posted at ipetitions.com and more than 330 people e-signed it. Former Tribal Council member Tonya Gleason-Shepek presented the petition to Tribal Council during its Jan. 25 meeting.
Fullerton became interim general manager in 2015 and officially became general manager in January 2016.
During his tenure as general manager, Fullerton guided the Tribe through the COVID-19 pandemic, which broke in March 2020. An emergency declaration approved by Tribal Council put him in charge of the Tribe's response to the pandemic. The emergency declaration is still in effect.
Fullerton started working for the Grand Ronde Tribe in June 2001 as an Indian Child Welfare caseworker. He managed the Social Services Department from December 2001 through late August 2015 when he was tapped to serve as interim general manager.
Before joining the Grand Ronde Tribe, Fullerton was the Social Services director for the Quinault Indian Nation in Washington state. He also worked as a probation officer for the Lake County Youth Court in Poulson, Mont., and as a sociology instructor for Stone Child Tribal College on the Rocky Boy Indian Reservation in Montana.
Fullerton earned a bachelor's degree in sociology from the University of Montana in Missoula, where he minored in both Native American studies and criminology. He also has a master's in business administration from Western Governors University, an online college located in Millcreek, Utah. He graduated from Jesuit High School in Portland, Ore.
Finance Officer Chris Leno has assumed the general manager duties until a new person is hired. He has previously served in the general manager position and stated he does not want to return to the position permanently.