Culture
Cultural Resources staff serve as Archaeology Conference hosts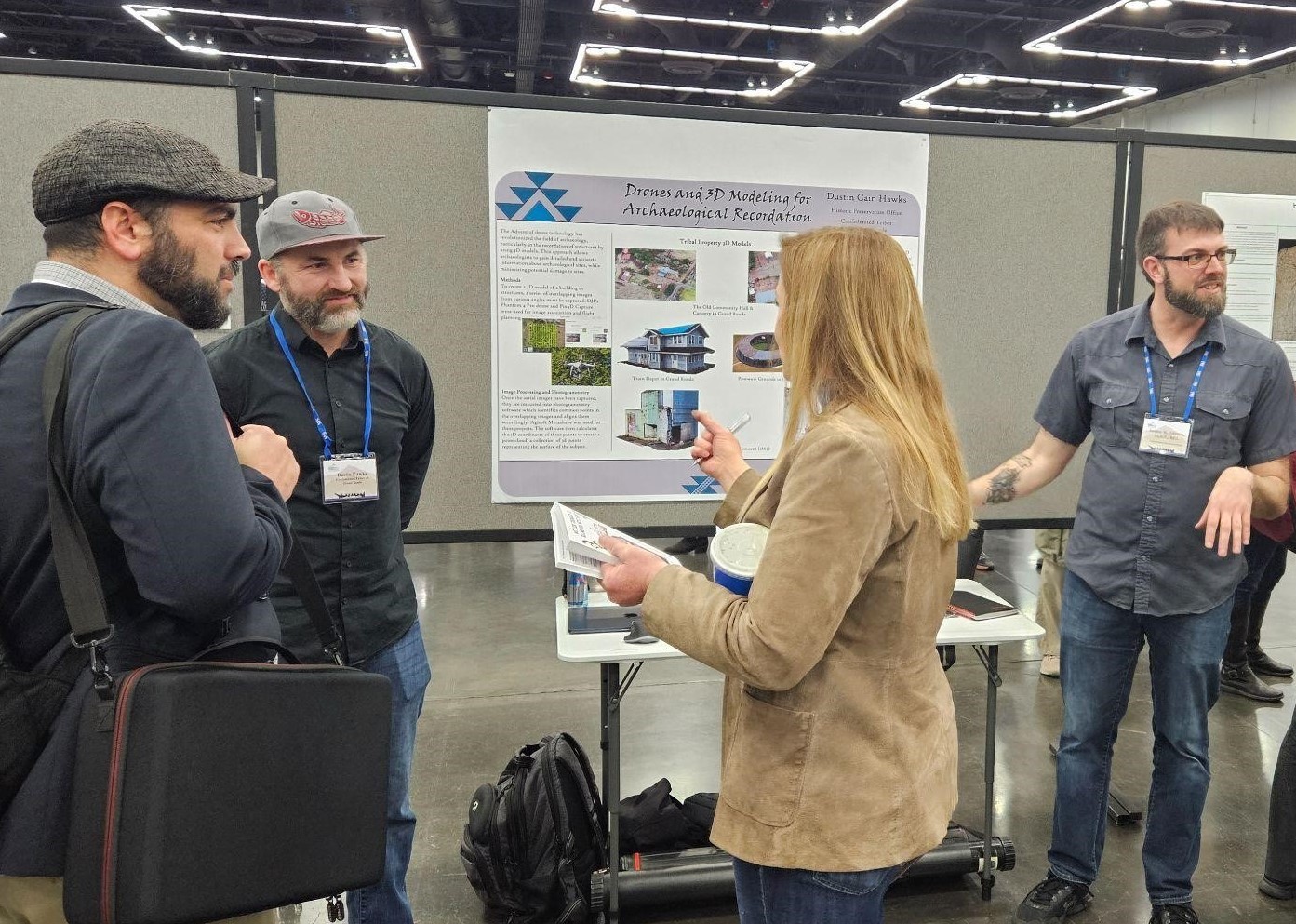 By Danielle Harrison
Smoke Signals assistant editor/staff writer
PORTLAND -- The Grand Ronde Cultural Resources Department was well-represented during the Society for American Archaeology Conference, where they served as the Tribal hosts of place for the event, held Wednesday, March 29, through Sunday, April 2, and attended by approximately 3,700 archaeologists from across the country.
"I am writing to you all wanting to share the meaningful contributions and accomplishments that Cultural Resources staff had at the conference," Cultural Resources Department Manager David Harrelson said in a staff e-mail. "When our work takes us away from the Tribe sometimes successes are not as easy to see. In that spirit I want to share with you all a bit about the conference and the contributions Cultural Resources staff made."
He noted that staff members provided or contributed to six presentation sessions, three posters and two informational tables.
"Our partners presented work done in partnership with the Tribe in seven additional sessions and one poster session," Harrelson said. "Other noteworthy engagement with the conference (was) the Grand Ronde Tribe providing a welcome by (Tribal Council member) Jon George at the opening plenary align(ed) with Grand Ronde singers."
The presentation topics included, "Doing Archaeology in a Good Way: Reflections With and From Grand Ronde," "It's All About Context: How Culturally Informed Landscape Understandings Expand Knowledge of Archaeological Site Interpretation," "Does That Belong in a Museum? Conceptualizing Western Oregon Stone Bowls as Potential Funerary Objects," "Heritage Sites at the Intersection of Landscape, Memory and Place: Archaeology, Heritage Commemoration, and Practice," "Community Outreach in Cultural Preservation" and "Fires Everywhere: Reviewing the Cultural Resource Response to the 2020 Oregon Wildfires."
Harrelson said that some of these topics will be part of the upcoming 2023 Tribal History & Culture Summit in October.
"The conference was nearly an all hands on deck commitment for the department and I personally witnessed how our Tribe modeled what representation from Indian Country can look like in a professional society," Harrelson said. "Our Tribe has set the bar for engagement and contribution, and I see this continuing as the conference moves to other cities in future years. This level of engagement and participation has been over 10 years in the making and represents a gradualism approach to influencing change within a profession that has a history of extraction and marginalization when it comes to Indigenous communities."
During his welcome speech, George said, "Your job, profession and artifacts are our lives," a statement that Harrelson said was repeated in multiple presentations over the next few days. He added that a Tribal welcome was a first for the society.
Additionally, Cultural Resources staff also led a tour for 30 conference attendees to Willamette Falls, Champoeg State Park and Chachalu Tribal Museum & Cultural Center in Grand Ronde. They also helped organize and host the Native American reception at Portland State University's Native Student Center, which included more than 250 attendees with a meal sponsored by the Grand Ronde Tribal Council.
Cultural Resources staff who participated in the event include Harrelson, Historic Preservation Manager Briece Edwards, Cultural Policy Analyst Greg Archuleta, Cultural Education Specialist Chris Rempel, Cultural Protection Coordinator Cheryle Pouley, Senior Archaeologist Michael Lewis, Cultural Protection Specialist Chris Bailey, Visitor Services Program employee Dakota Zimmer, Cultural Protection Specialist Dustin Hawks and Chachalu Registrar Stephanie Craig.