Tribal Government & News
73 first-quarter employees honored for 901 years of service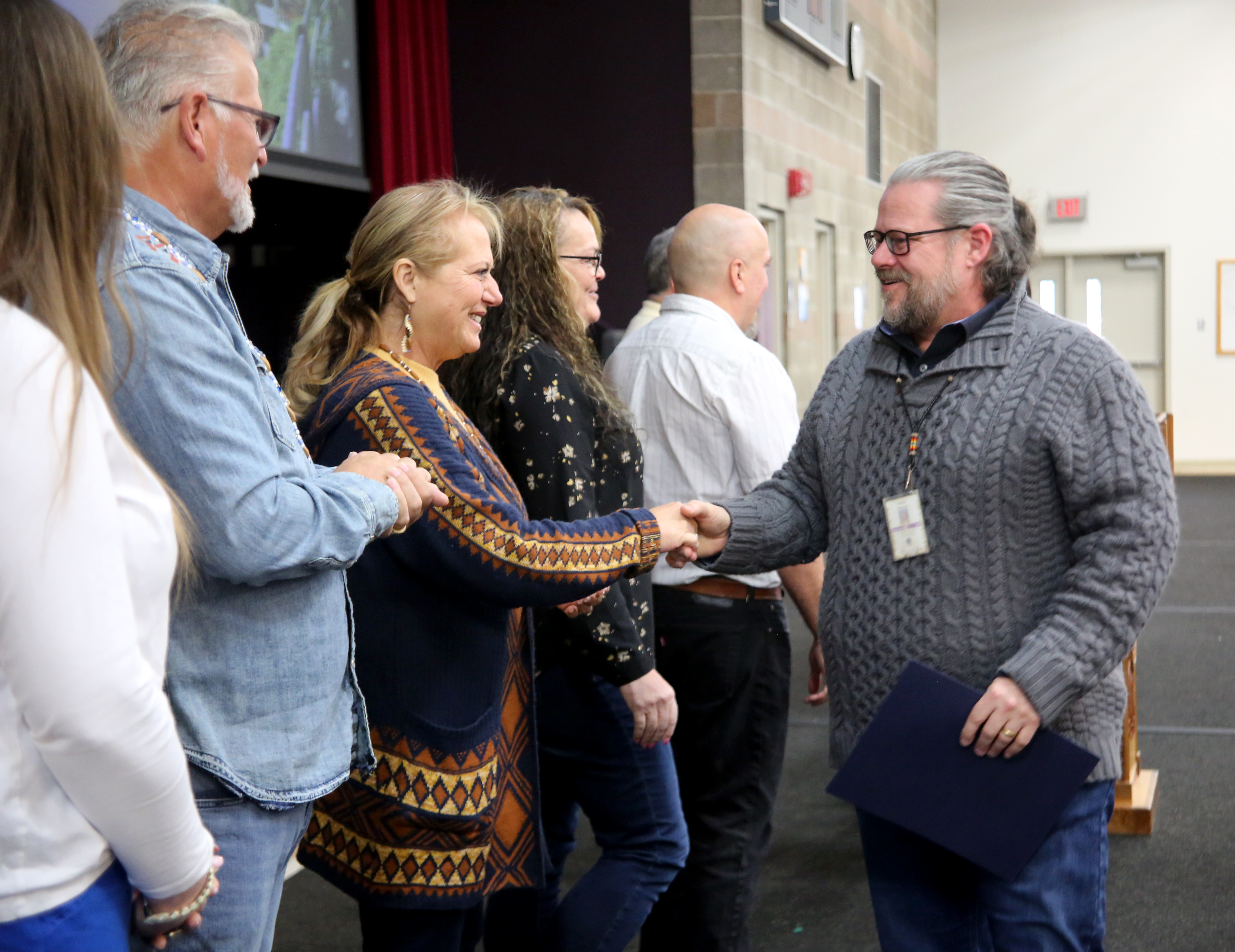 By Danielle Harrison
Smoke Signals staff writer
First-quarter employees hired in either January, February or March, with at least five years of service to the Tribe, were honored during a Years of Service breakfast event at the Tribal gym on Thursday, March 16.
Tribal Council member Jon A. George gave the invocation and Vice Chair Chris Mercier welcomed employees.
"It's been fun watching this organization grow," Mercier said. "We're up to more than 500 employees. Our jobs as Tribal Council members would be impossible without our staff and the work you do."
Other Tribal Council members in attendance included Kathleen George, Denise Harvey and Brenda Tuomi.
Interim General Manager Chris Leno handed out service awards to employees after they were served a breakfast of scramble eggs, hash browns, bacon, sausage, bagels and a choice of apple or orange juice. Tuomi, Mercier, George and Harvey gave handshakes and occasional hugs to the honor employees.
Honorees were led by Procurement Assistant Kelly Leno, who reached 33 years of service to the Tribe.
Records Administrator Kim Mueller and Gaming Commission Licensing Manager Julia Papen were honored for 28 and 27 years of employment, respectively. Rounding out the quarter century or longer mark was Health & Wellness Billing Supervisor Sunni Ulestad with 25 years.
Other employees notching 20 or more years of employment with the Tribe included Purchased and Referred Care Supervisor Melody Baker, 24 years; Employee Relations Manager David DeHart and Compensation/HRIS Specialist Becky Mode, 23 years each; Spirit Mountain Community Fund Director Angela Sears, 22 years; Tribal Police Chief Jake McKnight, Information Systems Web Administrator William Mercier and Tribal Attorney's Office Manager/Paralegal Kerrina Mishler, 21 years each; and Higher Education Program Coordinator Joshua Clift, 20 years.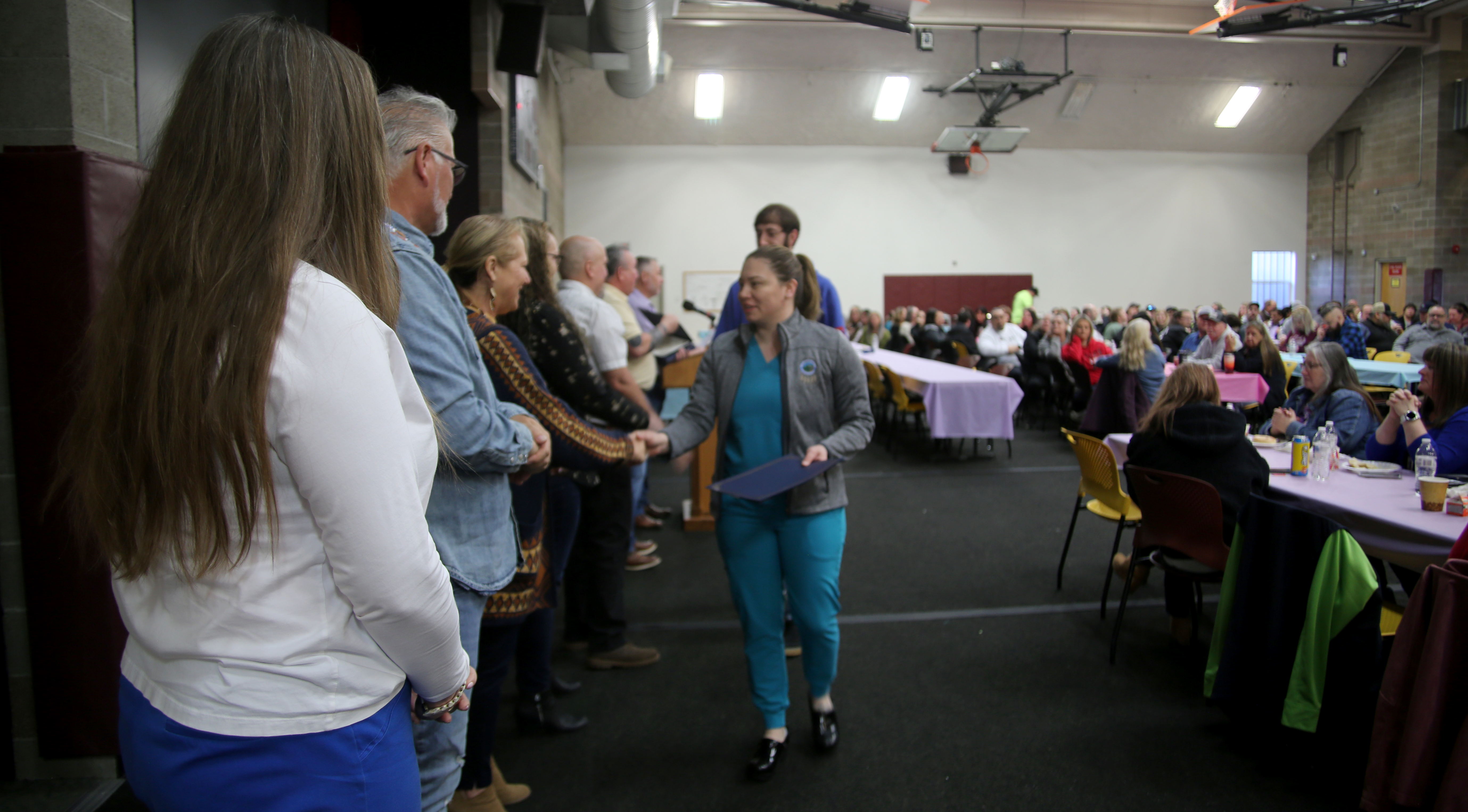 Tribal Council members shook hands and hugged many of the Tribal employees receiving awards during the first-quarter Years of Service awards ceremony held Thursday, March 16, in the Tribal gym. (Photos by Kamiah Koch/Smoke Signals)
Other Tribal employees honored included:
19 years: Portland Area Office Tribal Services Representative Lisa Archuleta and Early Head Start Family Educator Shawn Bobb.
17 years: Full-Charge Bookkeeper Debra Nolen and Employment Specialist Toni Mercier.
16 years: Spirit Mountain Casino Employment Specialist Jessy Powley.
15 years: Health Information Supervisor/Privacy Officer Desiree Allen, Natural Resources Construction Supervisor Bart Bryant, Dental Assistant Rachel Clark, Enrollment Officer Nick LaBonte, Day Shift Housekeeper Rosie Saldivas, Gaming Commission Compliance Analyst Tyrell Soderberg and Natural Resources Senior Administrative Assistant Michele Volz.
14 years: Purchased/Referred Care Health Care Specialist Kayla Leno, Groundskeeper Joseph Grammer and Hydrosystem Compliance Specialist Lawrence Schwabe.
13 years: Shipping and Receiving Clerk Seth Mercier and Rental Housing Program Manager Leon Ramos.
12 years: Employee Relations Specialist Sean Barton, Chinuk Immersion Preschool Assistant Halona Butler, Employment Program Manager Michael Herrin and Dental Hygienist Erin Muchmore.
11 years: Gaming Inspector Dalton Robertson, Historic Preservation Manager Briece Edwards, Family Support Services Specialist Alexandria Warren-Masters and Accounts Receivable Specialist Tammy Chavez.
10 years: 477/Employment & Training Specialist Tiny Gibbons,  Child Abuse Investigator Shauna Hastings, Adult Foster Care Caregiver Brianna Leno, Risk Analyst Patricia Mercier, Vocational Rehabilitation Administrative Assistant Angella Schultz and Swing Shift Housekeeper Sean Sell.
9 years: Tribal Police Corporal Tyler Brown, Groundskeeper Joseph Kelley, Chinuk K-5 Immersion Teacher Jade Colton, Adult Foster Care Caregiver Pearline Metzker, Web Specialist Jordan Smith and Dental Secretary Whitney VanArsdel.
8 years: Tribal Police Sgt. Rod McAllister, Community Health Driver Stephanie King, Post Elementary Chinuk Wawa Teacher & Outreach Coordinator Zoey Holsclaw and Housing Service Coordinator Lacy Leno.
7 years: Staff Accountant Shereena Bates, Emergency Management Assistant Brandy Bishop, Nurse Jeannette Cavan, Senior Help Desk Technician Mark Donahoo and Chinuk Immersion Preschool Aftercare Teacher Washie Squetimkin-Anquoe.
6 years:  Early Childhood Education Teacher Joshua Biery, Employee Relations Coordinator Jeri St. Onge, Health & Wellness Clinic Doctor Randy Blome, Tribal Police Officer Kalim Mercier, Accounts Payable Specialist Ukiah Lomboy, Early Childhood Education Teacher Shawna Freeman, Human Resources Administrative Assistant Jessie Storm and Firefighter Anthony Simmons.
5 years: Mental Health Therapist Denise Fellows, Student Resource Officer James Flynn, EHS Family Educator Tracy Haas, Compensation/HRIS Analyst Jonathan George, Member Benefits Specialist Kalene Contreras, Laboratory Manager Teresa Larson and Realty Specialist Amanda Wilson.
After breakfast concluded, there was a raffle, which included cash prizes of $50 and $100 and additional administrative leave.