Tribal Government & News
Tribal member Jared Ripley deployed to Turkey to aid earthquake rescue efforts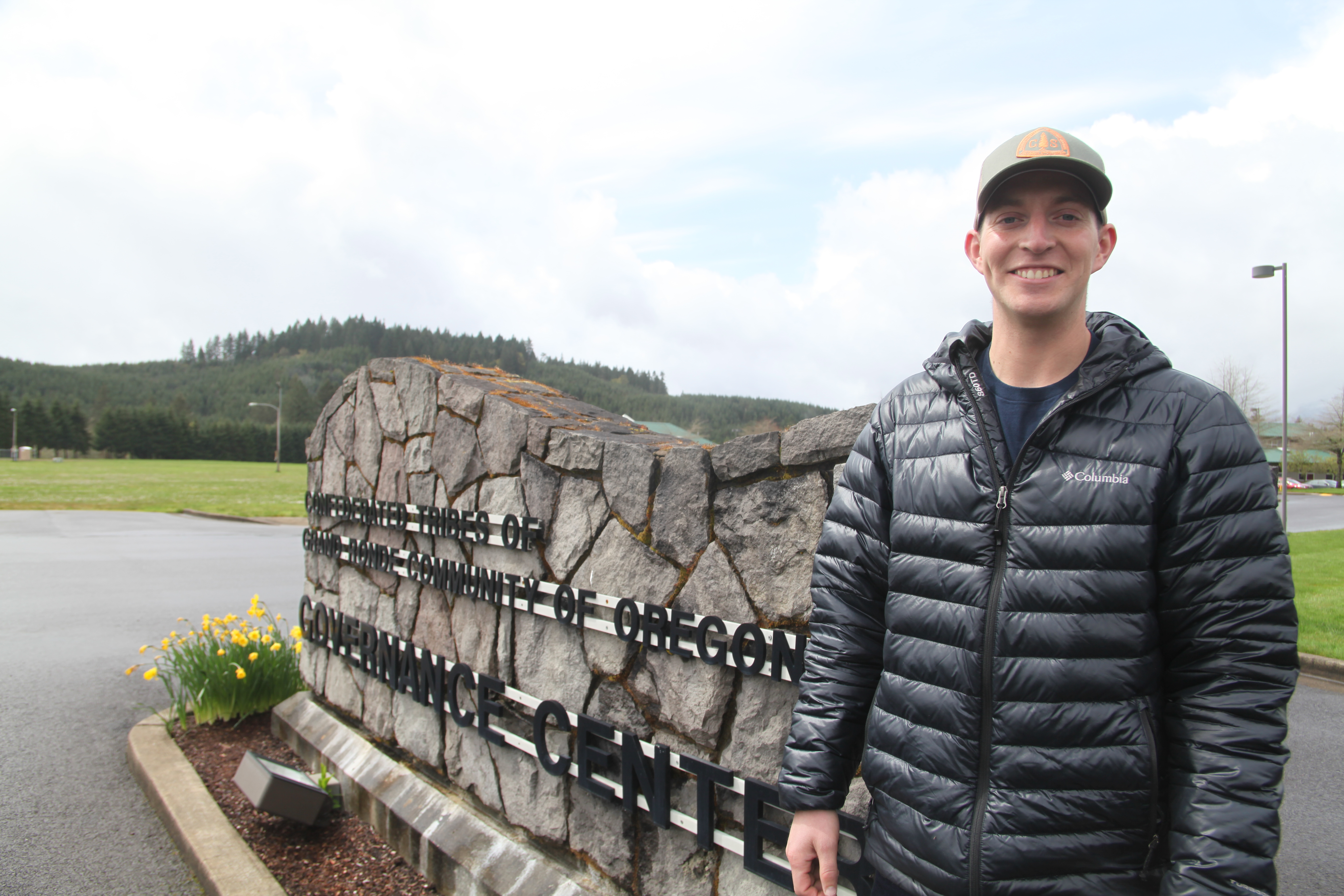 By Dean Rhodes
Smoke Signals editor
Grand Ronde Tribal member Jared Ripley is in Turkey as part of the Los Angeles County Fire Department's 76-member Urban Search and Rescue Team to help find survivors and recover the bodies of victims of the Monday, Feb. 6, earthquakes that rocked southeastern Turkey and northwestern Syria.
At the request of the U.S. Agency for International Development's Bureau of Humanitarian Assistance, the fire department sent the search and rescue team and an additional seven personnel members to assist operations.
The team left Los Angeles on Monday, Feb. 6, and arrived in Adiyaman, Turkey, on Wednesday, Feb. 8. Team members may be deployed for two weeks or longer, the department said.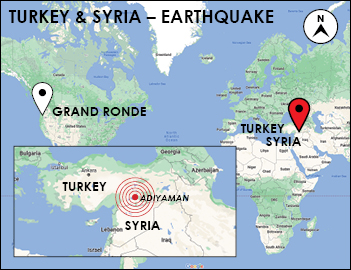 Graphic by Samuel Briggs III.
"The (search and rescue) team is the best of the best and will be instrumental in saving lives and rescuing people who continue to be stuck under rubble," said Kathryn Barger, Los Angeles County fifth district supervisor, in a press release.
Since the deployment, team members have been working 24-hour shifts, conducting dozens of searches a day and performing hours-long tunneling efforts at buildings where they detected signs of life. They also have consulted with local personnel on rescue attempts and surveyed some 2,000 buildings to determine their habitability as thousands remain on the street in tents, contending with freezing temperatures and afraid of moving back inside the buildings that are still standing.
Ripley, 31, is the son of Ron Ripley and Tribal Council member Denise Harvey. His father retired from the Los Angeles County Fire Department as a captain and his grandfather, Fred Ripley, is a retired assistant fire chief with Lynnwood, Calif.
Los Angeles County is the second largest fire department in the United States with more than 170 stations, only surpassed by New York City's fire department.
According to a 2018 Smoke Signals story, Jared Ripley grew up in Norco, Calif., and moved to Tualatin at the age of 15. He spent summers working for the Tribe's Youth Employment Program. He graduated from Tualatin High in 2009 and attended Chemeketa Community College, where he earned an associate degree in fire science in 2011.
He then attended Portland State University and went to work for Oregon Health & Science University. He was hired by the Los Angeles County Fire Department in November 2017.
Harvey said her son has been training to be on the Urban Search and Rescue Team for about two years and he joined the unit about a year ago. He was one of the team members who responded to a late Sunday, Feb. 5, call seeking people who were available for immediate deployment to the ravaged region.
"I'm proud of him and he loves his job," Harvey said. "As a mom knowing the dangerous situation he could be in at times is worrisome. I watch the news and Internet constantly for any updates on the disaster. And it's always on my mind."
The 7.8-magnitude earthquake and its aftershocks have killed more than 33,000 people in Turkey and Syria, and the Biden administration sent two urban search and rescue teams to support Turkey's efforts to find survivors trapped in the rubble of collapsed buildings.
There are two search and rescue teams in the country that are qualified to be sent out of the country: Los Angeles County and Fairfax County, Va. The Los Angeles team is working in a city 60 miles northeast of the quake's epicenter.
The two departments combined for 161 search-and-rescue personnel and 12 canines. The teams traveled with more than 170,000 pounds of specialized tools and equipment, such as hydraulic concrete breaking equipment, saws, torches and drills.
"Structure collapse resulting from earthquake events tends to create numerous void spaces in damaged or destroyed buildings where survivors may be trapped," an Agency for International Development press release said. "The Urban Search and Rescue teams perform lifesaving technical activities, including specialized search-and-rescue operations involving structural collapse to rescue and recover trapped individuals."
Previously, the Los Angeles County team was sent to Mexico City to help with earthquake rescue efforts in 2017. The team consists of rescue specialists, firefighters, paramedics, doctors, search dogs and structural engineers.
Includes information from The Los Angeles Times.