Tribal Government & News
Fullerton out as Grand Ronde Tribe's general manager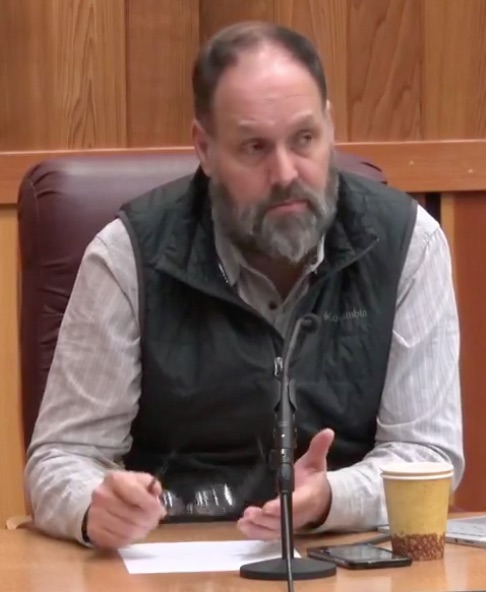 By Dean Rhodes
Smoke Signals editor
Longtime Tribal employee David Fullerton is no longer the Tribe's general manager after being relieved of his duties after more than seven years in the position on Friday, Jan. 13.
No official reason for Fullerton's termination was given since personnel matters are considered confidential. However, Fullerton was criticized during the Oct. 12 Tribal Council meeting by Tribal Elder Virginia Kimsey-Roof for allegedly filing a false police report and calling a sacred Tribal ceremony a "peyote party."
Tribal Council Secretary Michael Langley suggested that Kimsey-Roof talk with Tribal Council outside of a public forum during the Oct. 12 meeting.
Grand Ronde Tribal Police Chief Jake McKnight said that his department did not take a police report from Fullerton.
The general manager, who is a direct report to the nine-member Tribal Council, exercises direct authority over most Tribal departments in carrying out day-to-day operations of the Tribal government.
Tribal Council Chairwoman Cheryle A. Kennedy said during the Jan. 25 Tribal Council meeting that the decision to dismiss Fullerton was not unanimous.
Fullerton became interim general manager in 2015 after the departure of Mark Johnston. He officially became general manager in January 2016.
During his tenure as general manager, Fullerton guided the Tribe through the COVID-19 pandemic, which broke in March 2020. An emergency declaration approved by Tribal Council put him in charge of the Tribe's response to the pandemic. The emergency declaration is still in effect.
"I will forever be grateful for the service Dave has provided to our community," Tribal Council member Lisa Leno said in an e-mail after Fullerton's dismissal was announced. "It has been an honor working with him."
"What a sad day for GR (Grand Ronde)," Tribal Council member Jon A. George said in another e-mail. "Especially for the people who know the type of person Dave is and the caring heart he has for our Tribe and the community. What an honor to work for him for 15 years under Social Services and then reversed roles for Tribal Council as GM. He will be greatly missed."
Fullerton did not respond to a Smoke Signals' text request for comment.
In reaction, an online petition calling for Tribal Council to reconsider Fullerton's "without cause" termination was posted at ipetitions.com. As of Tuesday, Jan. 31, 332 people had e-signed the petition. Former Tribal Council member Tonya Gleason-Shepek presented the petition to Tribal Council during its Jan. 25 meeting.
Langley, however, cautioned attendees, some of whom were wearing "We support Dave" T-shirts, that Tribal Council could not discuss employment matters in a public forum.
"Due to the nature of the topic, we are not able to discuss employment-related matters in this forum," Langley read from a prepared statement. "We think it is important to note there is a separate process in place for employees who believe employment decisions were wrongfully taken against them. That process is handled through the Tribal Court, which is the appropriate forum for allegations of wrongful employment actions to be resolved."
Former Tribal Council members Jack Giffen Jr. and Reyn Leno also spoke in support of Fullerton, as did several Tribal members and employees who cited his long hours helping the community through difficult times, such as ice and snow storms, threatened flooding, the nearby wildfires that occurred in the summer of 2020 and COVID-19.
"He has done a hard job for this Tribe," Gleason-Shepek said. "Sometimes the things that he has had to do are very difficult. He's had to fire Tribal members. He's had to tell Tribal members 'no.' He has had to trespass Tribal members. Those are all very hard things to do, but that's the job and he does it. … I think those of us that know Dave, we trust his integrity and we do not believe this is an HR performance issue and if it's not, then I think we as the membership do deserve an explanation."
Assistant Tribal Attorney Kim D'Aquila reiterated that it would be inappropriate for Tribal Council to comment on an employment-related matter during the Jan. 25 meeting.
Fullerton started working for the Grand Ronde Tribe in June 2001 as an Indian Child Welfare caseworker. He managed the Social Services Department from December 2001 through late August 2015 when he was tapped to serve as interim general manager.
Before joining the Grand Ronde Tribe, Fullerton was the Social Services director for the Quinault Indian Nation in Washington state. He also worked as a probation officer for the Lake County Youth Court in Poulson, Mont., and as a sociology instructor for Stone Child Tribal College on the Rocky Boy Indian Reservation in Montana.
Fullerton earned a bachelor's degree in sociology from the University of Montana in Missoula, where he minored in both Native American studies and criminology. He graduated from Jesuit High School in Portland, Ore.
Finance Officer Chris Leno has assumed the general manager duties until a new person is hired. He has previously served in the general manager position.