Health & Education
General Council briefed on Grand Ronde Food Bank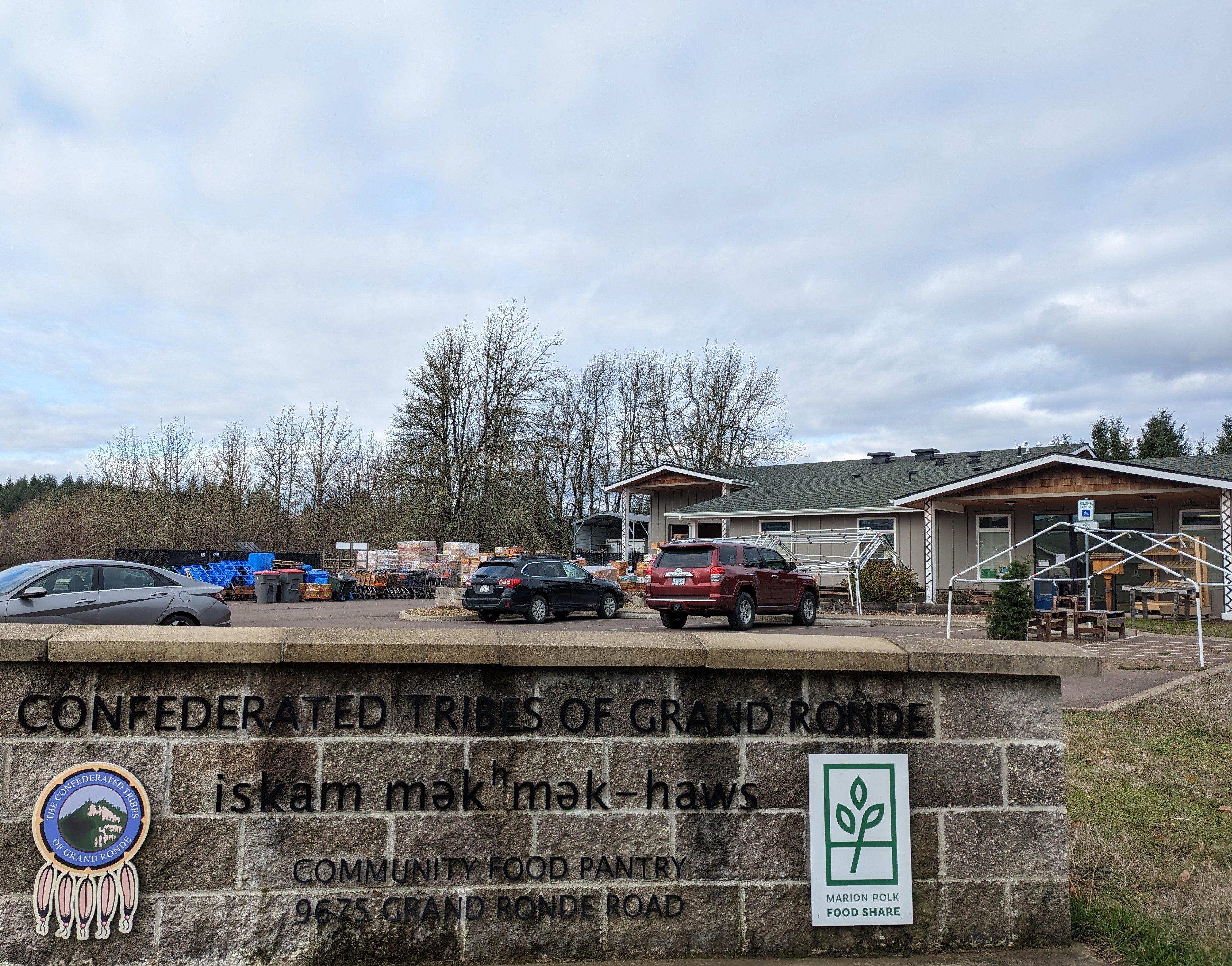 By Danielle Harrison
Smoke Signals staff writer
Grand Ronde Food Bank Coordinator Francene Ambrose briefed Tribal members on the various services it has provided to the community during a Sunday, Dec. 4, General Council hybrid meeting held via the Zoom video conferencing application and in Tribal Council Chambers.
"Tomorrow I celebrate eight years working at the food pantry," Ambrose said. "At one time, my little nephew thought I lived there because I spent so much time there. I love the pantry and how much we have grown. … We have so much food to give out that we can't serve the community inside anymore."
While introducing her to the virtual and in-person audience, Tribal Council Vice Chair Chris Mercier said that Ambrose helps provide a critical community service.
"A lot of people utilize and benefit from this building and program," Mercier said. "They give out some pretty good food and also gave out quite a lot of food to help people out during COVID. If you ever drive by the Food Bank on Wednesday and Friday, you can see lots of people from the community utilizing it. Francene works very hard and her leadership goes a long way."
The Food Bank – iskam mek mek haws – is a partnership between the Tribe and Marion-Polk Food Share. It has been in its current location at 9675 Grand Ronde Road since 2015. The Tribe built the 3,300-square-foot structure with federal grants and Marion-Polk Food Share hired Ambrose to oversee the pantry. 
Recipients of SNAP, TANF, SSI or LIHEAP assistance automatically qualify for help, but Ambrose noted that no one who is in need of a food box will be turned away.
The Food Bank holds onsite distributions from 10 a.m. to 2 p.m. Fridays. In addition, there is a light food box (mostly bread and produce) distribution from 10 a.m. to 2 p.m. Wednesdays.
Clients must check in 15 minutes before closing to receive a food box on both days. There are also regular distributions coordinated at Willamina High School, the Portland Area Office on Barbur Boulevard and the Tribal Veterans Service Office. Additionally, the Food Bank conducts mobile food distributions at AR Ford Road, Kurleyville, Water's Edge and Wandering Spirits RV Park.
"We also do a holiday food box distribution for Thanksgiving and Christmas and are working on having a small food pantry at the Elders Activity Center," Ambrose said.
She and two part-time staff, Pantry Assistant Kim Godsey and Warehouse Assistant Staci Johnson, coordinate the distributions with other community partners.
"Families can come to every single distribution," Ambrose said. "We share food, resources and make sure families have access."
The Food Bank works with the Oregon State University Extension Office to offer various cooking classes and is partnering with the Native American Youth and Family Center in Portland to offer traditional food preservation classes.   
After a series of meetings hosted by the Food Access and Community Team a few years ago, a top request was increased access to fresh fruits and vegetables. To better meet this need, the Food Bank partnered with the Grand Ronde Health & Wellness Center to offer the "food as medicine" Farm Share RX program.
Every year, 40 clients are referred by the Health & Wellness Center and receive a free, weekly distribution of seasonal produce from Osprey Farm in Willamina for 14 weeks between June and September.
"It's the fifth year of this program and clients have shared that they have lost weight, improved their diabetes and increased their heart health," Ambrose said, adding that she hopes that the program will continue in the future.
The Food Bank also sponsors mek mek Mania, an annual food resource fair event. It was originally scheduled for December but postponed to 6 p.m. Thursday, Jan. 12, on Zoom. To attend, contact Ambrose at FAmbrose@marionpolkfoodshare.org.
Lastly, Ambrose and her team are working to get WIC approved for the convenience store next to Spirit Mountain Casino and also to increase access to traditional Tribal foods through the Food Bank. The first-ever salmon distribution of 50 fish was held Friday, Dec. 2, through a partnership with Bonneville Dam.
"All of the things we do at the Food Bank are mostly with the tireless work of volunteers," Ambrose said. "We have 45 core volunteers who provide 400 hours of community service a month. We have a lot of activities where we get food and can always use people to help pick it up, sort it and give it away."
After the approximate 25-minute presentation, Ambrose fielded four questions and comments from the audience.
"Francene wears many hats over there and I appreciate her and her volunteers so much for all the work they do over there feeding the community," Tribal Council member Jon A. George said.
Tribal Council Chairwoman Cheryle A. Kennedy echoed those sentiments.
"I appreciate all of your time and commitment," she said.
After the presentation, there was a 20-minute break to eat lunch. Following the meal, Elders Committee Vice Chair Tammy Cook took nominations for four open positions on the committee.
Daniel Ham nominated Perri McDaniel, who accepted, and Linda Brandon nominated Laura Gleason, who also accepted.
Since there were only two nominations for four open positions, there will not be any voting.
Cook encouraged those who were interested in filling the other two open positions on the Elders Committee to attend the Elders Christmas Party from 3 to 6 p.m. Friday, Dec. 16, at the Elders Activity Center. The event will include bingo, food and prizes.
In other action, Kennedy announced that the next General Council meeting will be at 11 a.m. Sunday, Jan. 8, with a presentation of the Community Development Plan.
Russell Wilkinson, Dan Ham, Judy Ballini, Stephanie Craig and Anthony Quenelle won the $50 door prizes. Quenelle donated his winnings to the Food Bank.
Ramona Quenelle, Tammy Cook and Raymond Petite won the $100 door prizes. Petite also donated his winnings to the Food Bank.
The meeting can be viewed by visiting the Tribal government's website at www.grandronde.org and clicking on the Government tab and then Videos.