Tribal Government & News
Tribal member to compete at national disc golf championships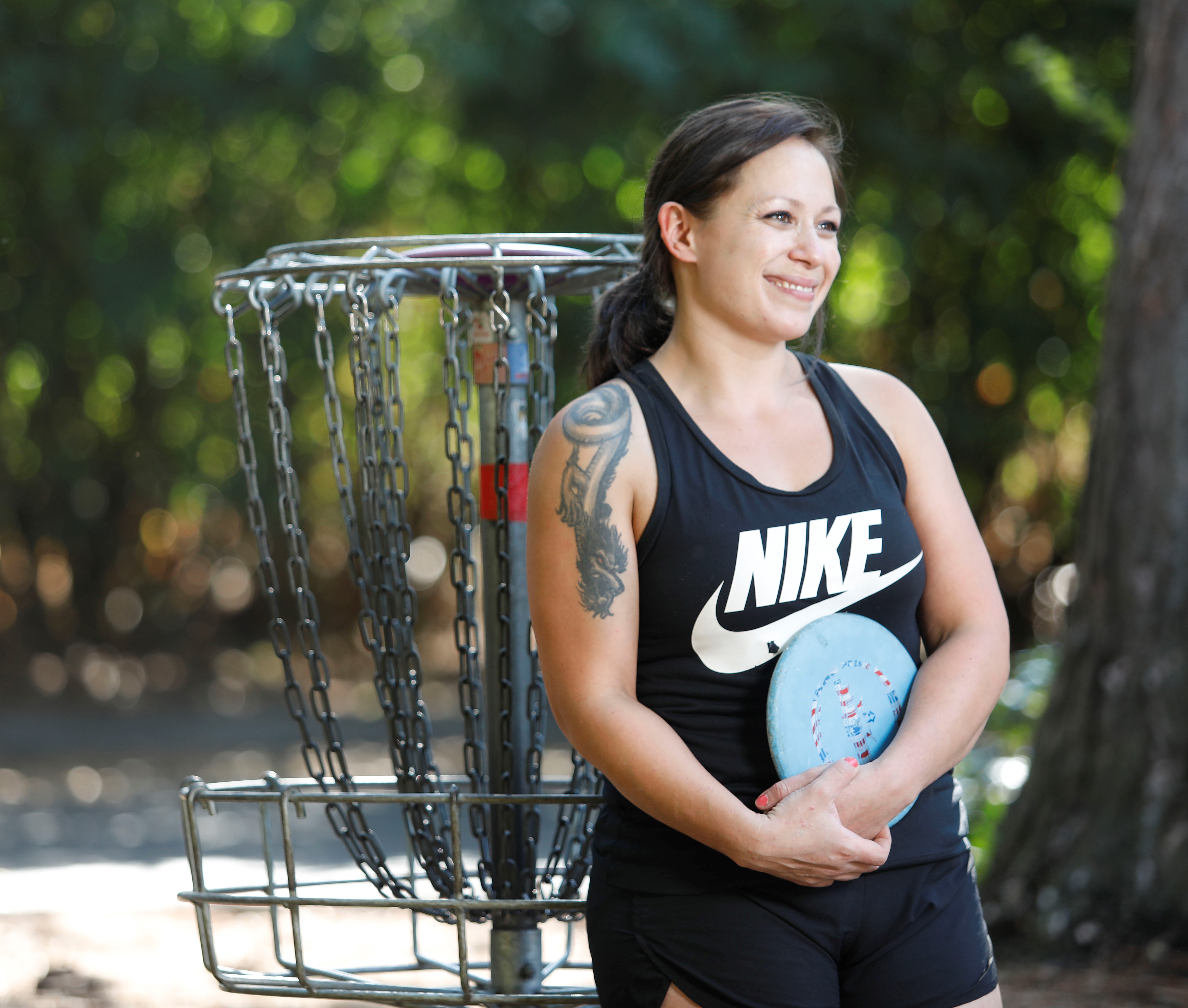 By Danielle Harrison
Smoke Signals assistant editor/staff writer
VANCOUVER, Wash. -- When Jasmine Manangan first started playing disc golf 15 years ago, the goal was simple.
"I was just looking for something I could do with my kids when they were toddlers, to get them out of the house and have fun together," she says. "I've been doing it consistently since then."
Fast forward 15 years and both her sons, 18-year-old Daniel Williams and 16-year-old Adam Williams, still play. Additionally, the 34-year-old Tribal member mother found a new outlet for furthering her abilities by competing in tournaments and has qualified for a spot at the National Amateur Disc Golf Tournament Championships being held in Austin, Texas, this month.
Manangan qualified by winning her amateur division at a sponsored event in Buxton, Ore., last February.
"I am very excited about this," she says. "For every division win there you get an invite to nationals so that was pretty cool to win."
Manangan's Tribal roots come from her mother's side of the family. Her grandmother is Rosetta LaBonte Manangan. The family lived in Portland and then Eastern Washington in the wilderness near the Canadian border. Being outside is a major reason why Manangan loves disc golf so much.
Out of the eight tournaments she has competed in thus far, she has won her division four times.
There are approximately 750 competitors registered for nationals, which take place at 11 different disc golf parks in the Austin area. Manangan will be competing at two of them.
'They look pretty flat, which is a good thing for me," she says. "Also, the trees are smaller than what we have here."  
Manangan's biggest challenge while disc golfing is throwing for distance and courses with hills while she excels on the flats. 
She says she is most looking forward to mixing with the professionals and attending clinics, as well as the experience itself.
"I'm a bit nervous too, because all of them are probably going to be really good players," Manangan says. "My goal is to do it for the experience and qualify again, and then work more on placement for next year."
Just as the name suggests, disc golf is similar to conventional golf in terms of rules, scoring (the lower the better) and etiquette. Disc golf differs from traditional golf as it is much more affordable, with each disc costing approximately $15. There are also a number of free courses to play. Players throw a disc at each basket on the course and the winner is the person with the lowest number of total throws in getting their disc into the basket.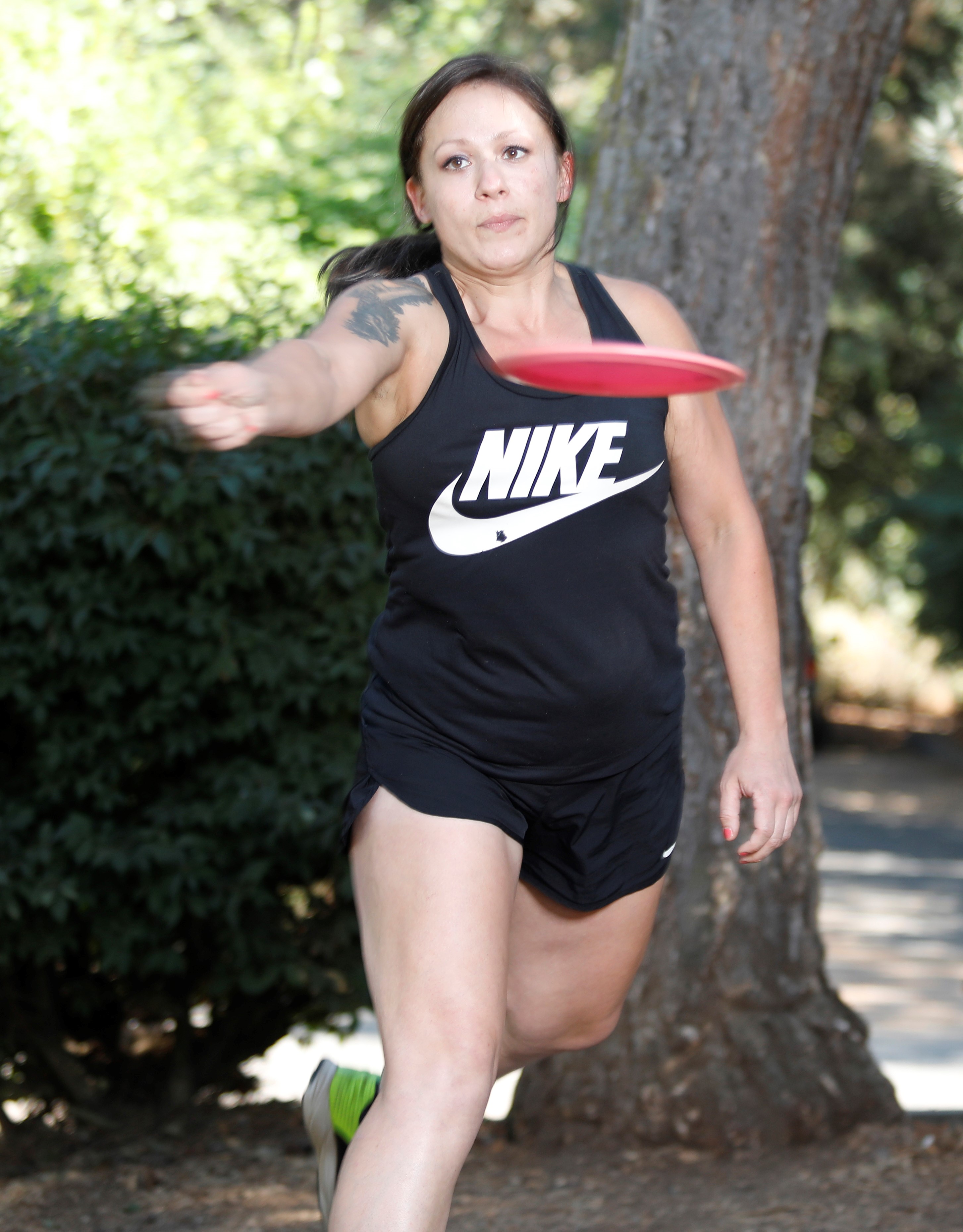 Tribal member Jasmine Manangan lets a disc fly at Leverich Park in Vancouver, Wash., on Tuesday, Sept. 27. Manangan recently won the amateur division in the National Amateur Disc Golf tournament held in Buxton, Ore., which qualified her to take part in the national championship scheduled for Oct. 26-29 in Austin, Texas. (Photos by Timothy J. Gonzalez/Smoke Signals) 
According to the Professional Disc Golf Association, the sport provides upper and lower body conditioning, aerobic exercise and mental stimulation. Additionally, those with limited fitness levels and people of all ages can participate.
"I'm excited for the social aspect of this event and the whole experience," Manangan says.
She'll arrive in Austin a few days before tournament play begins on Oct. 26 to scout out the courses and practice.
"The area looks beautiful and I haven't played the courses yet so this is a good opportunity to do that," Manangan says.
She encourages other moms of young children who want to try something new to give disc golf a shot.
"It's hard to find activities to do with little kids that everyone can enjoy," Manangan says. "I would encourage them to give this a try and to remember to have fun with it. There's lots of running around and imagination involved when you take little kids. Disc golfing is a huge stress reliever so I play every day."
When she's not disc golfing, the Vancouver resident is typically working at Granite Dental as a dental assistant, watching her younger son compete in cross country and track, or cooking.
She hasn't had the opportunity to play disc golf at either of the two new courses in Grand Ronde, which were installed last spring. There is an 18-basket, professional-level course located east of uyxat Powwow Grounds next to Fort Yamhill State Park called Spirit Mountain Disc Golf, as well as a nine-basket course at the Tribal campus. The campus course starts at the old powwow grounds in front of the Governance Center and winds behind the baseball field, down the dirt road and ends near the Clothes Closet close to the community park.
"It's cool that they have those out there now and the whole area is so pretty," Manangan says.