Tribal Government & News
Community Fund surpasses $91 million mark in giving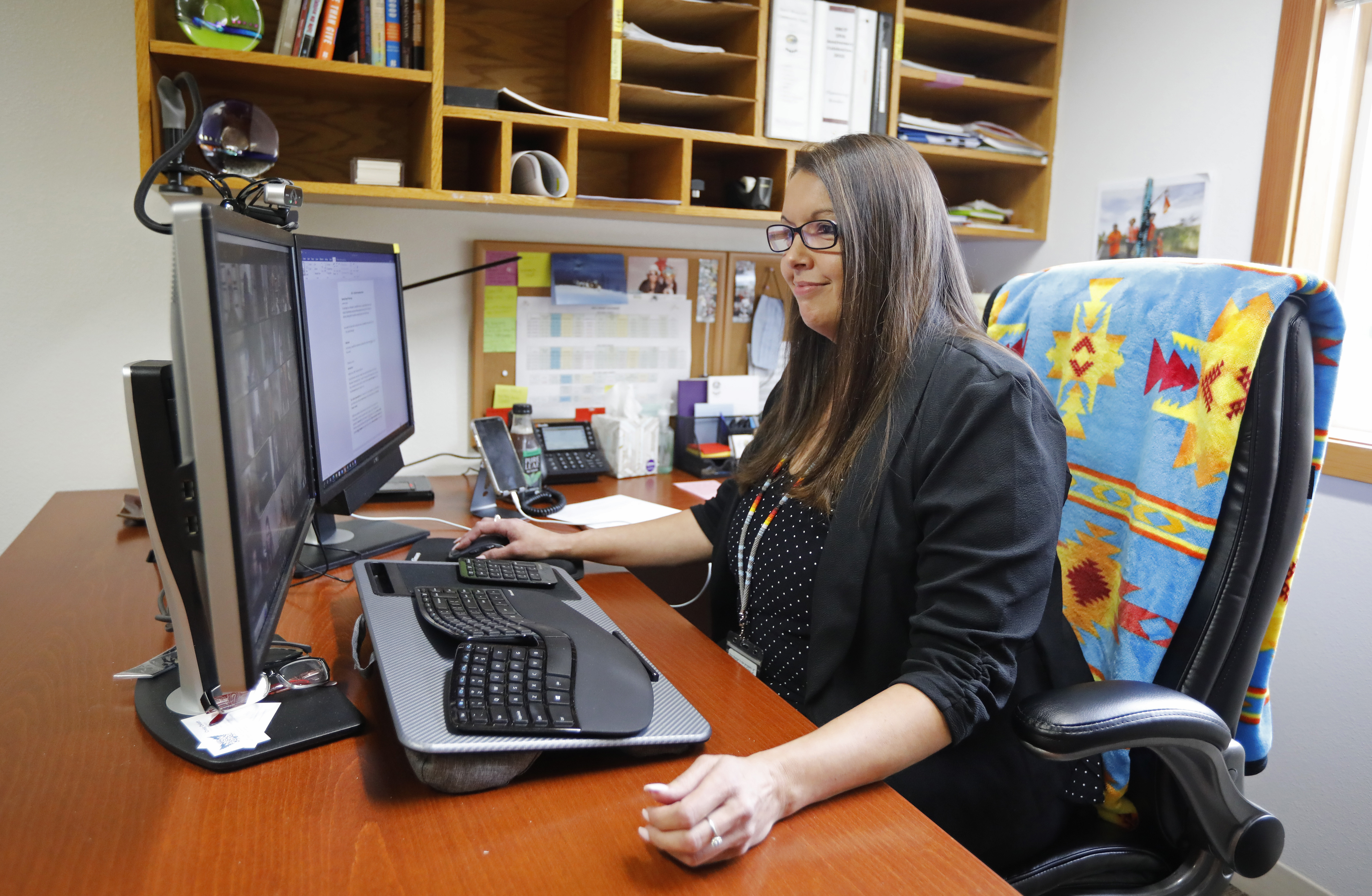 By Danielle Harrison
Smoke Signals assistant editor/staff writer
Spirit Mountain Community Fund awarded more than $1.1 million in grants on Wednesday, Sept. 14, during a 126-minute virtual check presentation event, bringing the Grand Ronde Tribe's philanthropic giving since 1997 to more than $91 million.
The Community Fund receives 6 percent of proceeds from Spirit Mountain Casino and awards that money to nonprofits in 11 northwest Oregon counties to fund efforts in the areas of arts and culture, environmental preservation, education, health, historic preservation and public safety, and to the nine federally recognized Tribes in Oregon under a Tribal Grants program.
The Community Fund was created as part of the Tribe's gaming compact with the state of Oregon. It is supervised by an eight-member Board of Trustees that includes Tribal Council members Denise Harvey and Michael Cherry, who is also a former Community Fund director.
Executive Director Angie Sears took a moment to recognize longtime board member and past Tribal Council member Jack Giffen Jr., who retired after 13 years on the board and 18 on Tribal Council.
"We are so grateful for his wisdom, guidance and efforts with the Community Fund," she said.
The event was the seventh virtual check presentation held by the Community Fund since the beginning of the COVID-19 pandemic in March 2020. It opened with a prayer and flute song from Tribal Lands Manager Jan Michael Looking Wolf Reibach.
Sears and Board of Trustees Vice Chairman Arnie Roblan welcomed virtual attendees.
"One of my greatest honors was being asked to serve on the Community Fund board," Roblan said. "It was one of the easiest decisions I have ever made. This is the fulfillment of everything I am about. What the foundation does goes to the very heart of the community. When we come to these presentations, it is the most important time because I get to hear what those good works are … the variety that they are doing is impressive."
Sears said the check presentations are a way to give thanks and celebrate the organizations' achievements.
"While we look forward to the in-person presentations, we know we will be together again soon," she said. "We know you are all super busy and this is a way to come together as a community and celebrate the amazing work you do. We recognize it is our nonprofits who continue to step up to provide care for the most vulnerable in our communities."  
Sears also introduced Community Fund employees -- Grants Coordinator Jesse Knight, Program Coordinator Angela Schlappie and Administrative Assistant Marissa Leno.
The approximately 72 people who attended watched a video on the history of the Tribe and then Knight and Schlappie announced the grant awards.
Due to the virtual format, Knight and Schlappie gave every organization representative the opportunity to briefly speak about their programs.
During the check distribution portion, the Community Fund awarded 10 small grants worth $72,875 and 26 large grants worth $1.068 million.
Small grant recipients were:
Beyond Toxics of Eugene, $6,675, for its wetlands program linking Kalapuya culture, history, nature and the arts;
Edison High School of Portland, $7,500, for the Edison High School linguistics tutoring program;
Keizer Community Library, $7,500, to hire a co-manager;
Merry Heart Children's Camp of Clackamas County, $7,000, for Heart Camp support;
Neighbors for Clean Air of Multnomah County, $7,500, for its Cully Air Action project;
School Garden Project of Lane County, $7,500, for its Science in the Garden project;
Siletz Bay Music Festival of Lincoln City, $6,700, for its master class program;
Triangle Productions of Portland, $7,500, for The Umbrella Project/Two-Spirits People effort;
Westwind Stewardship Group of Portland, $7,500, for its native plant nursery for habitat restoration project;
Woodcrafters in Eugene, $7,500, for writers' residences.
Large grant recipients were:
A Family for Every Child of Lane County, $50,000, for its adoption services capacity expansion;
American Heart Association of Polk County, $47,379, for hypertension management in Native Americans;
AntFarm Inc. of Sandy, $40,000, for youth leadership/peer support for recovery and resilience;
Boys & Girls Club of Albany, $25,000, for its Be Great Feel Great program;
Clackamas Volunteers in Medicine, $50,000, for its partnership for community health and education program;
Constructing Hope Pre-Apprenticeship Program, $45,000, for BIPOC staff advancement;
Daisy C.H.A.I.N of Lane County, $50,000, for doula care for pregnancy, birth and parenting;
Dress for Success of Oregon Inc., $25,000, for workforce development;
Ethos Inc. of Multnomah County, $40,000, for general operating support;
Hollywood Senior Center of Portland, $25,000, for supporting low-income seniors;
Kinship House of Portland, $50,000, for mental health therapy for children in foster care;
Lebanon Community Hospital Foundation Inc., $100,000, for its Sweet Home clinic and urgent care program;
Lutheran Community Services Northwest of McMinnville, $50,000, for its countywide relief nursery program expansion;
Mapleton Food Share, $50,000, to buy a building it is currently leasing;
Oregon Tradeswoman, $50,000, for job training in rural communities;
Oregon Wild of Lincoln County, $40,000, for protecting Oregon's rivers;
Polk County Family and Community Outreach, $40,000, for Polk County youth mini grants;
Polk County Fire District No. 1, $30,968, for community automated external defibrillator access and response efforts;
Portland Leadership Foundation, $50,000, for improving outcomes for children and families affected by foster care;
Ronald McDonald Houses of Portland, $35,000, for its Hope Lives Here program;
Siuslaw Watershed Council of Mapleton, $10,000, for a truck and trailer for habitat restoration and community engagement;
SMART Reading of Portland, $50,000, for children's book bank literacy support for pre-kindergarten children;
Salem-Keizer Coalition for Equality, $40,000, for building protective factors in families during crisis;
Wetlands Conservancy of Portland, $25,000, for its coast beaver survey pilot expansion;
Youth Music Project of West Linn, $25,000, for music education for all;
Youth Villages Inc. of Lake Oswego, $25,000, for expanding and sustaining transitional support for foster youth.
Three beaded necklaces were raffled off to Instructing Hope, Salem-Keizer Coalition for Equality and Polk County Fire District, and an Ikanum saddle blanket designed by Travis Stewart went to Siuslaw Watershed Council.
"There is so much amazing work happening out there and thank you all for sharing your stories," Sears said. "Thank you for your dedication to making a difference in our communities."
"It's truly a joy to be a part of the amazing work you do in all of our communities," Harvey added.
During the past 25 years, the Community Fund awarded 3,115 grants to organizations totaling more than $91.4 million.