Health & Education
Grand Ronde Education Summit draws record attendance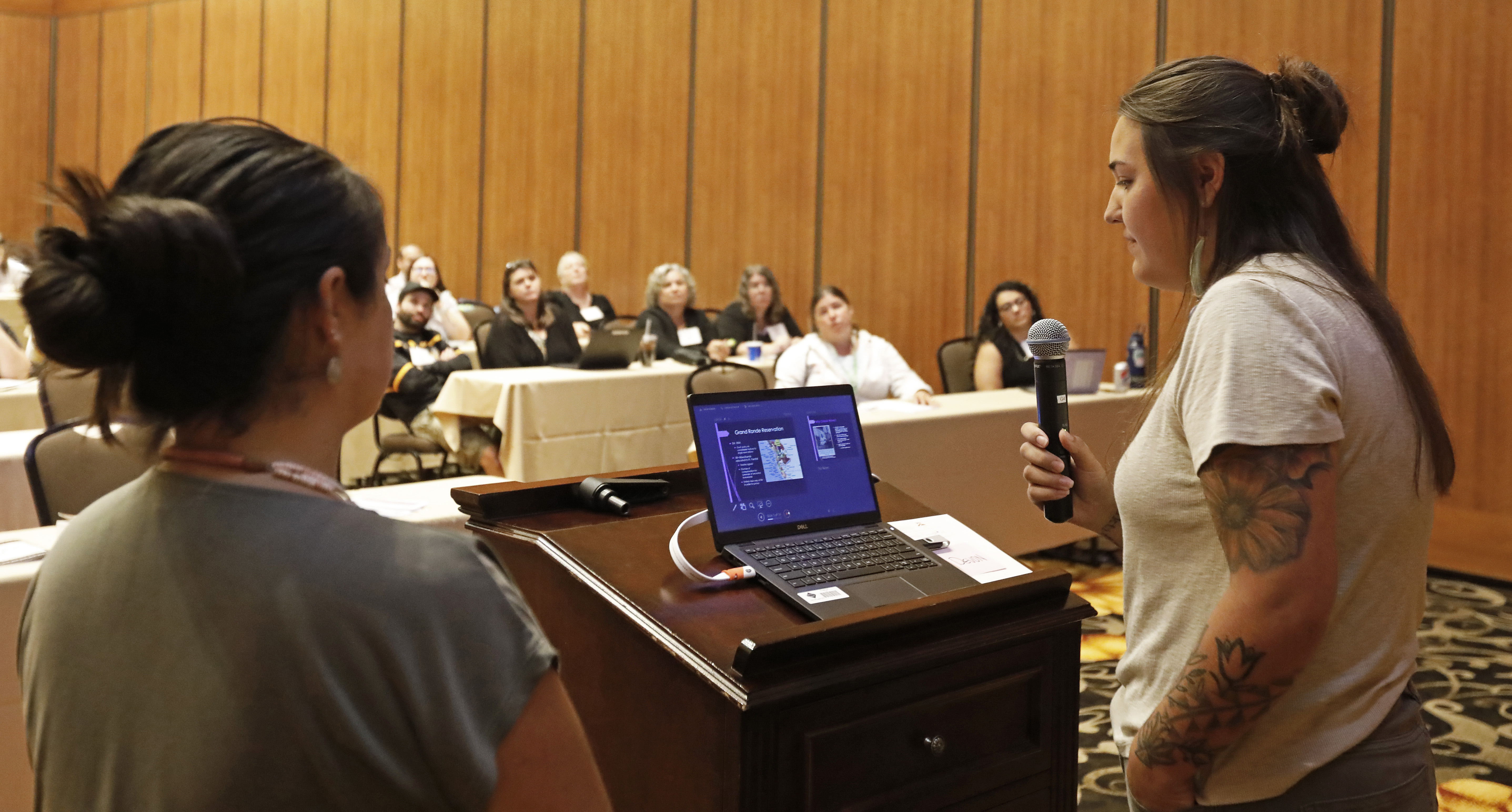 By Dean Rhodes
Smoke Signals editor
After two years of virtual meetings because of the COVID-19 pandemic, the Grand Ronde Education Summit returned to an in-person format on Wednesday, Aug. 24, at Spirit Mountain Casino's Event Center and saw record attendance with more than 260 educators registered to attend.
The summit, now in its sixth year, is intended to educate educators about the history of the Confederated Tribes of Grand Ronde.
"As we go through our sessions today, I encourage you all to keep an open mind," Curriculum Specialist Cheyanne Heidt said in her opening address. "Lean into the uncomfortable. I promise you there will be times throughout today when you will feel slightly uncomfortable. Lean into it. And ask those kinds of questions. We cannot provide you with the answers if you do not ask them. We are not easily offended. We are all here with the intent of helping educate educators. We want you to be more comfortable with Native American history, culture and materials. Ask those questions. I promise we will do our best to answer them."
The summit opened with an invocation delivered by Cultural Resources Department Cultural Advisor Bobby Mercier.
Cultural Resources Department Manager David Harrelson then gave a 15-minute crash course on Tribal history in western Oregon, telling attendees that Tribal oral histories date back to recount the Missoula floods that occurred between 13,000 and 18,000 years ago.
Harrelson said Tribal families have more than 500 generations of history living in the Willamette Valley.
Grand Ronde Tribal teacher Adam Langley delivered the keynote address, talking about being a Native American student who turned into an educator and his experiences in both roles.
After the opening introductions, educators were offered four groups of breakout sessions with one being offered in the morning and three in the afternoon.
Morning sessions included Heidt giving an overview of the Grand Ronde Tribal history curriculum and Natural Resources Department Restoration Ecologist Lindsay McClary talking about Tribal lands management.
After a lunch that featured a pasta primavera buffet, attendees choose from 12 more breakout sessions that ranged from discussing the past and present of the Tribal language Chinuk Wawa to utilizing Native plants to infusing Native American culture into the classroom.
Presenters also included Grand Ronde Education Department Manager Angela Fasana, Cultural Education Specialist Cristina Lara, Chinuk Wawa Education Program Manager Ali Holsclaw, Language Preservation Specialist Zoey Holsclaw, Field Biologist Matt Zimbrick, Chachalu Cultural Center Supervisor Crystal Szczepanski, Chinuk Wawa Language Immersion Program teachers Jeff Mercier and Halona Butler, Native Plant Nursery Supervisor Jeremy Ojua, Youth Education Program Manager Justine Flynn and Chachalu Cultural Center Specialist Dakota Zimmer.
Carrie Zimbrick, superintendent of the nearby Willamina School District, said that the annual Education Summit helps her teachers incorporate more Native American culture and history into their lessons and classrooms.
"I think, for most of them, they have been exposed to some professional learning when it comes to the Tribal history sharing initiative and just our local history," Zimbrick said. "But not to the depths that we expect to implement some of Bill 13 to its fidelity. So I think exposing them to the resources here, the people who are experts that they can pick up a phone or e-mail 'How can I align this standard with a cultural perspective?' Those are the things I am hoping they just have those 'a-ha' moments and can really make that connection."
Zimbrick said that since the Education Summit started in 2017, the Willamina School District has created a Native American first foods garden and almost all of the signage at the district has been translated into Chinuk Wawa and English.
"(Tribal artisan) Brian Krehbiel also has a big canoe on the playground," she added.
The Willamina School District is approximately 40 percent Native American students, with most of those students either being members or descendants of the Grand Ronde Tribe.
Senate Bill 13, passed by the Oregon Legislature in 2017, requires the Oregon Department of Education to develop curriculum relating to the Native American experience in Oregon. This includes Tribal history, sovereignty, culture, treaty rights, government, socioeconomic experiences and current events.
The summit wrapped up around 4 p.m. with a question-and-answer session and closing remarks from Heidt.