Gaming
Casino opens Happy Dragon Chinese eatery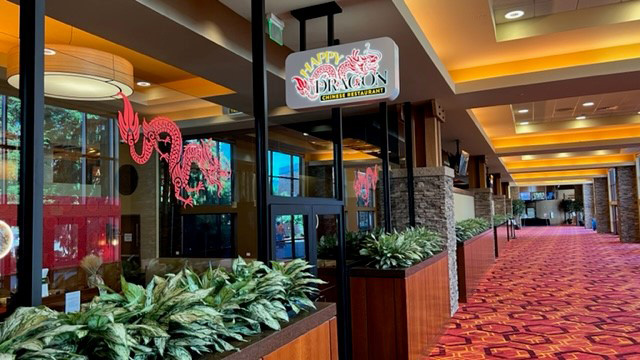 By Dean Rhodes
Smoke Signals editor
Spirit Mountain Casino opened the doors to the family owned and operated Happy Dragon Restaurant on Tuesday, June 21.
The new eatery joins several new dining options at the casino, including Italian restaurant Amore, the 10 Barrel Brewing Hop Yard and the Mexican-style restaurant Jalapenos.
Owner and head chef LiNan Feng graduated from Taishan Culinary School in China and completed an internship as a master chef at Nan Hai Yu Cun Restaurant and Hotel in Guangzhou in Canton, China. He also has worked at Saigon Chinese Restaurant and Foshan Restaurant in Canton, as well.
Feng specializes in traditional Cantonese-style dishes such as Peking duck, roasted pigeon, roasted pork belly and clay pot rice. He opened the first Happy Dragon location in 2013 and the Portland location is managed by his daughter, Emily. The second location at Spirit Mountain Casino will be managed by his sons, Chris and Ben.
"We are happy to be at Spirit Mountain Casino," Emily said. "It is exciting for our family."
Happy Dragon's general dining area seats 110 with a private dining area that can accommodate up to 60 people. Hours of operation at 11 a.m. to 11 p.m. Sunday through Thursday and 11 a.m. to midnight Friday and Saturday.
To-go orders and private dining arrangements can be made by calling 503-879-6189. To view the restaurant's full menu, go to www.spiritmountain.com/dining/happy-dragon.
"We are pleased to have the Feng family here at Spirit Mountain Casino," said Chief Executive Officer Bruce Thomas. "Happy Dragon is a welcomed addition and will further our efforts to provide a wide variety of traditional and authentic dining choices for our guests."