Culture
Krehbiel painting mural in downtown Oregon City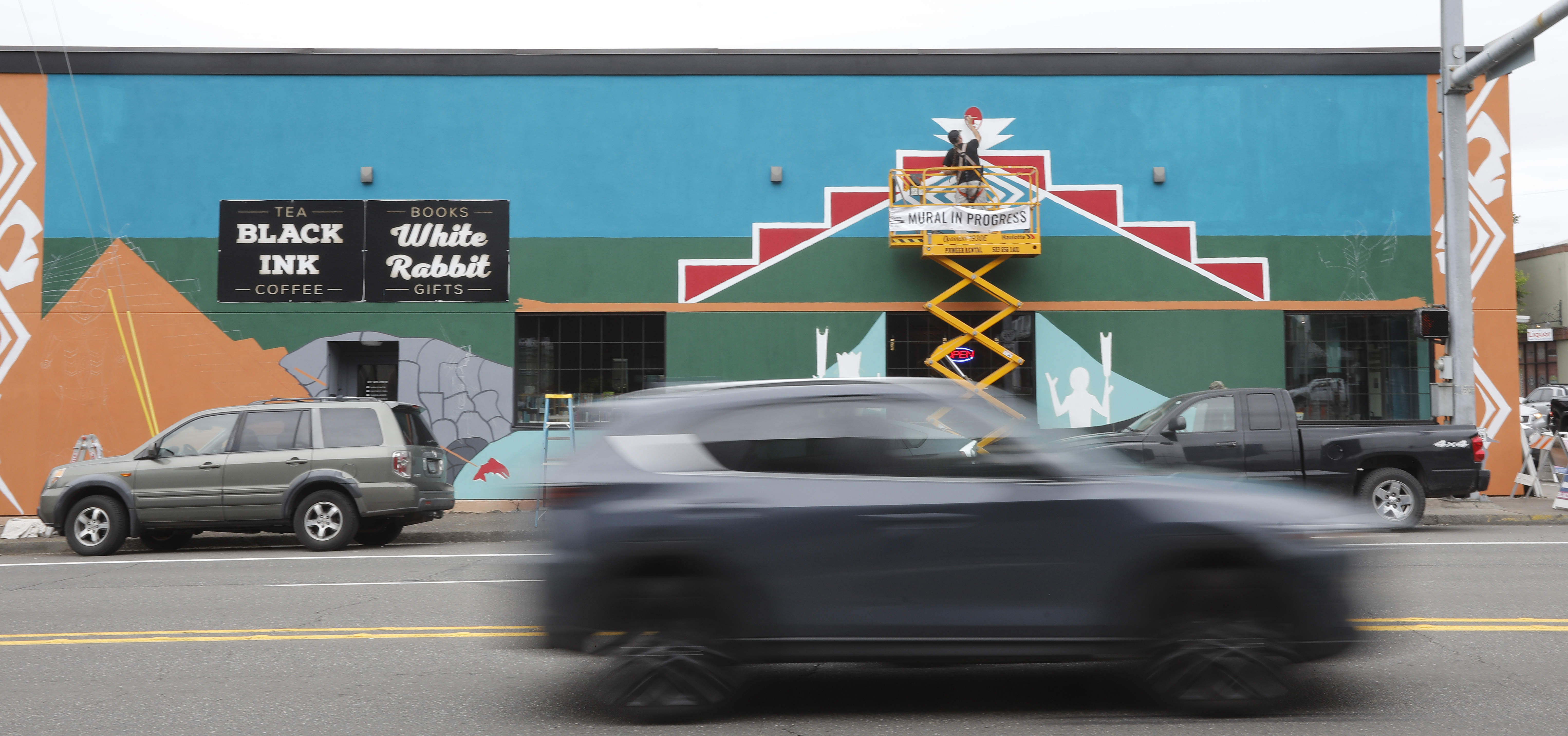 By Danielle Harrison
Smoke Signals assistant editor/staff writer
OREGON CITY -- Tribal artisan Brian Krehbiel is taking his work to new heights – literally.
The 42-year-old Grand Ronde Tribal member has been commissioned to paint his first mural near a major intersection in downtown Oregon City and directly across the street from the Tribe's property at the former Blue Heron Paper Mill. 
The 75-by-20-foot painting on the outside of White Rabbit Books & Black Ink Coffee facing McLoughlin Boulevard tells the story of how Coyote and Meadowlark created Willamette Falls. Other elements of the mural include a heron, Tribal dancer, a welcoming pole, longhouse, eels and a mountain.
A canoe framing one of the bookstore's windows features two Tribal members, who were painted by Nakoa and Kyoni Mercier, Krehbiel's niece and nephew. There is also an illustration of a person fishing off a platform outside their home. These portions are meant to be interactive, Krehbiel says, so that visitors to the coffee shop can envision themselves sitting in the canoe, which is painted on each side of a large window, or fishing off the platform, located next to the back door of the business.
"Just seeing our art and creation come together is great," Krehbiel says. "Once we started really seeing it unfold, it was sweet. If anything else, I hope in 10 years we can continue to put our hands on this and help out. This will be the sign to our ancestors that we didn't forget them because it shows our people were living here."
A mountain with steps along the way completes the top of the mural, representing the journey people make to reach their goals.
"I thought it would be good to have a mountain along with the falls," Krehbiel says.
Although he's enjoyed the process of creating the mural, it's been a challenge painting the upper portions, especially on a textured surface that measures 20 feet tall.
"I'm actually scared of heights," Krehbiel confesses as traffic whizzes by. "I'm up on a lift and it moves a lot so I'm trying not to roll (the paint) too far out from where I'm standing."
However, he seldom lets doubts determine his course of action.
"They asked me to create a mural and so I said, 'Sure, why not? I'll try anything once,' " he says. "Don't let anyone tell you that you can't do something. Just get at it and try it."
Krehbiel has been putting in eight-hour days working on the mural, weather permitting, and is expecting to complete it this month. It will the first by an Indigenous artist as a part of Oregon City's public art program. It is paid for with an $18,690 Metro Enhancement grant.  There were also in-kind donations from Sherwin Williams, Party Factory Events and Pioneer Rental.
White Rabbit owner Danielle Walsh says that her business tries to support local artists and felt it was important to have the perspective of a Grand Ronde artist for this piece, especially as it faces Tribal property and the falls.
"We are interested in representation -- each person with a historical or current connection to this place and time being able to see themselves at White Rabbit Books & Black Ink Coffee, whether through vendors we support, books on our shelves and/or artwork," she says. "We are imperfect in our practice, but are striving to understand, respect and amplify voices every day. We welcome the Confederated Tribes of Grand Ronde as our new neighbor, and hope the mural (will) be a reflection of that, as well as bringing voices to the mural program that have been underrepresented until now."  
She adds that Krehbiel's passion for cultural traditions is "infectious." 
"Working with Brian has brought us so much joy," Walsh says. "He is creative, kind and intuitive. … May all people feel as welcome as we do when we approach the mural."
Krehbiel, a Willamina resident, owns Agency Creek Expressions and has been an artist for several years. In an earlier Smoke Signals interview, he said he has dedicated himself to learning traditional skills and arts for much of his life, both to help strengthen his connection to the Tribe and to form his own cultural identity.
His artwork is featured at the entrance to the Health & Wellness Clinic, in the atrium inside and also in the Behavioral Health building at the Grand Ronde Tribal campus.
Krehbiel grew up at the base of Spirit Mountain and has lived in Grand Ronde and Willamina for most of his life. He attended schools in Willamina as well as Noli Indian School near Palm Springs, Calif.
Krehbiel is the son of Tribal Elder Arlettia Krehbiel and Tim Krehbiel, and grandson of Hugo and Hazel Krehbiel, and Arthilia (Grand Ronde) and Elton Clark. He and his partner, Ali Holsclaw, welcomed a son in 2018, Tribal member Alder Moon, and a daughter, Hazel, in 2021. Krehbiel has two older children, Tribal members Kailiyah, 20, and Red Sky Clawson, 13.
Contains information from Pamplin Media Group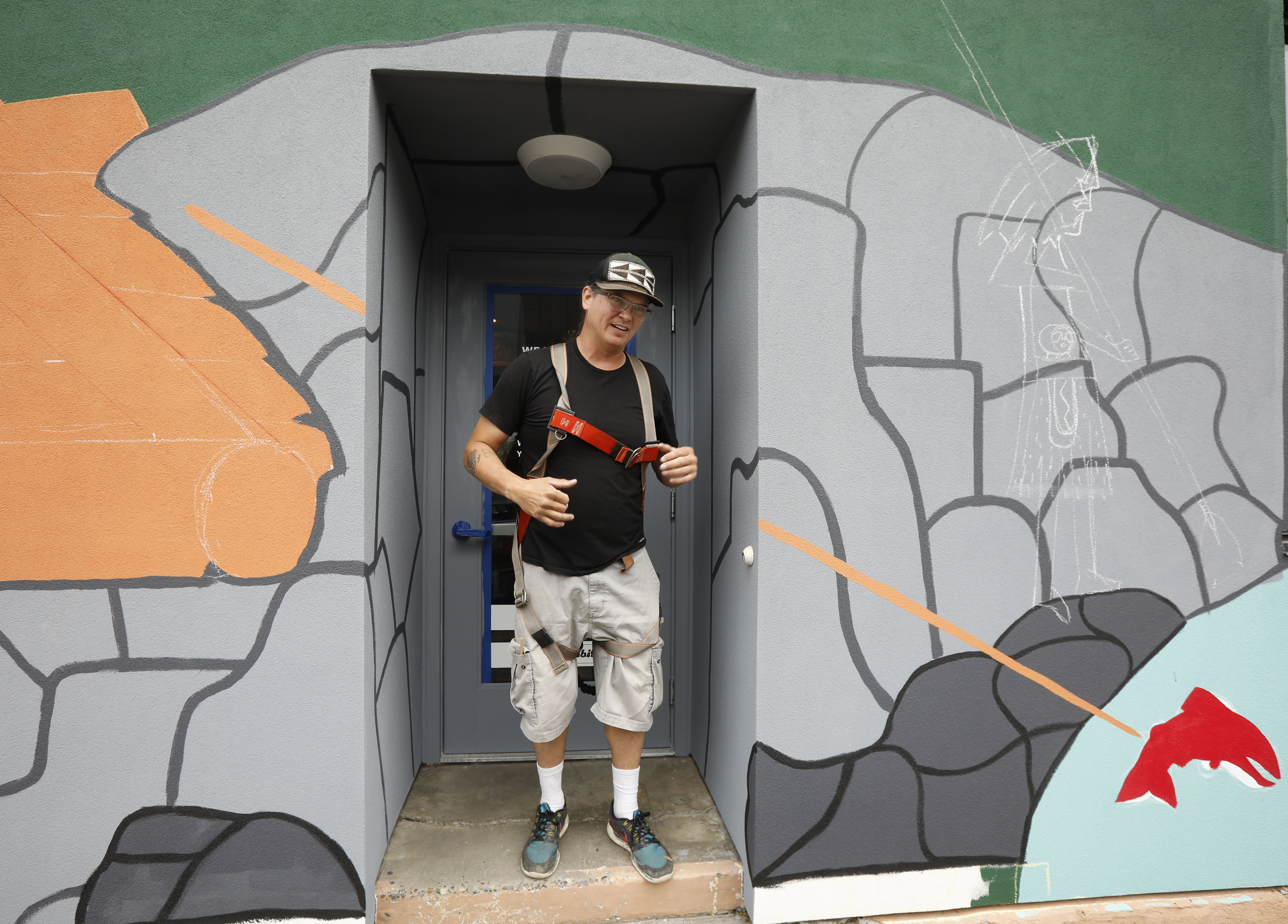 Tribal member Brian Krehbiel shows part of the mural he was commissioned to paint on the side of the White Rabbit Books & Black Ink Coffee building where visitors can simulate fishing off the Tribal platform in Oregon City on Thursday, June 9. The mural is across from the Blue Heron site and is intended to be a mirror of Willamette Falls. (Photo by Timothy J. Gonzalez)