Tribal Government & News
Community Fund surpasses $88 million mark in giving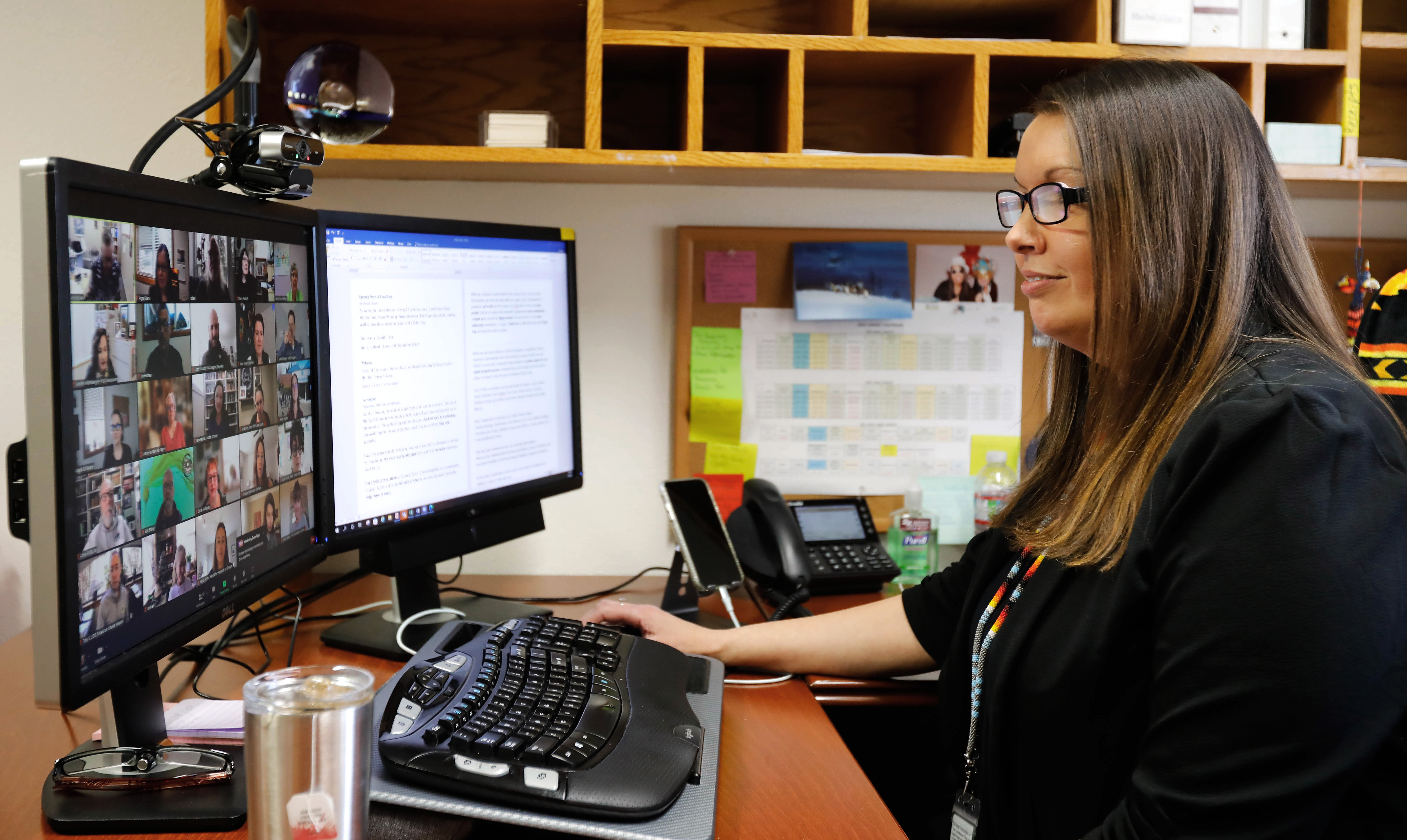 By Dean Rhodes
Smoke Signals editor
Spirit Mountain Community Fund awarded $862,835 in grants on Wednesday, March 9, during a 90-minute virtual check presentation event, bringing the Grand Ronde Tribe's philanthropic giving since 1997 to more than $88 million.
The Community Fund receives 6 percent of proceeds from Spirit Mountain Casino and awards that money to nonprofits in 11 northwest Oregon counties to fund efforts in the areas of arts and culture, environmental preservation, education, health, historic preservation and public safety, and to the nine federally recognized Tribes in Oregon under a Tribal Grants program.
The Community Fund was created as part of the Tribe's gaming compact with the state of Oregon. It is supervised by an eight-member Board of Trustees that includes Tribal Council members Denise Harvey, Jack Giffen Jr. and Kathleen George.
The event was the fifth virtual check presentation held by the Community Fund since the beginning of the COVID-19 pandemic in March 2020. It opened with a prayer and flute song from Tribal Lands Manager Jan Looking Wolf Reibach.
Executive Director Angie Sears and Harvey welcomed virtual attendees.
"I think being on the Community Fund Board of Trustees is probably one of my favorite jobs of being on Tribal Council," Harvey said. "I thoroughly enjoy the work that we do and the honor in meeting all of you and welcoming all of you to learn about our Tribe and to participate in our granting process.
"The Community Fund is celebrating 25 years in September, which is a great milestone to have accomplished. From where the Tribe and the Tribal community have come from and what we had back then and being Terminated, I have so much gratitude for our Tribe being able to help the nonprofit organizations in Oregon and for us to be able to accomplish what we have and to help all of you accomplish what you have. To be a part of that is just an overwhelming appreciation."
Sears also introduced Community Fund employees-- Grants Coordinator Jim Holmes, Program Coordinator Angela Schlappie and Administrative Assistant Marissa Leno.
Holmes showed the approximately 38 people who attended a video on the history of the Tribe and then he and Schlappie announced the grant awards.
Due to the virtual format, Holmes and Schlappie allowed most of the organization representatives to briefly speak about their programs.
During the check distribution portion, the Community Fund awarded 11 small grants worth $78,500 and 17 large grants worth $784,335.
Small grant recipients were:
Assistance League of Greater Portland, $7,500, for its Operation School Bell program that provides new clothes to low-income students;
Center for Community Counseling of Lane County, $7,500, for its child abuse prevention project;
Elakha Alliance of Lincoln County, $5,000, for its Native youth internship program to help restore sea otters to the Oregon coast;
Florence Food Share of Lane County, $7,500, for its growing fresh food project;
Growing Gardens of Clackamas County, $7,500, for its Growing Hope program;
Guidance 2 Greatness of Multnomah County, $7,500, for its behavioral health training program "Re-entry After Incarceration";
Habitat for Humanity of Oregon of Marion County, $7,500, for its Habitat Equity Academy for Leaders;
Multicultural Integrated Kidney Education Program of Multnomah County, $6,000, for mentored health education in underserved schools;
Commons Law Center of Multnomah County, $7,500, for its Homeownership Asset Preservation Program;
Unite Oregon of Multnomah County, $7,500, to fund food sovereignty for immigrants and refugees living in east Portland;
And Western Resources Legal Center of Multnomah County, $7,500, for its Indian Law Field Placement Program.
Large grant recipients were:
Boys & Girls Club of Corvallis, $20,000, to fund a summit supporting fifth and sixth grade success during COVID-19;
Bright Beginnings of Marion County, $50,000, for its Bright by Text: Digital Nudges That Make a Difference project;
Community Development Corp. of Oregon of Multnomah County, $99,900, for its Turnkey Affordable Housing upgrade;
EngAGE Northwest of Multnomah County, $50,000, for its effort to create mental health through the arts, wellness and community;
Every Child Lane County, $10,555, for its effort to meet the tangible needs of Lane County children affected by foster care;
Family Justice Center of Washington County, $20,000, for its family support services;
Juliette's House of Yamhill County, $49,225, for its age-appropriate child abuse prevention education program to build healthier communities;
Long Tom Watershed Council of Lane County, $50,000, for its program to empower Native families through cultural education;
Meals on Wheels People of Multnomah County, $100,000, for its Meals 4 Kids eastside expansion capital project to purchase a refrigerator and freezer;
Open School of Multnomah County, $50,000, to fund interventions for students disproportionally affected by COVID-19;
Ophelia's Place of Lane County, $50,000, to fund school partnerships that promote positive youth development;
Our Community Birth Center of Lane County, $26,700, for its equitable access fund;
Portland State University Foundation, $43,036, to fund its College Navigator program to promote higher education for women incarcerated at Coffee Creek Correctional Facility;
Shadow Project of Multnomah County, $31,900, to address the reading crisis among students with disabilities;
Volunteers of America – Oregon of Multnomah County, $50,000, to enhance its Problem Gambling Program;
Wallace of Multnomah County, $50,000, to fund its holistic health program that addresses systematic oppression in the Rockwood neighborhood of east Portland;
And Washington State University Foundation of Multnomah County, $33,019, to fund its Thin Green Line Is People archive that stores documents that activists and attorneys might need to access regarding fossil fuel issues.
Three beaded necklaces made by Holmes were raffled off to Elakha Alliance, Bright Beginnings and Commons Law Center, and an Ikanum blanket designed by Travis Stewart went to Shadow Project.
The March 9 awards bring the Tribe's total giving to almost $88.8 million, Holmes said.
Sears added that she hopes the June check presentation will be held in-person either in the Governance Center Atrium or at Spirit Mountain Casino.
"Our check presentations are a way for us to come together as a community to give thanks and celebrate each of you for the amazing work that you do in helping those in need," Sears said.