Tribal Government & News
57 employees honored for 807 years of service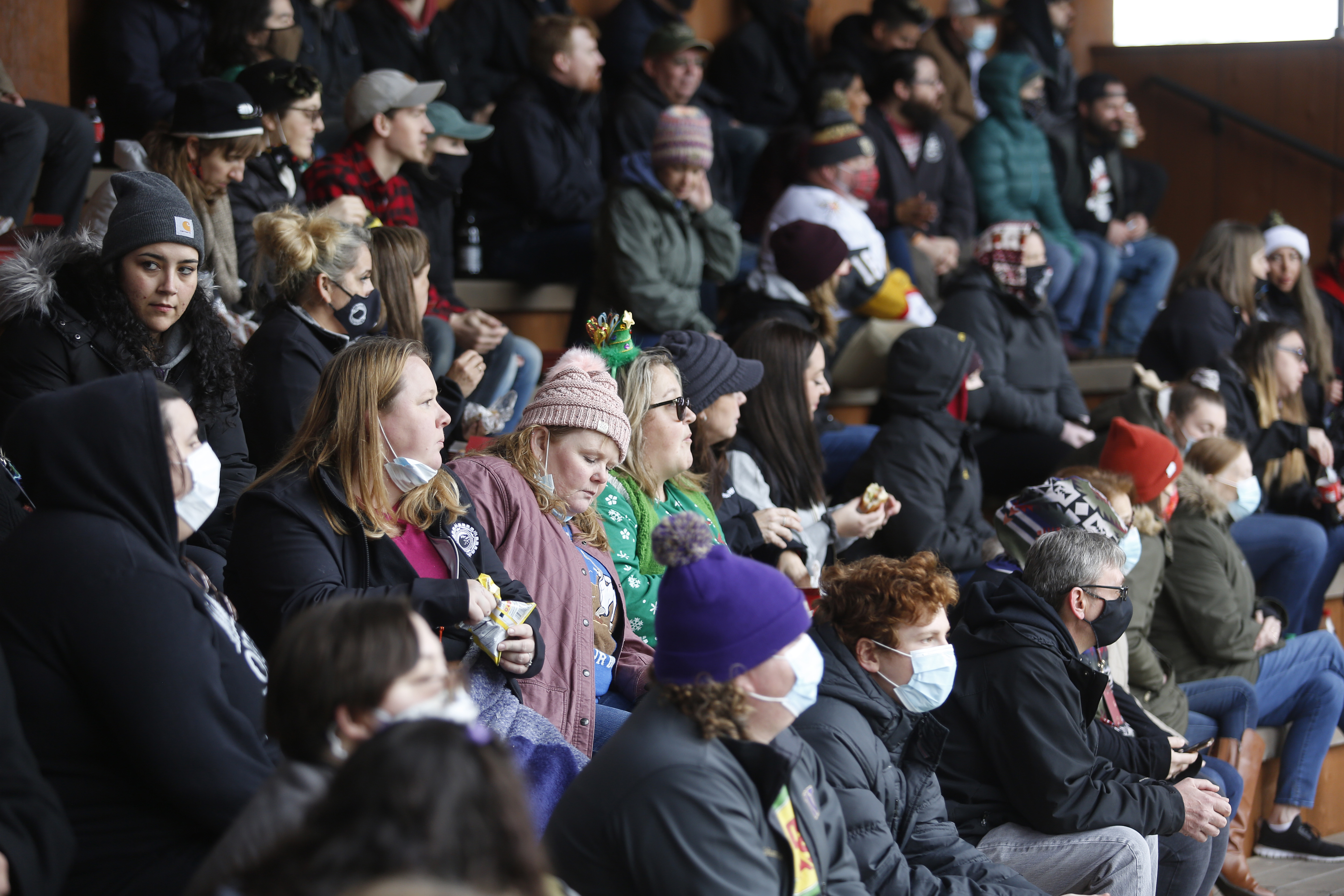 For the first time in nearly two years, Tribal employees were able to gather at the Tribe's annual Christmas party on Friday, Dec. 17. It marked the first large in-person gathering since the COVID-19 pandemic began in 2020. Last year's event, like nearly everything else, was canceled.
Fifty-seven Tribal employees, all hired in the last quarter of the year, were also honored for a combined 807 years of service to the Grand Ronde Tribe at the event, held outdoors at the uyxat Powwow Grounds arbor.
In past years, the Christmas party was held at Spirit Mountain Casino, but was moved to the powwow grounds to provide an opportunity for employees to gather and still stay safe.  
Health & Wellness Center Business Office Manager Tresa Mercier set the longevity record with the Tribe with 37 years of service.
One other Mercier – Public Works Coordinator John – was honored for reaching his 31st year of service to the Tribe.
Tribal Council Chair Cheryle A. Kennedy thanked employees for all of their hard work.
"I'm so pleased to see so many employees who came out to enjoy this Christmas party and employee recognition day," she said. "I want to congratulate our employees for the longevity with which they have served the Tribal government. … You are all heroes in my eyes and thank you for coming out today."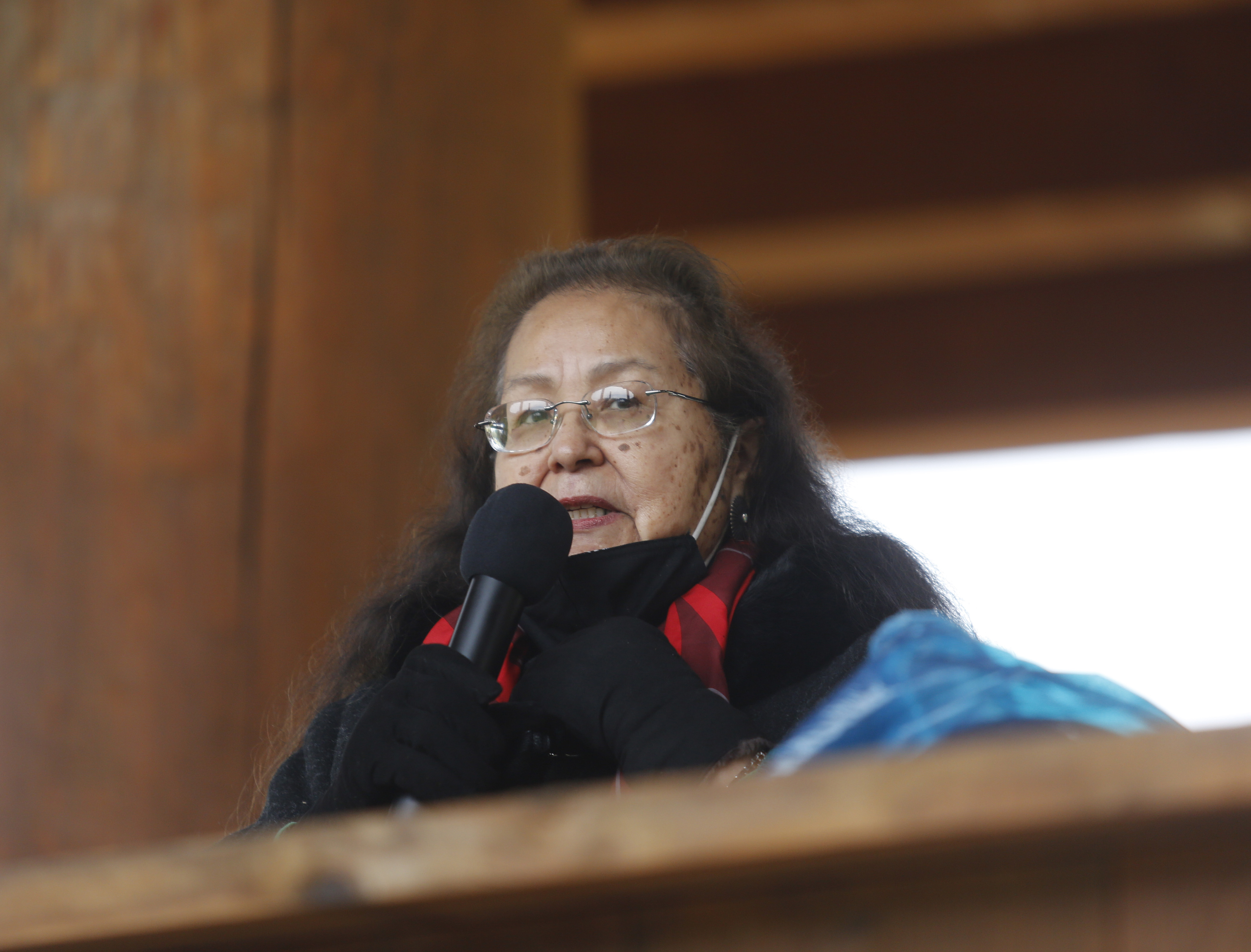 Tribal Council Chairwoman Cheryle A. Kennedy makes remarks during the annual holiday lunch and raffle held at the Tribal Powwow Grounds on Friday, Dec. 17. (Photos by Timothy J. Gonzalez)
Tribal General Manager David Fullerton said that 2021 had been a stressful year on multiple levels, but employees had helped keep things running smoothly.
"It's been a rough past year and 19 months," he said. "All of us on the executive team appreciate your commitment to keep everyone safe." 
Other Tribal Council members in attendance included Vice Chair Chris Mercier, Jon A. George, Michael Cherry, Lisa Leno and Kathleen George.
Jon A. George offered the invocation before employees ate a boxed lunch of Firehouse Subs sandwiches, chips and cookies.  
Four days before the ceremony, Fullerton sent an all-employee e-mail with event details.
"For two years, the COVID-19 pandemic has prevented us from gathering for our annual holiday lunch and raffle. Not this year. … Dress warmly and dust off your holiday sweaters. We look forward to celebrating another successful year."     
Celebrating 26 years of service were Social Services Department Manager Dana Ainam, Facilities Senior Administrative Assistant Daphney Colton, Employee Benefits Administrator Tammy Gould, Records Clerk Hollie Mercier, Compensation/HRIS Administrator Candy Scranton, Tribal Court Records Clerk Linda Evans and Lands Department Manager Jan Reibach. Rounding out the quarter-century mark or higher was Timber Manager Michael Karnosh with 25 years of service.
Rounding out employees reaching or exceeding two decades with the Tribe were Dental Assistant Donnette Spaulding, Cultural Education Specialist Crystal Szczepanski, Tribal Court Interim Administrator Julie Boekhoff and Records Clerk Egypt Leno with 24 years of service; Employment Specialist Tauni Tollas with 23 years; Procurement Department Manager Nathan Rolston with 22 years; and Home Improvement Coordinator Donald Coon with 20 years.
Other employees recognized for their service of five years or more during the ceremony included:
18 years: Tribal Librarian Kathy Cole.
16 years: Home Improvement Coordinator Loyal Hamilton, Gaming Commission Compliance Manager Rose Smith and Post-Treatment Counselor Christopher Holliday.
15 years: Utility Maintenance Supervisor Joe Loomis and HR Health Care Generalist Tauni McCammon.
14 years: Housing Administrative Program Manager Joan Dugger. 
13 years: Cultural Education Specialist Flicka Lucero and Enrichment Coordinator Isaiah Sherwood.
11 years: Employment Caseworker Rhonda Leno and Early Head Start Teacher Melissa Phillips.
10 years: Firefighter Daniel Hyatt, Pharmacy Technician Supervisor Stephanie Wolfe, Senior Applications Administrator Jose Luna and Maintenance Technician Brent Buckner.
9 years: Home Improvement Administrative Assistant Nicholas Kimsey, Pharmacy Technician Cindy Brickell, Secretary/Medical Assistant Jamie Adams, Education Services Coordinator Devin Boekhoff and Utility Maintenance Technician Richard Smith.
8 years: Senior Maintenance Technician Daron Pond Jr., Payroll Administrator Michelle Peterson, Groundskeeper Anthony Henry and Housing Groundskeeper Edward Denhem II.  
7 years: Day Shift Housekeeper Shelly Fox, Medical Assistant Amanda Walker, Child/Family Services Caseworker Santi Atanacio, Community Fund Administrative Assistant Marissa Leno and Chinuk Immersion Preschool Classroom Aide/Bus Monitor Shantell Ulestad-Salinas.
6 years: Dentist Ryan Davis, Classroom Aide Wendy Mercier, Housing Maintenance Technician Winston Mercier, Lead Housekeeper Coley Parazoo, Executive Director of Health Services Kelly Rowe and Staff Accountant Gloria Schwalger.
5 years: Certified Application Assister/PRC Assistant Leah Bailey, YEP Grant Coordinator Vincent Chargualaf, Lead Pharmacy Technician Sommer Coleman, Tribal Security Officer Derek Ellenwood and Ceded Lands Program Manager Torey Wakeland.
Raffles were conducted during the event and included Portland Trail Blazers signed jerseys, basketballs and tickets, in addition to cash prizes and concert tickets.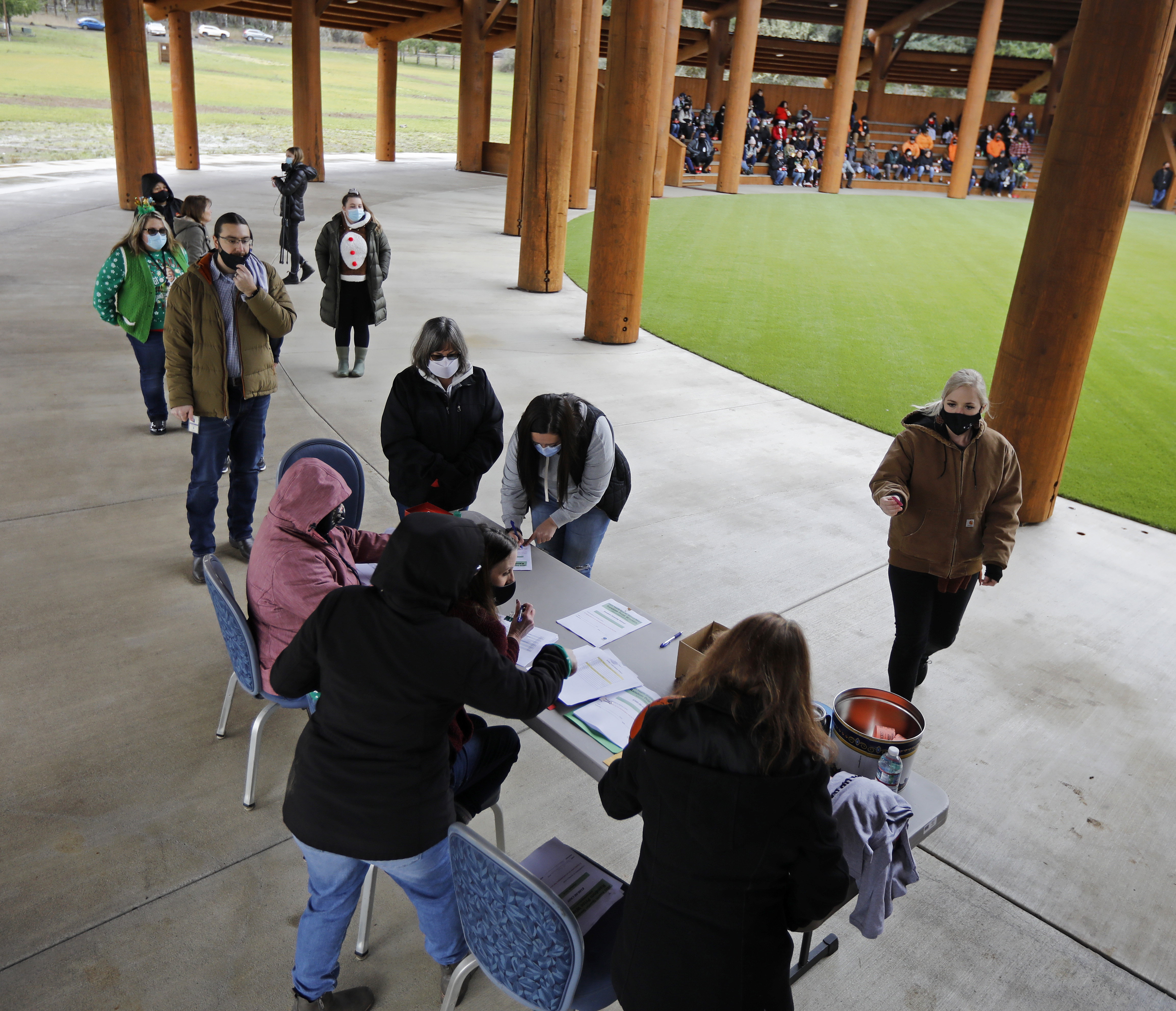 Raffle winners line up to collect their prizes during the annual holiday lunch and raffle held at the Tribal Powwow Grounds on Friday, Dec. 17. (Photos by Timothy J. Gonzalez)
Employees recognized during the awards received an additional bonus check and those reaching the 10-year mark also received a Tribal Pendleton blanket or $100.
After the Years of Service event concluded, employees were dismissed with pay for the remainder of the day.