Tribal Government & News
Tribe begins its own fire and emergency services operations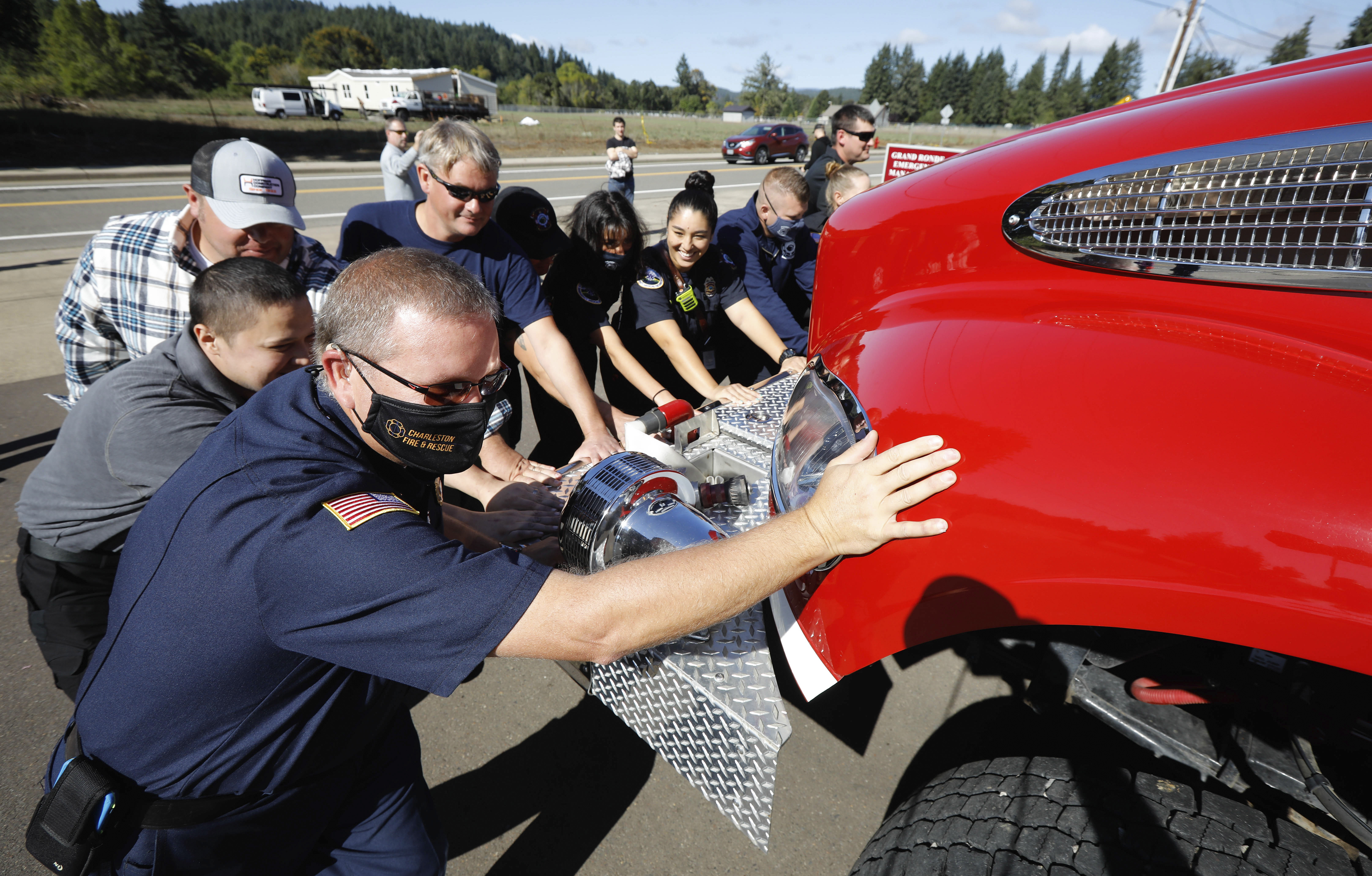 By Danielle Harrison
Smoke Signals staff writer
On the morning of Friday, Oct. 1, Grand Ronde officially became one of only a handful of Tribes in the United States to operate its own fire and emergency services department.
That's when operations were formally handed off from the West Valley Fire District to the Grand Ronde Tribal Emergency Services Department, the culmination of two years of work and more than three years ahead of schedule.
The Tribe expressed its desire to add fire to its list of sovereign nation public safety responsibilities in December 2019, but the seed was planted well before then.
During Friday's dedication ceremony at the Grand Ronde Fire Station at McPherson and Grand Ronde roads, Emergency Operations Coordinator and Fire Chief Steve Warden recalled discussing the possibility with General Manager David Fullerton during the 2018 Canoe Journey on Puget Sound in Washington state. Warden had recently retired as a volunteer battalion chief for Newberg Fire & Rescue.
"He asked what I thought about having our own department and I said it was doable and we could put all the Tribal response agencies under one umbrella because there are so many things you cross over into, and separating agencies doesn't make sense," Warden said. "From that little conservation came sitting before Tribal Council. That was the first step. My plan was five years. I figured nobody could get it done in a shorter period of time."
He was happily wrong. One year and 10 months later, the goal has been accomplished.
In front of a crowd of approximately 40 Tribal employees, Tribal Council members and state fire officials, Warden thanked firefighter/paramedic Tammy Tigner, who also serves as the Tribe's training and volunteer coordinator, and Brandy Bishop, the Tribe's emergency preparedness coordinator, for helping him bring the Tribe's Emergency Services Department to fruition.
"We felt it was best to make a move to serve this community out here and be partners to our surrounding neighbors," Warden said. "We got the foundation laid and here we are today. Out here we believe in our people and ourselves. We work very hard to take care of our community. My only wish is that I would have started (working) here a long time ago. I love this place and the people out here. It just doesn't get any better."
Tribal Council member Jon A. George opened the ceremony with a few remarks and then led the invocation.
"What a great honor this is to have our own Tribal fire department," he said. "I'm honored to be here today and what a blessing it is to know this (department) is under our Tribe and Tribally ran."
Cultural Education Specialist Cristina Lara and Cultural Education Coordinator Jordan Mercier led a drum song and were joined by Tribal Council members Lisa Leno, Michael Cherry and George, and Firefighter/EMT Kaylene Barry. Tribal Council member Jack Giffen Jr. was also in attendance.
Warden asked all of the Tribal Emergency Services employees to raise their hands and said that they were the foundation of a department that would continue to be built. The department began with three employees and recently hired 25 more.
"This is your crew that will be taking care of your community," he said. "We have plans to start an educational program and to build a good cadre of volunteers. My goal is to see this become one of the renowned fire departments in the country." 
 Oregon State Fire Marshal Mariana Ruiz-Temple attended the event with several of her employees.
"It's a great honor to be here today and see what this means to this community and the people of Oregon," she said. "The vision of your Tribal Council members, the support of your community and the leadership of Chief Warden is why you are here today. It's exciting for this area, your people and beneficial to your visitors. You have built a premier fire service agency and it is a shining example of your commitment to the community."
The event concluded with a "push-in ceremony" where Warden, Supervising Deputy Fire Marshal Jason Cane, Battalion Chief Sean Hoxie and Firefighter/EMs Kaylene Barry and Erika Alcantar helped push a new fire truck into the station. The tradition dates back to the late 1800s when fire departments used hand-drawn pumpers and horse-drawn equipment. When they returned to the station after a call, the horses could not easily back the equipment in, so they were disconnected from it and firefighters would push the equipment back into the bay themselves.
"This means a lot to me and our crew," Warden said. "Thank you."
The Grand Ronde Tribe built the $1 million fire station and it officially opened in June 2010, reducing response times for West Valley Fire District personnel who used to be dispatched from the station in Willamina for fire and emergency medical calls.