Tribal Government & News
Tribe updates Wood Village officials on casino plans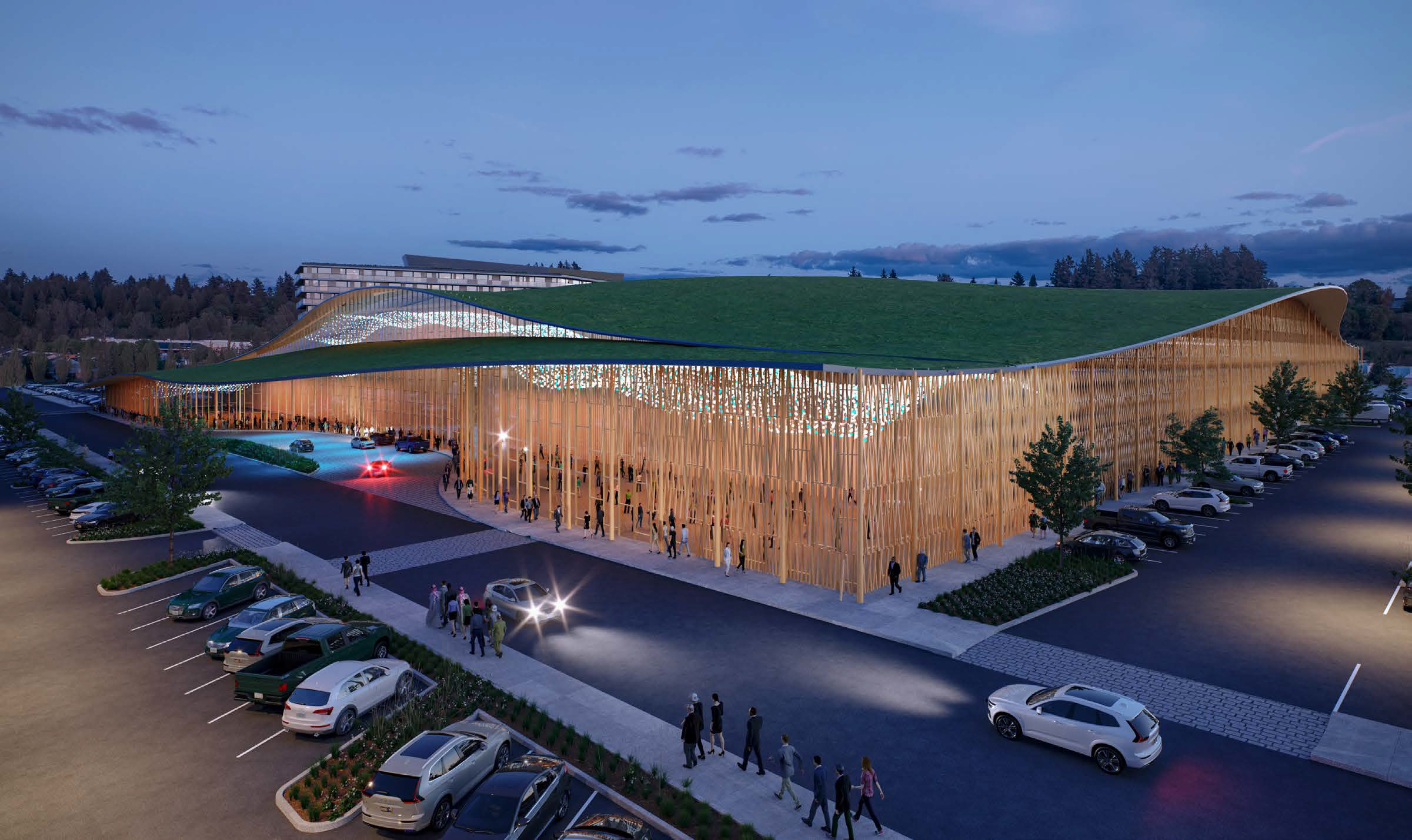 By Danielle Harrison
Smoke Signals staff writer
WOOD VILLAGE -- Tribal Council members and staff met with Wood Village officials on Friday, July 30, to provide an update on casino plans for the former 26.5-acre Multnomah Greyhound Park property the Tribe has owned since 2015.
"This has been a fun, exciting project to work on," Tribal Council Chief of Staff Stacia Hernandez said. "It's been a fantastic process and we're excited to share it with you."
Tribal officials shared architectural renderings of the Spirit Mountain at Wood Village project, which would feature a 350,000-square-foot casino that includes a 120,000-square-foot gaming floor, 300 hotel rooms and more than 3,000 parking spaces. There also would be space for concerts and events.
In addition to Hernandez, Tribal Council Secretary Jon A. George, Tribal Council member Lisa Leno, Tribal Attorney Rob Greene and Project Manager Ryan Webb attended the meeting.
Webb said that configuring the 26-acre site in a way where it could blend in with the natural surroundings had been challenging.
"It seems like a lot of space, but as you put down ideas, it becomes quite a constrained site," he said.
The proposed project site plan, designed by GBD Architects of Portland, features a majority of the parking in an enclosed garage below the casino floor. A hotel would be located above the casino, with wapato plants on the roof to give it a natural look. Additionally, the roof of the casino would be a large greenspace that could be utilized for myriad activities.
"We want to build a fantastic structure that isn't an eyesore due to its size," Webb said. "That's why we're incorporating cultural pieces into the design."
As visitors enter the casino, the architect's rendering shows wood planks surrounding it, complemented by lights designed to look like a river and highlight the Tribe's connection to local waterways.
"We've been ecstatic about the work our architect has done," Webb said.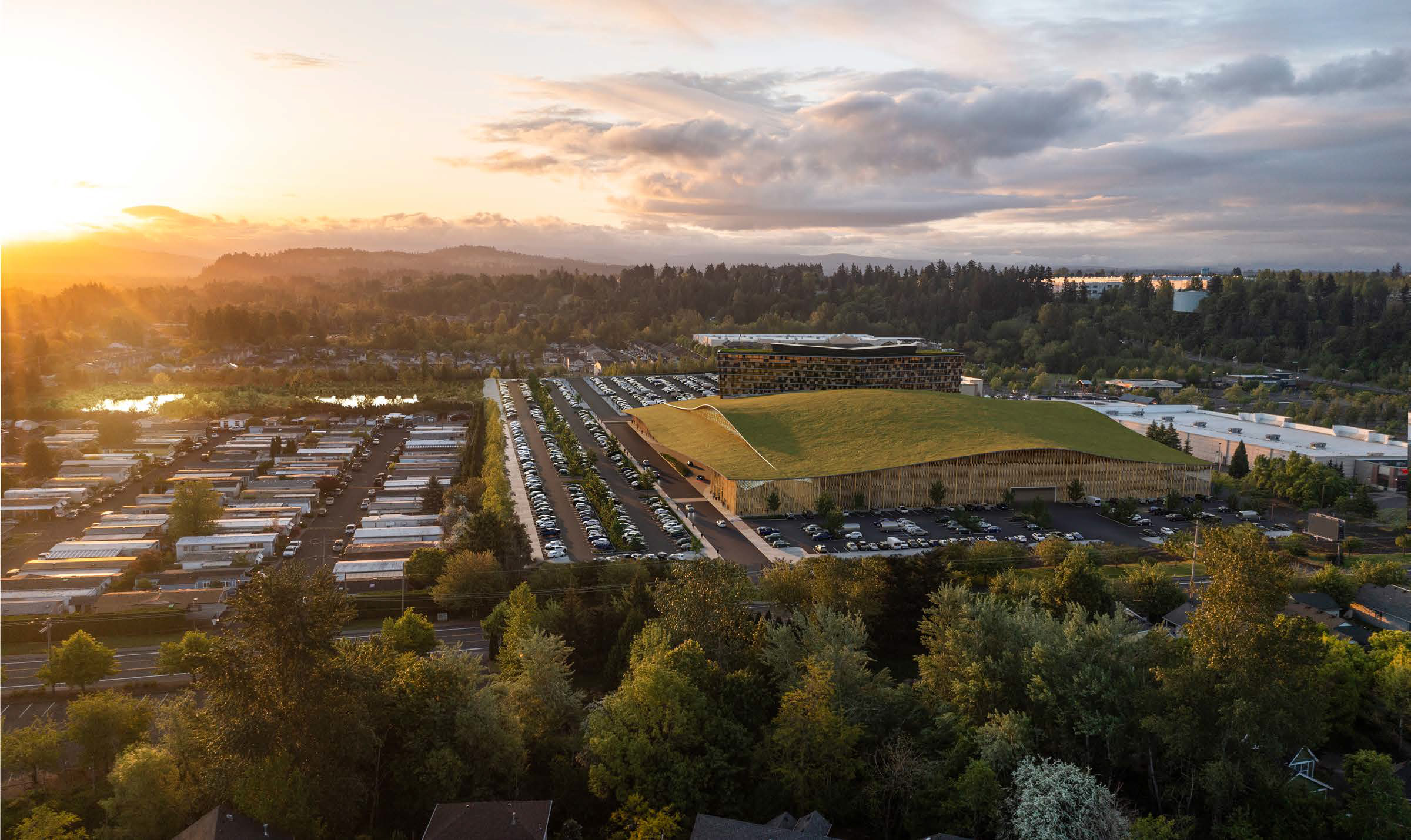 (Architect's rendering/contributed photo)
Hernandez said that the Wood Village facility would look very different than the Tribe's flagship casino in Grand Ronde.
"For us, this has been exciting because we wanted something to complement the area and speak to who we are as a people," she said. "It was an opportunity to get creative. GBD has done a fantastic job getting to know us and the community."
The Tribe purchased the property in December 2015 for $10 million after it had been proposed twice as the possible site of Oregon's first privately owned casino. Oregon voters rejected the idea of a privately owned casino in the state in 2010 and 2012.
The Tribe then announced in August 2018 that it intended not to develop the property, but instead put it on the market with the hopes of making a hefty profit after having cleared the site.
In the interim, the Tribe sold 4.6 acres of the 31.5-acre site that included undevelopable wetlands to the city of Wood Village for use as a public park. More than 26.5 acres are still owned by the Tribe.
The Tribe could not find a buyer and then the Siletz Tribe, which operates Chinook Winds in Lincoln City, filed an application on April 30, 2020, with the Department of the Interior's Office of Indian Gaming to build an 180,800-square-foot casino just north of downtown Salem. The Grand Ronde Tribe subsequently took the Wood Village property off the market on July 10, 2020, and announced in October its plans to reassess the site as the possible location for a second Tribal casino.
In addition to an architectural rendering of the site, there has also been a transportation impact analysis conducted and Environmental Protection Agency transportation documents created for the redevelopment of the site. It addresses local and state criteria, as well as the transportation analysis needed to bring the land into trust.
"We're looking at things closely to get more information," Hernandez said. "It's important to us to have a good handle on what the impacts may be and mitigate the traffic congestion from the facility."
After the presentation was complete, Hernandez and others fielded questions from members of the Wood Village City Council.
Among the inquiries were how the Tribe envisioned using the rooftop space, if the number of hotel rooms could be added or subtracted, traffic patterns, the possibility of a swimming pool and how many buses and recreational vehicles currently utilize Spirit Mountain Casino's parking areas.
"A pool has been something that we have heard about from our Tribal membership before, but for this site, we've left it off the table," Hernandez said. "However, there is flexibility there as we get into building details."
Greene noted that as a Tribe wanting to build a casino, the Bureau of Indian Affairs has its own process that must be followed to gain approval of the project, including a Tribal needs analysis and community impact studies.
"When it is complete, BIA will look at it and see if more is needed," he said. "We want to make sure everyone is on board because if not, that becomes a problem. We want to get any issues resolved up front because that is key during the process. The idea is if it will show how it is beneficial for everyone that will make the process better. That's where we want to be. If the local community is in, your chances of approval go way up."
George said that the Grand Ronde Tribe is the largest in Oregon and is getting close to having 6,000 members.
"There is a need to provide health care, education and housing grants," he said. "We continue to grow, but are also concerned about what having a casino going into Salem will do. We have to stay ahead of that because it would devastate us and the services we provide. … A casino in Wood Village will bring people to the area and hopefully stop some from going across the river (to the Cowlitz Tribe's Ilani Casino). It's a win-win for everybody."
Tribal members will have an opportunity to learn more about the project during the 11 a.m. Sunday, Sept. 12, General Council meeting, tentatively scheduled to be held in the Community Center, 9615 Grand Ronde Road.