Tribal Government & News
Editorial Board Chairwoman Siobhan Taylor walks on (updated)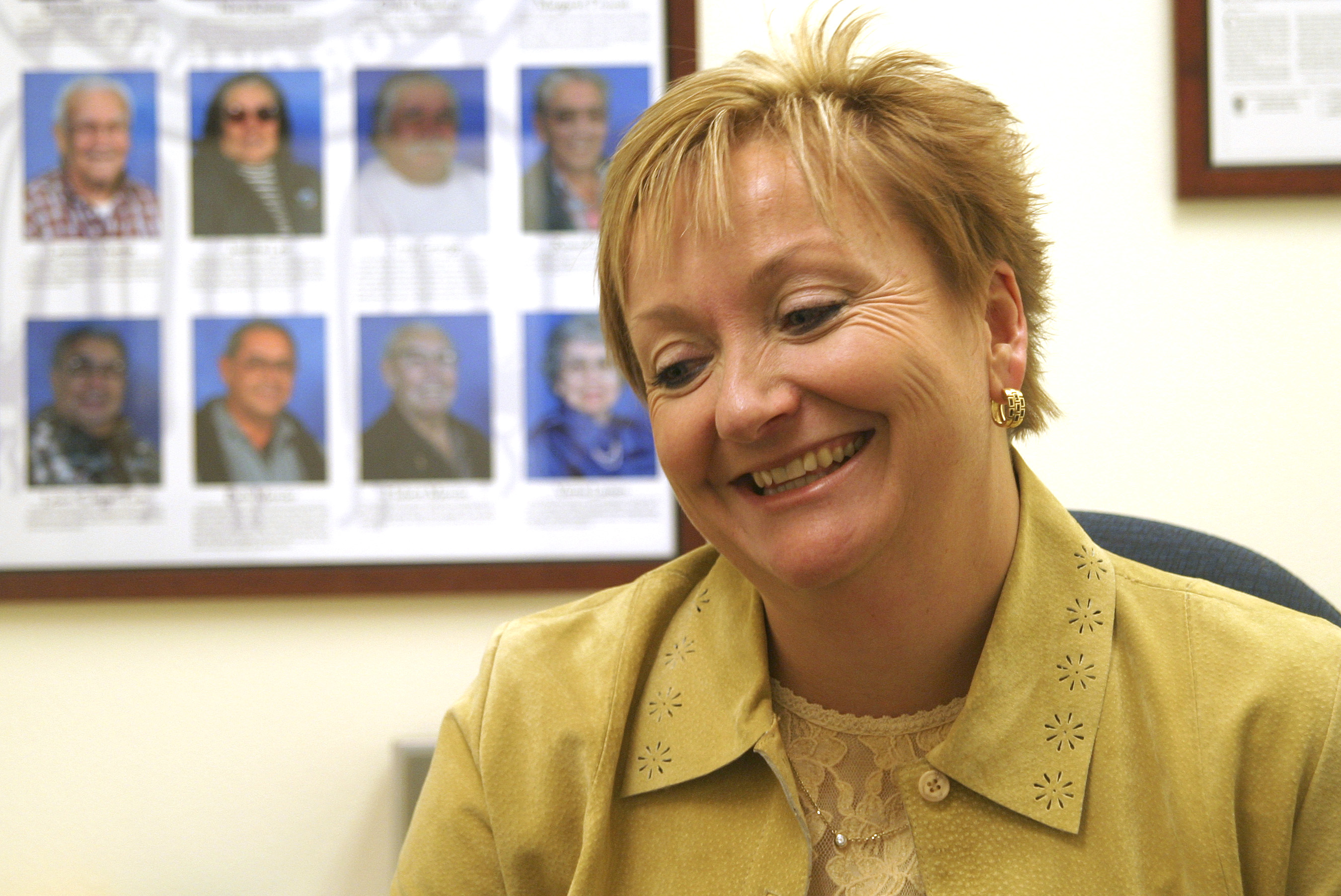 Siobhan Loughran Taylor
Dec. 2, 1958 – Aug. 11, 2021
Grand Ronde Editorial Board Chairwoman Siobhan Loughran Taylor, 62, walked on Aug. 11, 2021, after a battle with brain cancer.
Taylor was well-known in the Grand Ronde community, having worked for the Tribe from 2005 to 2015 as the Public Affairs director. She supervised the staff of Smoke Signals, devised communications and media strategies for the Tribe, and served on the Tribe's executive team providing counsel to Tribal Council.
One of her most noteworthy accomplishments while working for the Grand Ronde Tribe occurred in 2014-15 when she suggested to Tri-Met that a new car-free suspension bridge spanning the Willamette River honor the original peoples of Oregon. The bridge eventually was named Tilikum Crossing.
She also produced the Tribe's 25th Restoration Celebration video and oversaw the Tribe entering into the world of social media, creating the Tribal government's Facebook page in December 2010.
Taylor was born in Ireland on Dec. 2, 1958, to James Seamus and Mary Fidelman Kennedy Loughran and first came to Oregon in 1960. However, the family became homesick for Limerick, which is where she attended school until she was 7.
The family returned to Oregon in 1965 when Ireland went through an economic depression and stayed. Taylor graduated from Valley Catholic High School in 1977 and attended Lewis & Clark College, earning a bachelor of arts degree in International Affairs and Communications in 1981.
Before working for the Tribe, she spent 20 years at The Oregonian in Portland, starting out as a go-fer in the newsroom and ending as editor for Downtown Monthly, an advertorial section that covered downtown and northwest Portland and the Pearl District. She also started her own public relations company, Taylor Consulting.
Taylor returned to the Tribe and became the first and only chair of the Grand Ronde Editorial Board, which was formed in 2017 after passage of the Independent Tribal Press Ordinance. The five-member board supervises the editor of Smoke Signals and ensures the Tribal newspaper reports news fairly and without bias, and lives up to the highest ethical standards outlined by the Native American Journalists Association and Society of Professional Journalists.
"Siobhan was a member of the panel that hired me in August 2007," said Smoke Signals Editor Dean Rhodes. "She was an ebullient presence in the Publications/Public Affairs office. She could easily transition from telling you about her crazy weekend working out on the farm to tackling a politically sensitive Tribal controversy with grace and aplomb. I always appreciated her tact and ability to diplomatically defuse a tense situation with her trademark Irish charm and smile. At my advancing age, I've had a number of former journalism colleagues pass away in the last five years or so, but this one really hurts."
"Siobhan was a force to be reckoned with," said Editorial Board Vice Chair Mia Prickett. "She was filled with poise and grace, and always stood up for what she knew to be right, regardless of personal consequences. It was one of the many things that made her such an asset to this community and such a wonderful person. Her bright, bubbly personality will be terribly missed.
"It was an honor to work with her over the years on the Editorial Board and even more of an honor to call her a friend. Siobhan's passing is a tremendous loss to the Native community and to everyone who had the opportunity to know her. My heart hurts with this loss."
After leaving Tribal employment in 2015, Taylor worked for the Hood River Cultural Trust, Clackamas Arts Alliance and Willamette Falls Heritage Area Coalition. She resigned as the coalition's executive director in March to dedicate her time and energy to fighting the cancer.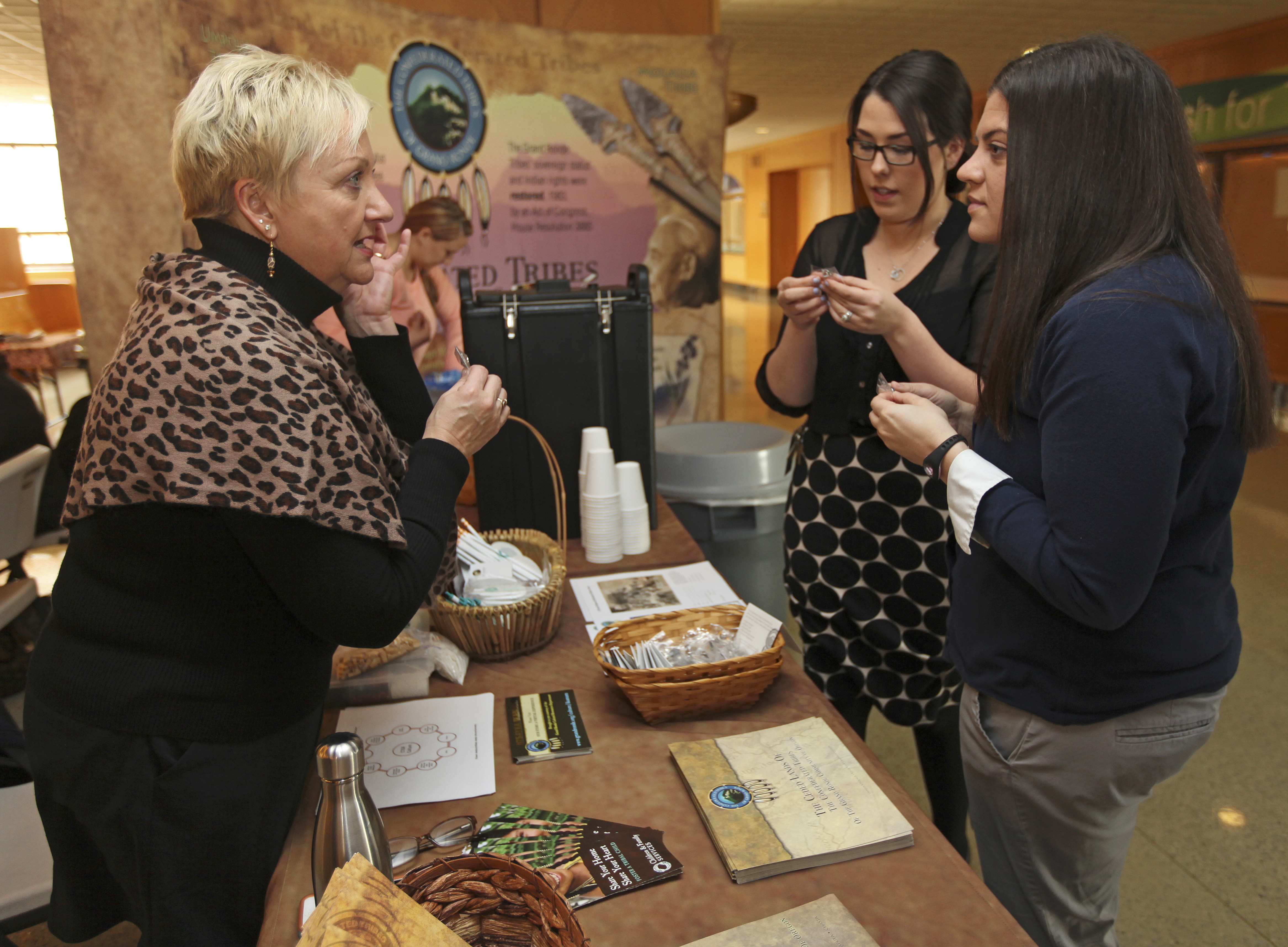 Former Public Affairs Director Siobhan Taylor during the Tribal Government Legislative Day held in the State Capitol's Galleria in Salem in February 2014. Taylor was the Grand Ronde Tribe's Public Affairs director for 10 years. She walked on Wednesday, Aug. 11, 2021, after a battle with brain cancer. (Smoke Signals file photo by Michelle Alaimo)
"I'm in it to win it" was her mantra as she continued serving remotely on the Editorial Board due to the COVID-19 pandemic and remained a steadfast supporter of the Grand Ronde Tribe's ancestral and treaty claims to Willamette Falls.
"We are saddened to learn of the passing of Siobhan Taylor," Tribal Council Chairwoman Cheryle A. Kennedy said. "Siobhan was always a strong advocate of the Tribe and was dedicated to telling the Tribe's story. We have been blessed to know Siobhan and were fortunate to work alongside her for all of these years. Our thoughts and prayers are with her family and friends during this difficult time."
"Siobhan was always full of positive energy and optimism," said Vice Chair Chris Mercier. "She was always seeing the best in people. She had a zeal for her job and you could see that with the relationships and friendships she helped forge for our Tribe. I think she was the perfect example of somebody who loved this Tribe and would do anything for it. She wasn't just an employee, she was a true friend."
Taylor also was a member of the Oregon chapter of the Public Relations Society of America and served on the board of the Sisters of St. Mary of Oregon Foundation.
She married David Taylor in 1988 and they had two sons, James and Joseph. She and her husband enjoyed traveling, which included annual winter trips to Hawaii with the family, and working on their Deer Island farm where they raised cattle and harvested honey.
Taylor was preceded in death by her mother in April 2019. She is survived by her father, James; husband, David Taylor of Lake Oswego, Ore.; sons, James (Chelsea) and Joseph Taylor; sister, Una Patricia Loughran of Portland, Ore.; and brothers, Fergus (Tammy) Loughran of Astoria, Ore., Sean (Kristen) Loughran of Portland, Ore., and Dermot (Janene) Loughran of Fairport, N.Y.; as well as numerous nieces and nephews, and many Grand Ronde Tribal friends who remained in contact with her throughout the years.
A viewing is scheduled for 5 p.m. Sunday, Aug.  22, at Pegg, Paxson & Springer Funeral Chapel, 4675 S.W. Watson Ave., in Beaverton. A funeral service will be held at 11 a.m. Monday, Aug. 23, at Our Lady of the Lake Catholic Church, 790 A. Ave., Lake Oswego, and a reception will follow with light snacks. Interment will occur at Sacred Heart Cemetery in Lake Oswego. A celebration of life will be held at 5 p.m. in the Tumwater Room of the Museum of the Oregon Territory, 211 Tumwater Drive, Oregon City.