Tribal Government & News
Honoring those who sacrificed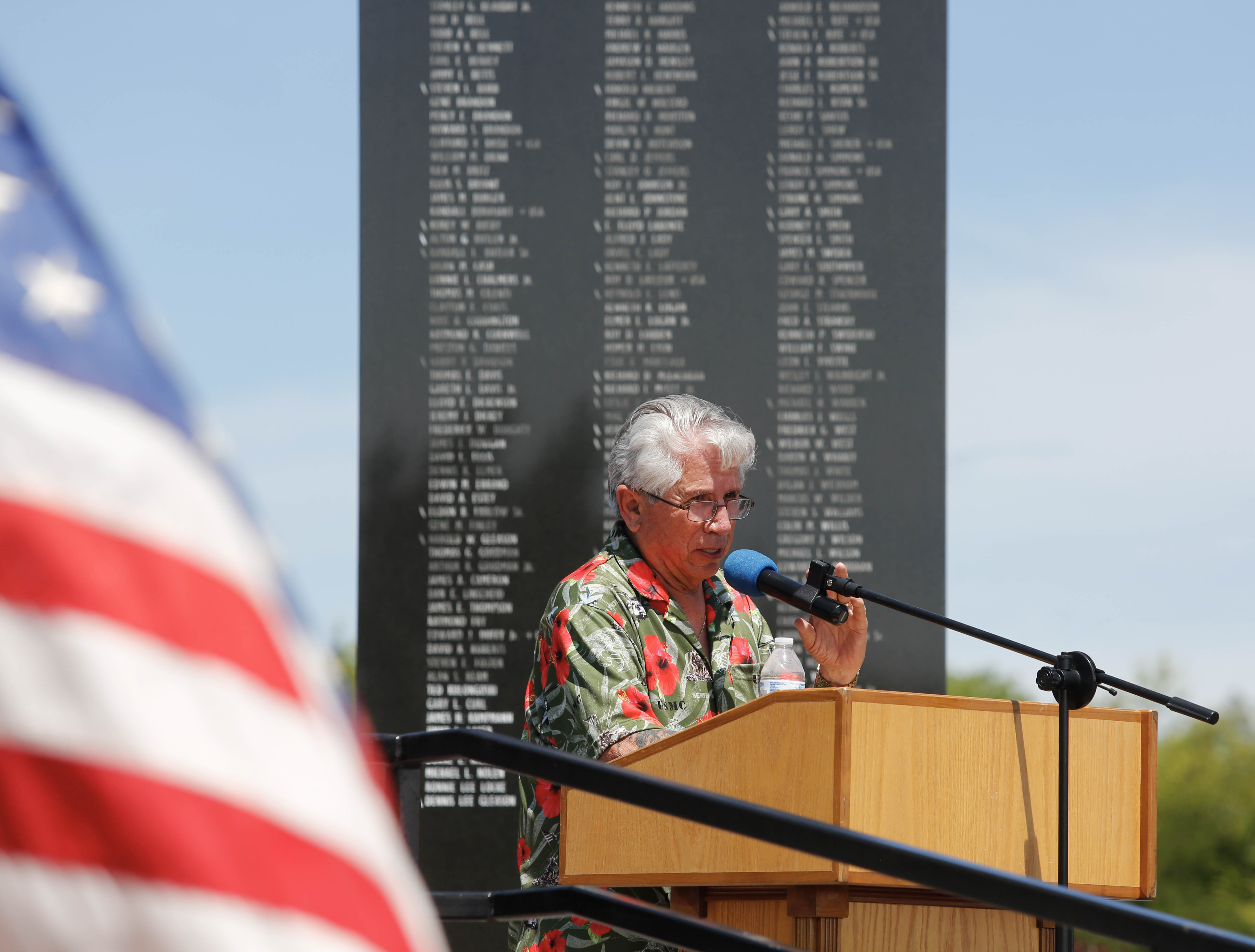 By Danielle Harrison
Smoke Signals staff writer
The Memorial Day ceremony returned to Grand Ronde for the 18th time after the in-person event was canceled in 2020 at the height of the COVID-19 pandemic.
Held at the West Valley Veterans Memorial on the Grand Ronde Tribal campus on Monday, May 31, the invitation-only event was highlighted by 12 names being added to the four black granite pillars that represent the major branches of the U.S. armed forces.
There were a few tweaks to accommodate for a post-pandemic world, such as boxed lunches instead of a sit-down meal in the Community Center, as well as socially distanced seating for the event. Other than that, the format remained the same as it has since 2003. 
Tribal Council member Steve Bobb Sr., who is past chairman of the Tribe's Veterans Special Event Board and a Marine Corps veteran from the Vietnam War era, gave the invocation and served as master of ceremonies.
The event began at noon with the boxed lunches served to approximately 50 attendees by Veterans Royalty Senior Queen Kaleigha Simi, Junior Queen Tasina Bluehorse and Veterans Warrior Nacoma Liebelt.
The ceremony began at 1 p.m. under a blazing sun with Grand Ronde drummers playing a memorial song led by Tribal members Travis Stewart, Anthony Quenelle and Jordan Mercier, followed by Grand Ronde Honor Guard members Rich VanAtta, Daniel Helfrich, Cecil Donahue and Al Miller carrying in the colors.
Tribal member JC Rogers sang the national anthem as she has for the past four events. After she sang, Bluehorse, Simi and Liebelt performed "The Lord's Prayer."
Former Tribal Council Chairman Reyn Leno, a Vietnam War-era Marine Corps veteran, read aloud a letter from Oregon Department of Veterans' Affairs Director Kelly Fitzpatrick.
"Every year, I'm struck by a powerful and conflicting emotions that Memorial Day brings," Fitzpatrick wrote. "Service can come at a great cost. This day allows us to pay tribute to those who paid the ultimate price. ... Native Americans have the highest rate of participation in the armed services. May we never forget what they have sacrificed."
The keynote speaker was retired Army Col. Larry Brown, with American Legion Post 21 of McMinnville. During his two tours of duty in Vietnam, he was shot down nine times. Brown was awarded three Silver Stars, four Distinguished Flying Crosses and five Purple Hearts.
Brown read a poem, "The Brotherhood," by an unknown author.
Afterward, he recognized Tribal Elder and World War II veteran Herman Hudson, who walked on Wednesday, May 26, at 96 years old. He joined the Navy in 1942 during his junior year of high school and served in the South Pacific aboard the U.S.S. Nevada. There, Hudson escorted fleet oilers and picked up downed pilots off the islands.
Tribal Council member Jack Giffen Jr. accepted a gift from Tribal Veterans Service Officer and Navy veteran Ramona Quenelle on behalf of the Hudson family.
"I'm honored and humbled to accept this on behalf of Junior," Giffen said. "He was the kindest man I have ever known."
Added Bobb, "Herman Hudson was a great man and will be missed by everyone in this Tribe."  
In closing, Brown asked all veterans from the various branches of the military to stand and be recognized.
The ceremony ended with Tribal Elder and Air Force veteran Jerry George reciting the poems "Remember Me, America" and "Freedom Is Not Free."
Names added to the West Valley Veterans Memorial for 2020 and 2021 are Air Force veteran Pamela J. James and Army veterans Alden H. Clark, Marvin L. Davis Sr., Linden W. Frederic, Mervin J. Holmes, Donald E. Holsclaw, Jamie M. Jenness, Douglas D. Stake and David W. Weaver. Other names added were Marine Corps veteran Rod McAllister and Navy veterans Roger A. Bly and Ramon L. Quenelle.
Clark, Holmes, Jenness, Davis and Quenelle are Native veterans. Gordon L. Calder Jr., an Army veteran who was killed in action in Iraq in 2019, also had his name read aloud. His name was added to the pillar that year, but inadvertently not read at the 2019 event. 
The addition of 12 names brings the number of veterans honored on the pillars to 2,374.
After the reading of names, Tribal Lands Manager and Army veterans Jan Michael Reibach performed taps on Native flute.
The West Valley Veterans Memorial, which was dedicated in 2003, was designed by Bobb and features a man and a woman dressed in traditional Native clothing standing side by side reaching to the sky. Surrounding them are four black granite pillars, which feature the names of Tribal and community veterans from Grand Ronde, Willamina and Sheridan.