Health & Education
Tribe records 13 assists, vaccinates most of the Portland Trail Blazers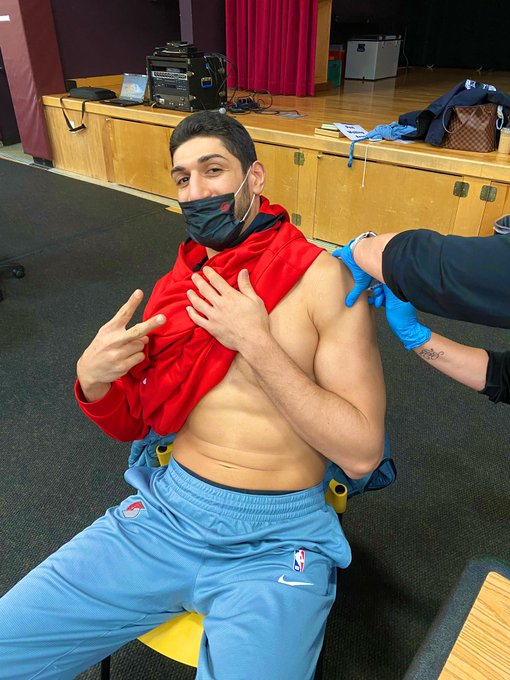 By Danielle Harrison
Smoke Signals staff writer
The Portland Trail Blazers had 13 of their 15 players vaccinated on Monday, March 22, at the Tribal gym, using some of the extra vaccine supply from the Confederated Tribes of Grand Ronde.
The Trail Blazers posted news of the team vaccination efforts to its various social media channels and website that same morning, and players also posted pictures to their social media accounts on Twitter.
"Today, 13 Trail Blazers players received their first dose of the Moderna COVID-19 vaccine," the team said. "Access to this excess supply of vaccines was through the Confederated Tribes of Grand Ronde who began offering the vaccine to the general public in February as a way to help Oregon and the nation move past the pandemic.
"The Trail Blazers organization and players are grateful to the Confederated Tribes of Grand Ronde for making these vaccines available to the general public. … Players were excited and enthusiastic about getting their first dose. It all went very smoothly."
The statement encouraged others to get vaccinated as well.
"As vaccination efforts continue to ramp up, we will continue to use our platform via public service announcements and other messaging to raise awareness on the safety, efficacy and importance of vaccination so our state and communities can come out of this awful pandemic as soon as possible."
Center Enes Kanter posted a selfie of himself getting vaccinated on Twitter, saying: "Just got vaccinated today with my brothers. The faster we get vaccinated, the sooner we can return to our lives with our loved ones."
Forward Robert Covington did the same, saying, "First step in the right direction of life getting back to normal."
The Blazers, citing health and privacy concerns, declined to elaborate on how the team and Tribe connected in arranging the vaccinations.
The Tribe received its first doses of the Moderna vaccine in late December, with priority going to clinic personnel, Tribal first responders, adult foster care workers and residents. The vaccine rollout was expanded to include all Tribal members 55 and older in late January, and to the general public in February.
To date, more than 50 percent of Tribal employees have been vaccinated and 90 percent of Health & Wellness Center employees have received both shots.
Total vaccines administered are 12,748, including 6.905 shots put into the arms of Elders, who are at highest risk for complications from COVID-19.
Tribal Communications Director Sara Thompson said the Tribe has been able to draw an additional 800 doses from its current supply.
"Each dose is important," she said. "We're excited to be part of the effort to vaccinate the community, our partners and combat COVID-19."
Second doses of the COVID-19 vaccine are usually given 21 to 28 days after the first.