Tribal Government & News
Haaland confirmation receives enthusiastic approval in Oregon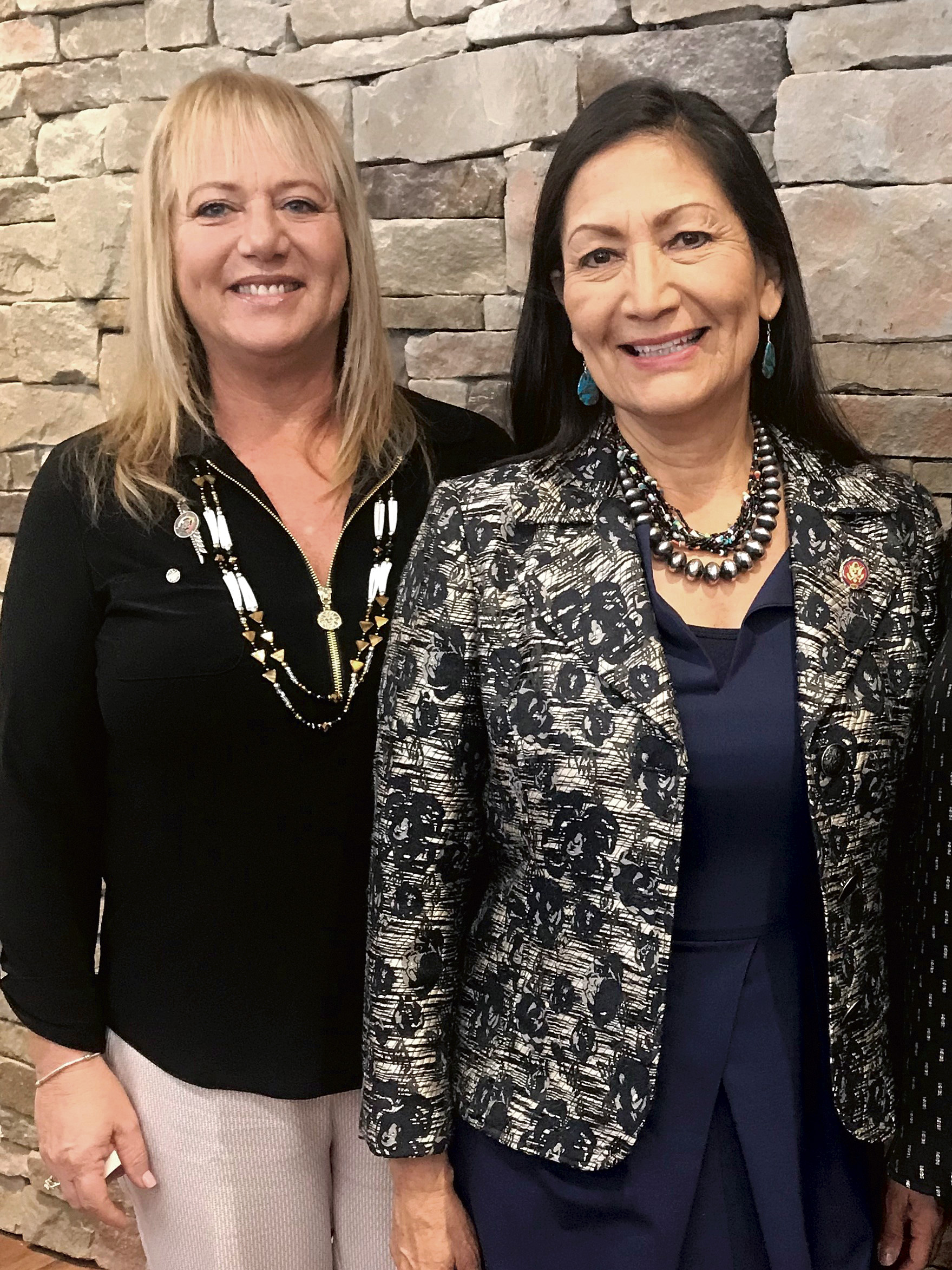 By Dean Rhodes
Smoke Signals editor
New Mexico Congresswoman Deb Haaland, a citizen of the Laguna Pueblo community, became the first Native American Cabinet member on Monday, March 15, when the U.S. Senate confirmed her nomination to lead the Department of the Interior.
Haaland also becomes the first Native American to lead the federal department that handles the government's trust responsibility to the more than 574 Tribal nations in the United States.
Reaction in Oregon was swift and positive.
"Deb Haaland's confirmation hopefully opens a path for Native Tribes across this nation with many challenges with the department," said Grand Ronde Tribal Council member Steve Bobb Sr. "Native people view this as a big step for Indigenous people and a great day."
Grand Ronde Tribal Council member Denise Harvey met Haaland in February 2019 while attending the National Indian Gaming Association's Legislative Summit in Washington, D.C.
"I think she will do very well in the position," Harvey said. "One of the things about Deb that I've known and all of the times that I've had the opportunity to work with her is that she always listens and she always shows up. She's very knowledgeable about Indian Country and the Tribes, and she just has a very fair, equitable kind of disposition about her.
"It's a day in history for a Native woman to be in the position for the first time and I think she is a great lady for the job. I've always really respected her."
Haaland, 60, earned degrees from the University of New Mexico and its Law School. She ran her own small business producing and canning Pueblo Salsa and became the first chairwoman elected to the Laguna Development Corp. Board of Directors, overseeing the business operations of the second largest Tribal gaming enterprise in New Mexico.
She ran for New Mexico lieutenant governor in 2014 and then became the first Native American woman to lead the Democratic State Party in New Mexico. She was elected to Congress in 2018, becoming one of the first Native American women to serve in the House of Representatives and was nominated to serve as Secretary of the Interior by President Biden.
"Secretary Haaland's lifetime of service demonstrates her strong commitment to defending our public lands and waters – natural treasures that make countless contributions to the spirit and vitality of communities and local economies throughout Oregon and across America," said Oregon Sen. Jeff Merkley in a press release sent out moments after the vote was final. "At a time when climate chaos is fueling more catastrophic wildfires, deadly winter storms, extreme droughts and powerful hurricanes, that kind of responsible environmental stewardship couldn't be more important to the health and safety of our families.
"I am also thrilled that for the first time a Native American woman will be at the helm of the agency that oversees programs directly affecting Indian Country. This is an invaluable milestone in our work to turn the page on America's long history of broken promises with Tribal nations, and I look forward to working with Secretary Haaland to support Tribal sovereignty and self-determination."
The Klamath Tribes in southern Oregon called Haaland's confirmation a "beacon of hope" in the long history of challenging relationships with the Department of the Interior.
"It is heartening to think that an Indigenous woman will be leading the Department of Interior," said Klamath Tribal Secretary Roberta Frost. "During her confirmation hearing, Secretary Haaland talked about protecting Mother Earth. This is so important to us as a Tribe."
"As a matriarch herself, Secretary Haaland understands the complex issues and decisions Tribes make," Klamath Tribal Council member Willa Powless said. "This confirmation is historic in so many ways, but for the first time it feels like Tribes will be understood and listened to when advocating for our people."
Haaland will be sworn in by Vice President Kamala Harris on Thursday, March 18.