Tribal Government & News
Surveying crews prepping for eventual road improvements in Grand Ronde area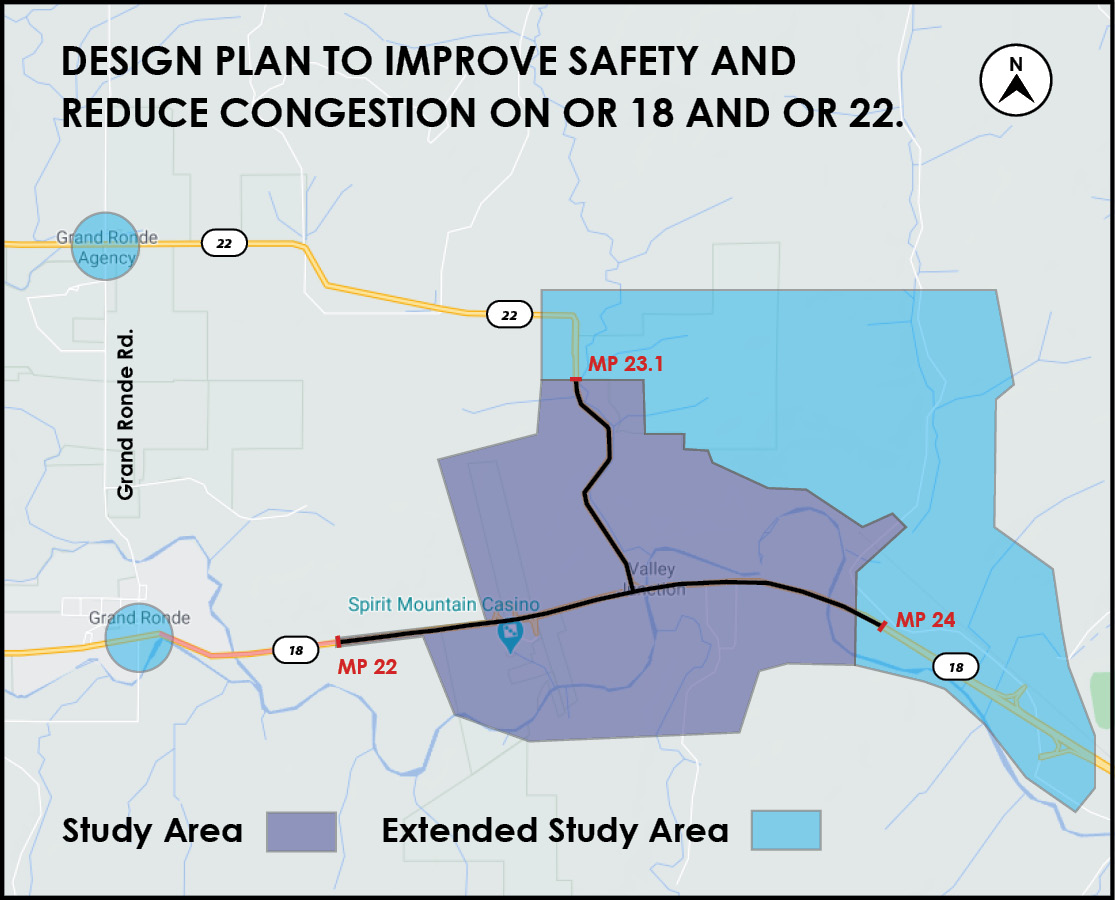 By Dean Rhodes
Smoke Signals editor
Surveying crews were busy in the Grand Ronde area during the last week of October, laying the foundation for eventual improvements to highways 18 and 22 by the Oregon Department of Transportation.
Improvements on Highway 18 between Fort Hill and AR Ford roads are currently in the design phase, according to the project details posted on the Transportation Department's website.
The planning and design process seeks to improve safety and mobility on highways 18 and 22 (Hebo Road), support community and economic development, and enhance emergency routes.
"This area has seen increasing traffic and a relatively high rate of crashes," ODOT states.
Currently, ODOT is developing a facility plan, updating its environmental assessment, conducting right-of-way surveys and preparing engineering plans and estimates.
The surveys will "help support the planning and initial design of the project," said ODOT spokesperson Louis Torres.
Design costs for the project are estimated at approximately $4.5 million. The funds are a combination of federal, state, Polk County and Grand Ronde Tribal monies.
"We have been working very closely with the Tribe on improving this intersection and stretch of OR 18," Torres said. "The Tribe has been an important partner in this project."
According to ODOT, Highway 18 (Salmon River Highway) experiences heavy traffic, especially on summer weekends, that creates considerable delays.
During heavy traffic periods, drivers turning left from Hebo and Grand Ronde roads on to Highway 18 face a difficult task. In addition, freight traffic has been using alternatives to Highway 18, posing safety issues on local roadways.
"More crashes are happening with drivers crossing over the middle line into oncoming traffic or rear-ending cars ahead of them along this stretch of Oregon 18 and on local roadways," ODOT says.
The road improvements were identified by ODOT in 2004 as part of H.B. Van Duzer Forest Corridor to Steel Bridge Road environmental assessment and corridor refinement plan, which seeks to address safety and congestion concerns from the eastern edge of the Van Duzer Corridor and Steel Bridge Road east of Wallace Bridge.
"This segment is a vital link between the Willamette Valley and the central Oregon coast that serves local, commuter, commercial and recreational traffic," ODOT states.
Tribal Public Works Coordinator John Mercier said the engineering phase of the project may be included in ODOT's next three-year state transportation improvement program that runs from 2021-24 and hopefully actual construction can be included in the 2024-27 program.