Tribal Government & News
Tribe hires Ryan Webb to oversee large development projects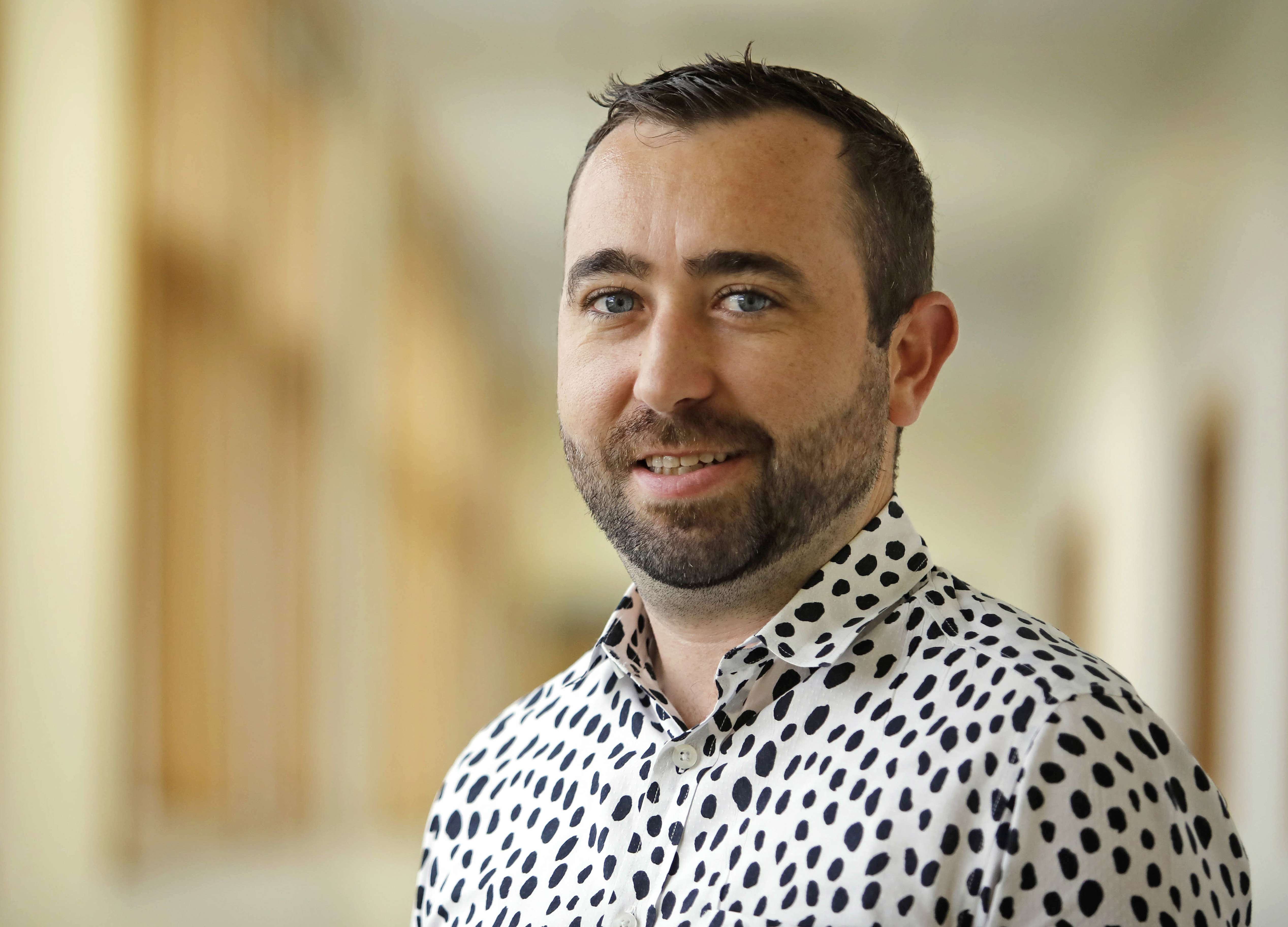 By Danielle Harrison
Smoke Signals staff writer
The Tribe has hired a project manager to oversee various ventures in Oregon City and Wood Village, as well as projects closer to home such as the Elder housing expansion and the home ownership program.
Ryan Webb, 34, began his new job last month.
"I'm really excited to be here and be a part of the Tribe's future," he says. "I'm ready to really dive in, and start working and contributing."
Webb is the husband of Tribal member Ashlee Webb and the father of Tribal descendants Violet and Amelia, 5; and Andrew, 3.
He grew up in Gloucester, approximately two hours away from London, England, and attended college and graduate school at the University of Nottingham.
He met Ashlee while on an exchange program at Oregon State University in Corvallis as a junior. After finishing up the year, he interned for the city of Portland that summer and then returned to England, where he completed his graduate degree and was employed by British Waterways. One of his projects included working on the site of the 2012 London Olympics.
After he and Ashlee married, they moved back to the United States and now live in Beaverton.
Webb worked for the city of Portland as a civil engineer for almost 10 years before taking the job in Grand Ronde. Some of his projects there included the Northwest Flanders Crossing, Rivergate Crossing and the Earl Blumenauer Bridge. He decided to apply for the project manager position in Grand Ronde because of his family's connection to the Tribe.
"I always said if there were opportunities that met my skill set, I would go for it," Webb says. "I loved serving the communities and neighborhoods in Portland, and working for the Tribe feels like an extension of my family. It was a big motivator for me in applying for this position."
Moving forward on development plans for the Blue Heron site in Oregon City is one of the biggest projects Webb will be working on during his first year with the Tribe.
Grand Ronde finalized its $15.25 million purchase of the 23-acre Blue Heron Paper Mill site in August 2018.
Webb's duties will include managing the Tribe's agreement with the Department of Environmetnal Quality regarding site preparation, coordinating with architects and consulting with Metro, Oregon City, Clackamas County and the state on the Riverwalk portion of the project. Webb also will help create a master plan for phased development of the site.
"I really enjoy what I am working on," he says. "I'm diving right into things and everyone has been very supportive and kind, and it seems like a great place to work. There is a nice sense of community here. The projects I am working on are exciting, challenging, career-defining projects." 
In addition to the Blue Heron site, Webb also is being tasked with the former Multnomah Greyhound Park property in Wood Village, which the Tribe recently announced it is reassessing for construction of a gaming facility.
The Tribe purchased the former racetrack in east Multnomah County in December 2015 for $10 million.
Other projects include the planned medication assisted treatment clinics in Portland and Salem, Elder housing expansion at the southwest corner of Hebo and Grand Ronde roads and the home ownership program in Grand Ronde.
"I want to feel a sense of achievement with the Tribe that I have made a difference," Webb says. "I want to help the Tribe move forward in a positive direction. Even a simple housing project can bring a great reward, and seeing that my being here is making a difference."
He says his biggest challenge will be to thoroughly understand Tribal history and culture.
"When you have a history as extensive as the Tribe does, really understanding all of that is a challenge," Webb says. "I'm trying to do things in a culturally sensitive manner."
In his spare time, Webb enjoys woodworking. He creates dining room tables, coffee tables, vanities and coasters.
"This started when my wife and I bought our first home," he says. "We had to remodel all of the rooms and when we were through that, I started building furniture for it. Now, it's a side business."
Webb and his family also enjoy exploring new places in Oregon. Their favorite spot is Sauvie Island. Eventually, they plan to move closer to Grand Ronde.
"I'm just really excited about being here and being a part of the Tribe's future," Webb says. "I'm ready to start working and contributing."