Culture
Award-winning Tribal journalist Brent Merrill walks on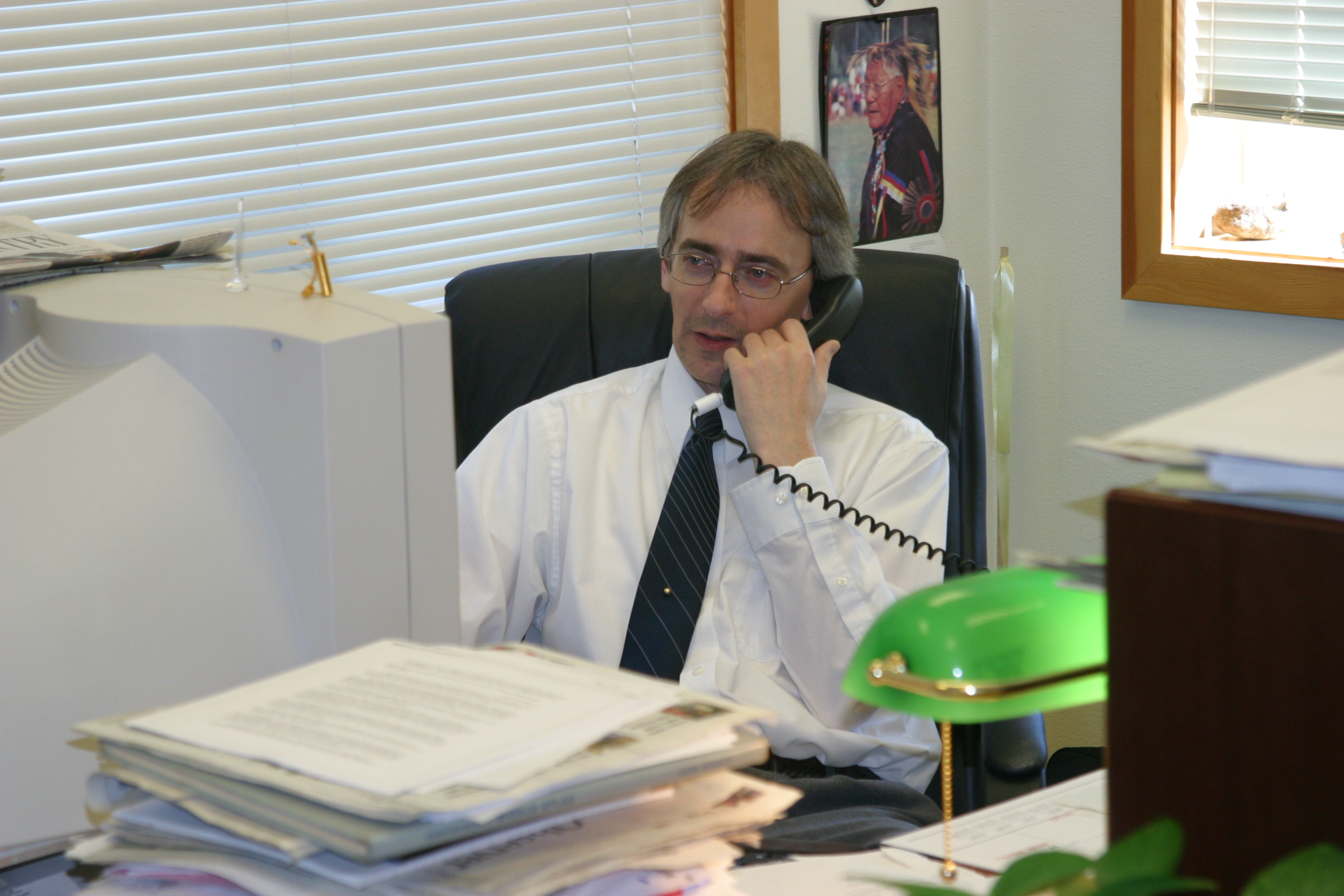 By Dean Rhodes
Smoke Signals editor
Award-winning Grand Ronde Tribal journalist Brent Warren Merrill, who helmed Smoke Signals twice and also worked as a staff writer at the Tribal newspaper, walked on Friday, Oct. 16, at the age of 59.
Merrill was in charge of Smoke Signals from 1989 to 1991 as the Tribe's Hunting & Fishing/Newsletter Coordinator and then returned to lead the newspaper as the Tribe's Public Information Manager/Editor from 1999 to 2006. Under Merrill's leadership, Smoke Signals won 37 Native American Journalists Association awards, including a Smoke Signals' record 15 awards in 2004.
He returned to Smoke Signals in 2015, working for two years as the newspaper's staff writer and winning additional NAJA awards for feature and sports writing in 2016 and best feature story in 2017.
Merrill was born on Dec. 31, 1960 in Dallas, Ore., the son of Tribal Elder Donna Stronach (Bean) and Warren Merrill, and the grandson of Fremond Bean. He was descended from Tribal leader Chief Joseph Sangretta and was proud of his Northern Paiute and Kalapuyan roots.
He was raised in Oregon and spent his entire life living and working in the Pacific Northwest. He attended Marist High School in Eugene and received a GED, and then attended Western Oregon University in Monmouth and Northwest Indian College in Bellingham, Wash.
"I was fortunate enough to be recruited to work for our Tribe as a college student," he said. "When I first came to work here in Grand Ronde there were only 12 total employees in the entire Tribe and we were located in the Manor building across from the post office."
Throughout his journalism career, Merrill also served as vice president of the Native American Journalists Association, was on the board of directors of Northwest Indian College and served as vice chairman of the Northwest Indian Veterans' Association Veterans Memorial Committee.
In 2002, he joined Vietnam War-era Marine Corps veteran Steve Bobb Sr. on a 265-mile Trail of Tears walk from Table Rock outside of Medford to Grand Ronde to raise funds for the West Valley Veterans Memorial.
"Me and Brent are forever tied together because of that walk," Bobb said. "We were friends before that. What I remember is we told each other all of our life stories and then started retelling them with embellishments. … He was a good guy, fun to be around. We called each other brothers after doing that walk."
In addition to his three times working for Smoke Signals, Merrill also worked as Tribal Outreach Specialist for the Portland Winterhawks hockey team, served as Tribal Council coordinator for the Grand Ronde Tribal Council and was a consultant for Oregon State University's Native American Collaborative Institute. He also owned Brent Merrill Public Relations Consulting and worked for the Lincoln City News Guard as a city reporter and photographer.
"Brent carried a lot of passion in his heart," said former Grand Ronde Tribal Council member Toby McClary, who worked with Merrill as Smoke Signals' photojournalist. "His family and his Tribe seemed to be at the top of his list. I remember working with him at Smoke Signals when I was about 10 years old, helping staple the pages together. Delivering Tribal news was important to him and he did just that for many years. Brent brought me in again to the Smoke Signals a little later in life and opened up an opportunity for me that I will never forget. His passion will be missed and his desire to keep the membership informed will be missed."
"Brent was a good man with great love for his family and his work," said former Smoke Signals staff writer Ron Karten. "He had an idealism that he wouldn't abandon, whatever the costs to himself. I'll miss Brent and the stories of his younger days and his love for his family. He was a friend I won't forget."
Merrill, who lived in the Grand Meadows manufactured home subdivision in Grand Ronde, also ran for Tribal Council four times in 2018, '13, '09 and '08. During his final run for Tribal Council, he supported resolving the Tribe's split family issue, planning ahead for the Tribe's economic future and finding alternative revenue streams beyond Spirit Mountain Casino.
"Because of the blood spilled and the hard work and perseverance of our ancestors, we have evolved into a sovereign nation today," he wrote in his 2018 candidate statement. "We are still here. We are a family of families. Not only are we a tree, but like many other Tribes throughout the country we have the opportunity to establish an orchard. Together lets sow the seeds of prosperity so our children can pick the fruit we planted."
He is survived by his mother; three children, Erika Merrill, Aaron Merrill and Ashlee Webb; four grandchildren; and a brother, Donn Grishaber. A funeral service for only immediate family and close friends will be held at 1 p.m. Sunday, Nov. 1, in the Tribal gym.
Bollman Funeral Home in Dallas, Ore., is assisting the family.