Tribal Government & News
Tribal offices remain closed on Tuesday, Sept. 15, as air quality begins to improve and health clinic re-opens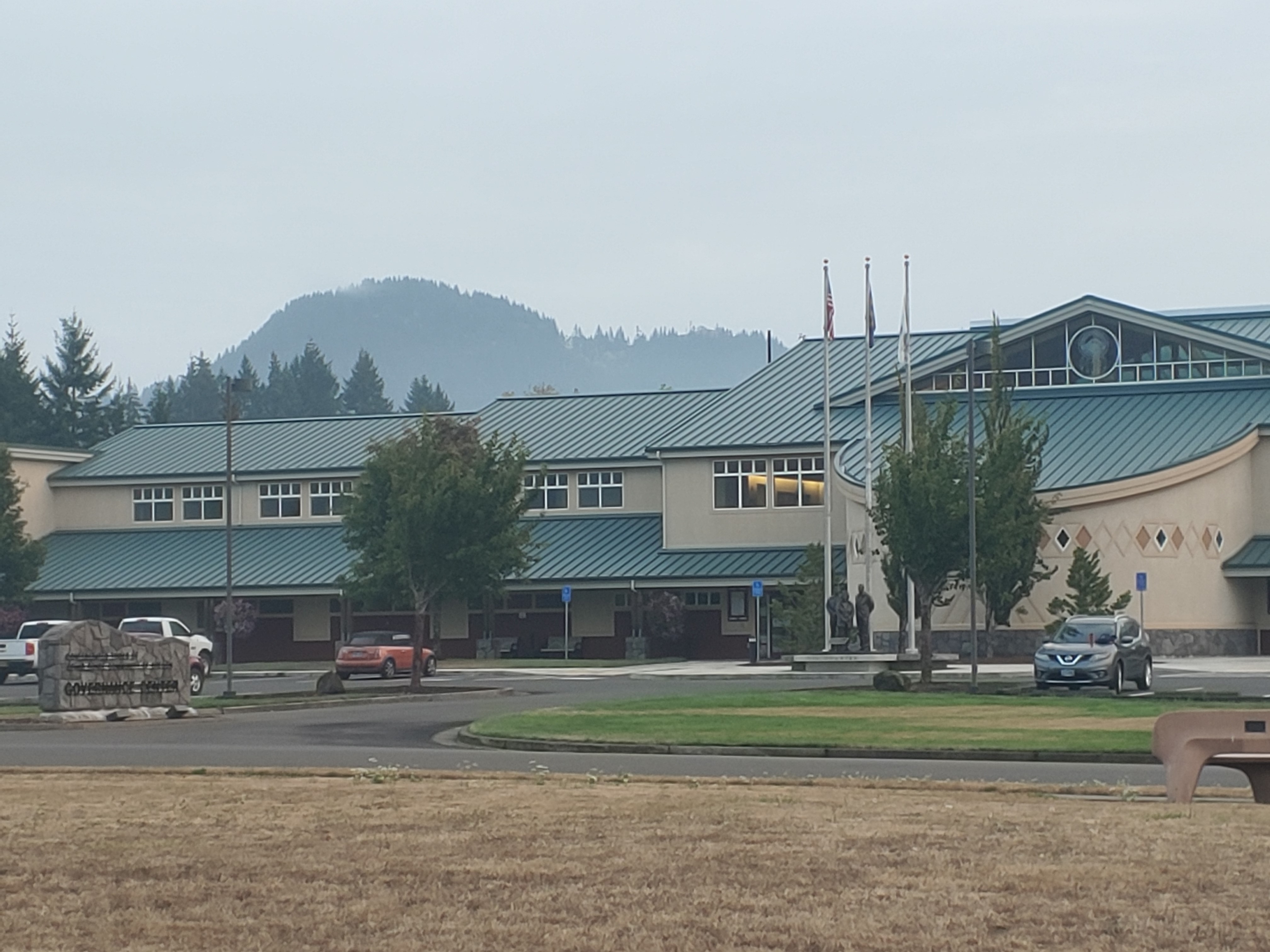 Tribal offices in Grand Ronde remained closed for the sixth work day in a row on Tuesday, Sept. 15, because of smoke from western Oregon wildfires still remaining in the air, General Manager David Fullerton announced Monday afternoon.
Fullerton said that Tribal facilities and maintenance staff would begin changing out air filters in Tribal buildings on Tuesday, Sept. 15, to ensure the safety of staff members when they return to work.
Grand Ronde had patches of blue sky and Spirit Mountain re-emerged from behind a week-long curtain of smoke and haze on Tuesday morning. The Oregon Department of Environmental Quality still registered Grand Ronde air as "very unhealthy" with a 257 pollutant rating, which is a decrease from the "hazardous" rating of 499 only 24 hours earlier.
A "very unhealthy" rating means everyone should reduce their outdoor activities and people with heart or lung disease, older adults, children and teens should avoid outdoor physical activities. Everyone else should avoid strenuous outdoor activities or keep physical activities brief.
Meanwhile, all gates to the Reservation remained closed because of the continuing extreme fire danger in western Oregon.
Primary phone and Internet service for the Tribal government has been restored as of Monday, Sept. 14. On Tuesday, Sept. 8, it went down due to a disruption with Wave Broadband's connection through the coast range. The disruption affected all incoming e-mail, web and remote desktop functions. That, in turn, forced the Grand Ronde Health & Wellness Center to close since it could not receive calls and Pharmacy computers were inoperable.
Health Services Executive Director Kelly Rowe announced the complete re-opening of the Health & Wellness Center on Monday, Sept. 15, as well. "We will operate all day, barring any disruptions with phone and Internet services or issues arise with inside air quality," she said.
The Echo Mountain Fire started on the north side of Highway 18 near mile marker 7-8 and the Kimberling Fire is located on Highway 18 near mile marker 3-4 near Otis. Highway 18 remains closed for travel between Highway 101 and Grand Ronde with barricades erected on the highway just west of the Grand Ronde Road intersection.
The Tribe continues to host a fire camp on the Tribal campus for firefighters battling those two blazes in Lincoln County. Donations of travel-sized shampoo and conditioner, deodorant, baby powder, hand towels, protein bars, hard candy, jerky and baby wipes are being accepted for the firefighters. Donations can be dropped off at a donation box located in front of the Health & Wellness Center.
One bit of good news for the Grand Ronde area was announced on Friday, Sept. 11, when Grand Ronde Station re-opened after being closed for a deep cleaning on Aug. 27 after contact tracing found positive COVID-19 connections to the facility. "We would like to thank all of you who helped during the closure," General Manager Tim Jackson said in an e-mail.
The Saturday, Sept. 12, Tribal Council election also proceeded as planned. Voters were able to visit the Tribal Community Center, 9615 Grand Ronde Road, between 9 a.m. and 6 p.m. to cast their ballots in person.