Tribal Government & News
Years of Service honors 82 employees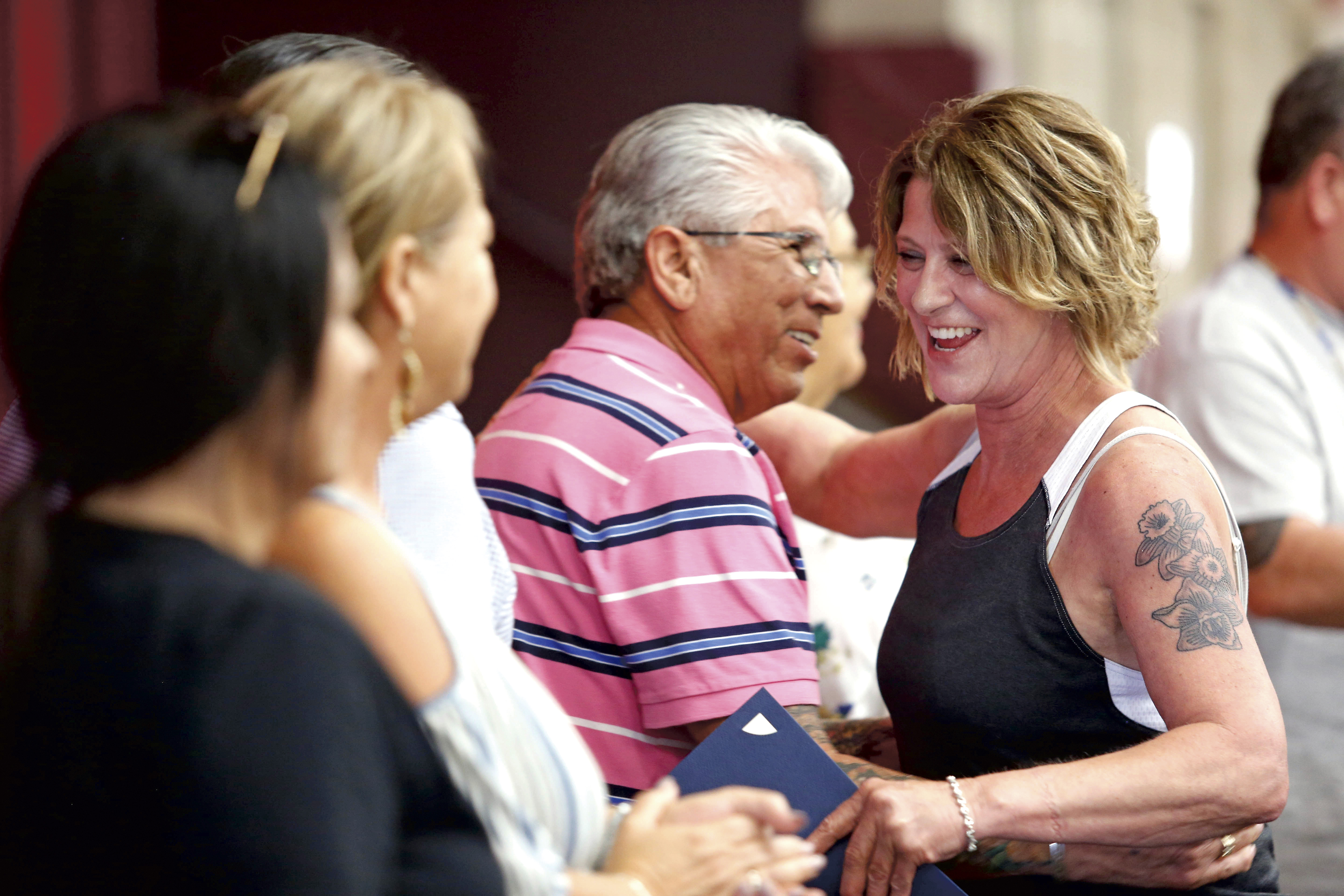 By Danielle Frost
Smoke Signals staff writer
Eighty-two employees recently were honored for a combined 1,205 years of service to the Grand Ronde Tribe.
During previous years, summer honorees and other Tribal employees typically feasted on a lunchtime barbecue picnic held in the Tribal gym. However, due to the COVID-19 pandemic, indoor group gatherings of more than 10 people have been prohibited, so no celebration is currently planned.
Seventeen employees were honored for serving 20 or more years, led by Lead Groundskeeper Gregg Leno, who hit the 32-year mark. He is only the second Tribal employee ever to achieve this status.
Other employees who have reached or surpassed two decades of Tribal service include Housing Department Maintenance Coordinator Lonnie Leno, 30 years; Member Services Benefits Administrator Liz Leno, 28 years; Housing Department Manager Shonn Leno and A/V Network Technician Wendell Olson, 26 years; Human Resources Specialist Cindy Mitchell and Fish and Wildlife Program Manager Kelly Dirksen, 24 years; Education Department Manager Angela Fasana, Tribal Council Senior Administrative Assistant Lauri Smith and Information Systems Operations Manager William Kephart, 23 years; Children & Family Services Supervisor Kristi Petite, Gaming Commission Executive Assistant Kathy Doane, Senior Staff Attorney Deneen Aubertin Keller and Human Resources Training Specialist Vickie Hernandez, 22 years; Publications Production Specialist Justin Phillips and Senior Network Administrator Jack Dobiash, 21 years; and Equipment Operator Mark Mercier, 20 years.
Honored employees were hired in the second quarter of the year between April and June.
Other employees recognized were:
19 years: General Manager David Fullerton, Controller Amy Gallant and Project Administrator Brandy Humphreys.
18 years: 477/Employment and Training Specialist Christopher Martin and Instructional Assistant Roxanne Moniz.   
17 years: Applications Administrator Candice Olsen, Silviculture and Fire Protection Manager Colby Drake, Gaming Inspector Kary Turner and Cultural Education Specialist Cristina Lara.  
16 years: Cultural Resources Department Manager David Harrelson, Children and Family Services Intake Specialist Donna Johnson, Family Services Coordinator Audra Sherwood and Swing Shift Housekeeper Sydney Clark.
15 years: Medical Receptionist Tina Leno, Early Head Start Teacher Jessica Cruickshank and Member Services Administrative Assistant Tisha Pellett
14 years: Housing Maintenance Technician Randy Bean, Gaming Commission IT Network Analyst Tanner Fish, Silviculture/Fire Protection Technician Jeremy Ojua, Adult Foster Care Caregiver Anna Huston and Early Head Start Home-Based Visitor Shelley Clift.
13 years: Adult Foster Care Caregiver Carmen Parren, Cultural Center Specialist Rachelle Kellogg, Senior Forester Andrew Puerini and Biologist Matthew Zimbrick.
12 years: Gaming Commission Executive Director Michael Boyce, Chinuk Language Program Manager Ali Holsclaw, Spirit Mountain Community Fund Director Michael Cherry, Gaming Commission Background Investigator Nicholas Bailey and K-5 Tutor/Adviser George Neujahr.  
11 years: Adult Foster Care Caregiver Ardyth Hoffer-Hallicola, Certified Medical Assistant Dana Seagrove, Head Start Teacher/Education Coordinator Kristina Jaquith, Fire Supervisor Jim Pinder and Silviculture/Fire Protection Technician Logan Kneeland.
10 years: Restoration Ecologist/Policy Analyst Lindsay McClary, Realty Specialist Teresa Brocksen, Dentist Erin Lange, Health Promotion Specialist Tammy Leno, Chachalu Musuem Manager Julie Brown, TERO Compliance Officer Duke Kimsey and Youth Tobacco Prevention Coordinator Shannon Stanton.
9 years: Homeownership Coordinator Michele Plummer, Native Connections Coordinator Amber Mercier, Patient Account Specialist Loretta Meneley, Silviculture/Fire Protection Technician Daniel Schramm and Maintenance Technician Robert Wiggs.
8 years: Vocational Rehabilitation Administrative Assistant Rhonda Leno, Youth Education Program Manager Tim Barry, Dental Secretary Carrie Brooks, Tribal Council Coordinator Chelsea Baranski, Groundskeeper Brady Bruckner, Chinuk Immersion Teacher Justine Flynn, Gaming Commission Receptionist Kristina Summers, Early Childhood Education Program Assistant Denaee Towner, K-5 Tutor/Adviser Kyla McCallister and Budget Manager DeAnne Norton.
7 years: Recreation Coordinator Leo Ayala-Guillen, Tribal Security Lead Officer Ronald Wellborn and Historic Preservation Technician Nicolas Atanacio.
6 years: Dental Assistant Tammy Baird, Pharmacy Technician Randi Keyser-Crocker, Grand Ronde Tribal Police Department Lt. Tim Hernandez, Program Accountant Michael Hubbard, Pharmacy Technician Tawna Norwest, Staff Attorney Holly Partridge, Senior Records Clerk Emma Leno and Early Head Start Teacher Hannah Sabey.  
5 years: ERSEA Coordinator Dawn Doar, Home Based Family Educator Brandi Hancock, Cultural Protection Specialist Dustin Hawks, Clinical Nurse Manager Christa Hosley, Housekeeper Sabrina Labonte, Aftercare Educator Holly Marler, Groundskeeper Youvani Ring, Aquatic Biologist Brandon Weems and Bus Driver Heidi Whittington.
Employees received bonus checks and those reaching the 10-year mark in service had the option of receiving a Tribal Pendleton blanket or an extra $100 in their bonus check.