Gaming
Casino running smoothly six weeks after re-opening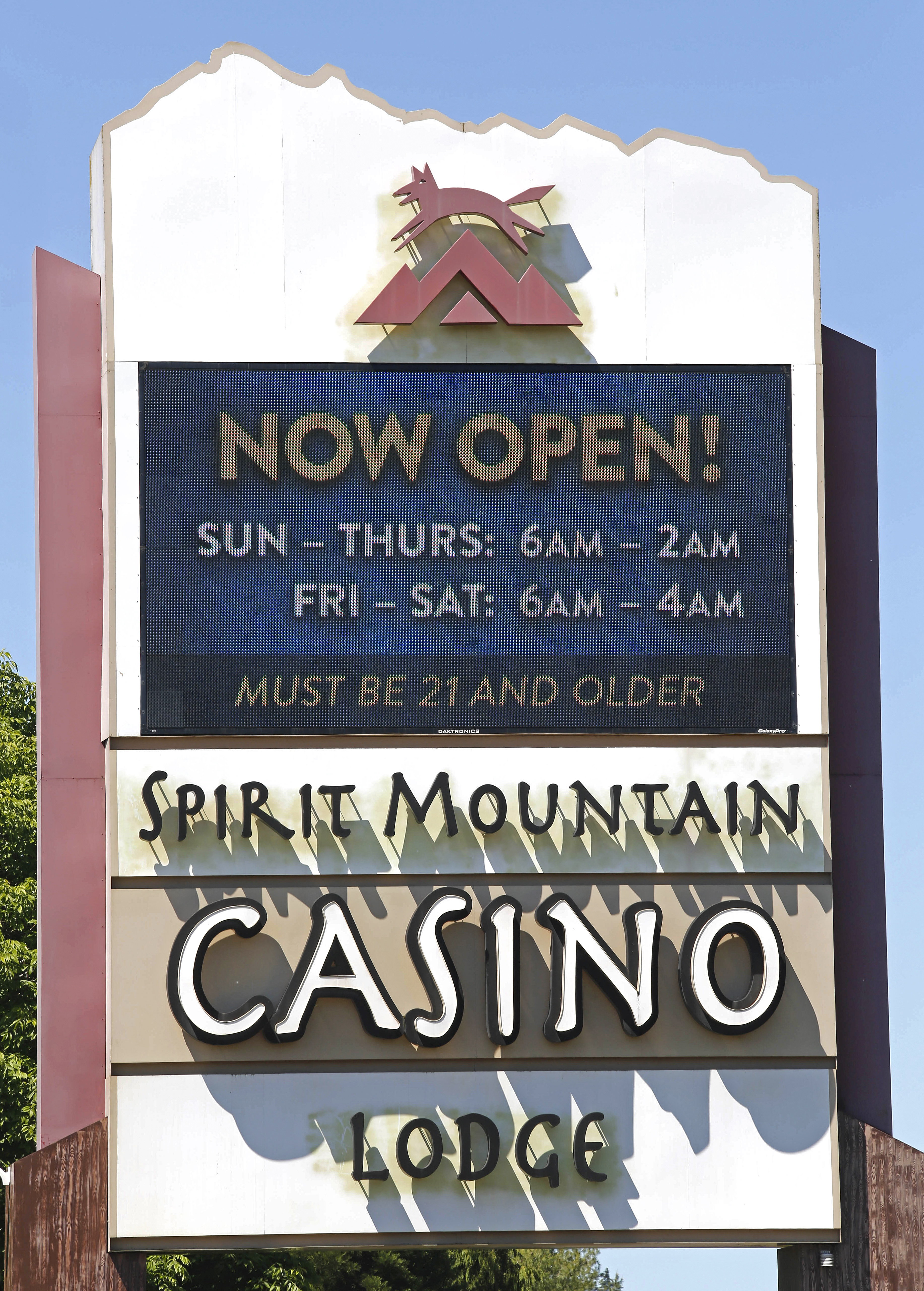 By Danielle Frost
Smoke Signals staff writer
  Six weeks after Spirit Mountain Casino re-opened on June 1 after an unprecedented 74-day closure due to the COVID-l9 coronavirus pandemic, operations are running relatively smoothly.
  "We have had thousands of people come through the doors and only one or two has had to be turned away due to having a high temperature," General Manager Stan Dillon said during the Grand Ronde Tribe's ninth Facebook Live event held Wednesday, July 8.
  Dillon said that the casino is operating at about 40 percent capacity due to the reduction in available table games and the number of patrons who can play while adhering to social distancing guidelines. The casino recently added 200 slot machines to give customers more variety, which brings the number of slot machines to 1,370 instead of the usual 1,750.
  "We are also having younger people coming through our doors now, probably because bars are now closing at 10 p.m.," he said. "So far, we are doing very well. There was pent-up demand of people wanting to come out."
  Spirit Mountain Casino had considered reinstituting its popular shuttle service, but ultimately decided to wait given the recent uptick of coronavirus cases in Oregon and the difficulty in thoroughly sanitizing the buses.
  "We have to be responsible and consider that most of the people we are bringing in on those buses are older adults," he said. "We have no plans to do that until we know people will be safe."
The casino also instituted a mandatory mask policy before the Fourth of July weekend, which Dillon said was received with mostly cooperative customers although some criticized the requirement.
Oregon Gov. Kate Brown mandated mask-wearing in all indoor public spaces in the state starting on July 1 to help stem the spread of the virus.
  The Facebook Live events continue to be popular, with approximately 150 people joining the online conversation featuring Dillon, Health Services Executive Director Kelly Rowe, Tribal Council member Lisa Leno, General Manager David Fullerton and Tribal Council Chief of Staff Stacia Hernandez. Tribal Council Vice Chair Chris Mercier led the meeting.
  "We are going all-in on masks now," Mercier said. "Everyone is wearing one in the Governance Center and we made a decision to make everyone in the casino wear a mask as well. We don't want to let our guard down now."
  Rowe announced that the clinic would be expanding coronavirus testing to Tribal employees and would send out instructions via e-mail. Antibody testing also will be instituted.
"We will start with employees in high-risk areas with lots of contact with others," she said, such as patients, the public or vendors. "We plan on having those run through our lab and the employee health plan will cover the tests at no cost to our employees."
  Beginning Monday, July 20, testing will be expanded to patients of the clinic. More information will be provided via Facebook and the Tribal COVID-19 webpage at www.grandronde.org. People are asked not to call the clinic to make an appointment until at least Thursday, July 16, to avoid clogging the phone lines.
  "We feel this testing will help us get more information and focus services on those areas that may be lacking," Rowe said.
  As of July 8, the clinic had conducted 209 tests and all have come back negative. Employee testing will be done for clinic employees first, then the Executive Team, Emergency Operations Center incident command personnel and Tribal Council members.
  Fullerton reminded everyone that although the Tribal campus is in phase two of re-opening, it is not the time to relax guidelines. He reminded Tribal members to wear a mask, social distance and wash their hands.
  "It is the time to ramp up so we can keep the pandemic at bay," he said. "The likelihood of it happening here is high. When it happens, we will be here to support people. Hopefully, a majority of our employees will receive both (coronavirus) testing and (antibody) testing."
  Fullerton added that plans to open the Tribal preschool, initially targeted for July, will be delayed until at least August due to the rise in coronavirus cases statewide. Public events are also discouraged.
  Mercier closed the meeting by asking everyone to continue to stay safe.
  "Please wear a mask," he said. "It makes a big difference in the spread of the virus. It may be uncomfortable and inconvenient, but it helps others."