Tribal Government & News
Community Fund still supporting nonprofits during pandemic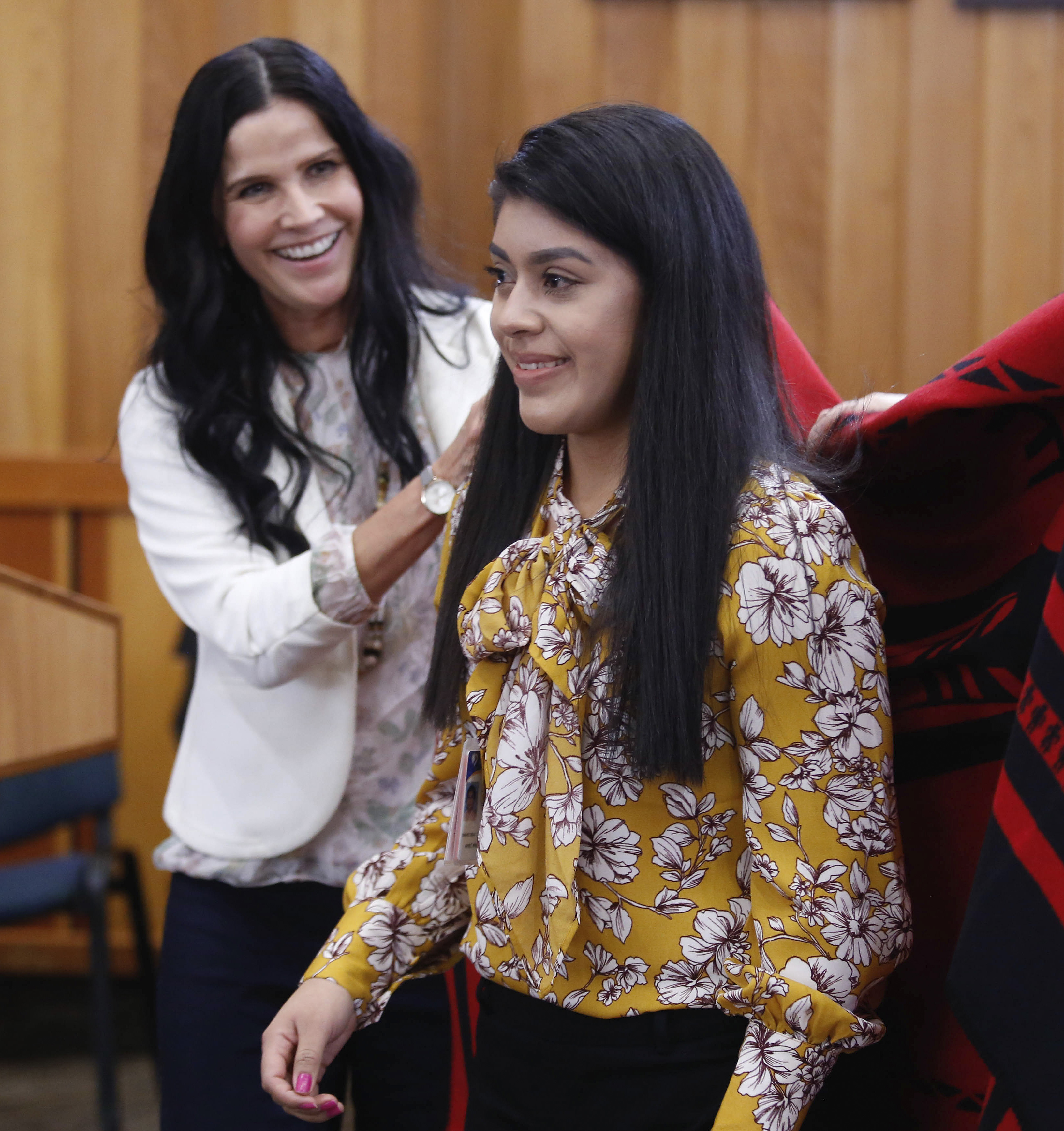 By Danielle Frost
Smoke Signals staff writer
Spirit Mountain Community Fund, the philanthropic arm of the Confederated Tribes of Grand Ronde, has given away more than $83.5 million in nonprofit grants since it was formed in 1997.
Community Fund Director Michael Cherry is confident that giving will continue during the COVID-19 coronavirus pandemic, with the process slightly modified.
"We are all working from home and continuing to meet our deadlines so that we can meet the needs of our nonprofit partners during this uncertain time," she says. "We are responding to the COVID crisis similar to many other funders in the region by being responsive and flexible with timelines, project requirements and also extending deadlines for letters of inquiries and final reports, just as examples."
The number of grants awarded during the last 23 years was 2,839 as of the last quarterly check presentation in March. Grants have been distributed to 1,195 nonprofit organizations in 11 northwest Oregon counties.
"Fortunately, our funding for the Community Fund is 6 percent of casino revenue based on the prior year so the remainder of this year we will still be on par," Cherry says. "It's next year that will be impacted and with the board's direction, we are having those conversations now in order to continue to meet the needs of our nonprofit partners going into next year."
Grants awarded in the past included projects in arts and culture, education, social justice, environmental preservation, salmon restoration and health. The Community Fund also provides annual grant opportunities of up to $100,000 for all nine Oregon Tribes.
"We have extended final reporting requirements to the nine Tribes for our annual Tribal Grants Program and also opened those applications online early for 2020 funding with notification to all Tribes of a condensed application for simplicity," she said.
During the stay-at-home executive order, the Community Fund is holding daily virtual meetings with philanthropic partners and grantees, as well as offering grant workshops online for existing and new beneficiaries.
Additionally, the Community Fund provided second-quarter grant award recipients notification of funding on Friday, April 17. As of now, Cherry says the June check presentation is still scheduled, but organizations are not required to attend.
The amount to be awarded for the second quarter of 2020 is $663,918. Of this, nine awardees will be small grants totaling $50,000 and 16 will be large grants totaling $613,918. This will bring overall giving to $84.2 million. 
To help the nonprofits hit hardest by COVID-19, the Community Fund is also in the process of implementing a rapid response fund to provide additional monies to mental health, social and emotional service groups, food banks and those who serve populations in rural communities, among others.
It will be in a pilot phase the first quarter, and Cherry is in the process of reviewing active applications through a collaborative project with Grantmakers of Oregon and SW Washington, and Nonprofit Association of Oregon.
"They have already received 100 applications for emergency funding in response to COVID-19 impacts since the resource connector portal opened on April 16," Cherry says. "All registered 501c3s who meet our criteria will be considered."
As of now, the Community Fund itself has not seen an uptick in applications.
"But once nonprofits are back to work full-time and can fully assess their short-term and long-term needs, I'm sure applications will increase," Cherry says. "The biggest need we are seeing from that sector right now is flexibility and support to be able to continue the work they've already been funded for while trying to still meet the needs of the community remotely."
Community Fund second-quarter
grant awardees
 Large grant recipients:
Self Enhancement Inc. of Portland, $50,000, for its "Whole School" model.
Parrott Creek Child & Family Services of Oregon City, $41,928, for its "Cultural, Environmental Education and Trauma Healing" project.
ABC House of Albany, $50,000, for a newly expanded family support services program.
Open School Inc. of Portland, $32,500, for its "Summer Success and Connection" program.
Community Cycling Center of Portland, $24,000, for its hands-on physics in alternative schools through the "Earn-a-Bike" program.
National Wildlife Federation of Milwaukie, $27,536, for its "Fish Eggs to Fry" eco-schools USA salmon stewards program.
Beaverton Education Foundation, $36,180, for its "Beaverton Trades Exploration Education Program for Diverse Middle School Students."
Oregon Wild of Portland, $39,000, for its "Historic Opportunity to Protect Oregon's Rivers" program.
Center for Community Counseling of Eugene, $14,000, for its mental health counseling "Strengthening Our Community" program.
ARC of Lane County in Springfield, $96,400, for engaging children with disabilities in accessible and inclusive play opportunities.
Incight of Portland, $49,000, for its "Unlocking Student Potential" program.
CASA of Polk County, $49,000, for a "Court Appointed Special Advocate for every Polk County Foster Child" program.
Tillamook Volunteer Firefighters, $36,500, for an exhaust removal system installation program.
World of Speed of Wilsonville, $24,000, for its "Expanding and Enhancing Automotive Career and Technical Education" program.
Sheridan Fire District, $23,874, for a portable ventilator standardization and update.
Small grant recipients are:
Bridgeworks Oregon, $4,125, for its "Voices From the Inside" program.
Greater Yamhill Watershed Council of McMinnville, $4,125, for Yamhill River watershed assessment for Pacific lamprey and salmonid populations,
Little Hands Can of Springfield, $6,000, for its "Little Hands Can" program.
McMinnville Montessori School, $7,500, for supporting environmental education through fluid learning spaces.
Open Hearts Open Minds of Portland, $4,125, for its "CRCI Music Program."
Oregon Society of Artists of Portland, $4,125, for its veterans' art program.
Our Forests of Eugene, $5,000, for the "Vets in Our Forest" program.
Trauma Healing Project of Eugene, $7,500, for bridge funding for a healing arts program.
Young Audiences of Portland, $7,500, for its "Arts Integration for Enhanced Learning" program.
"We are thankful and grateful to our nonprofit partners who work tirelessly to provide pivotal services for children and families during this very challenging time," says Spirit Mountain Community Fund Director Michael Cherry. "Now, more than ever, it's critical that we continue to work together to support our most vulnerable communities."