Culture
Walking On -- Denise Darcel Haskins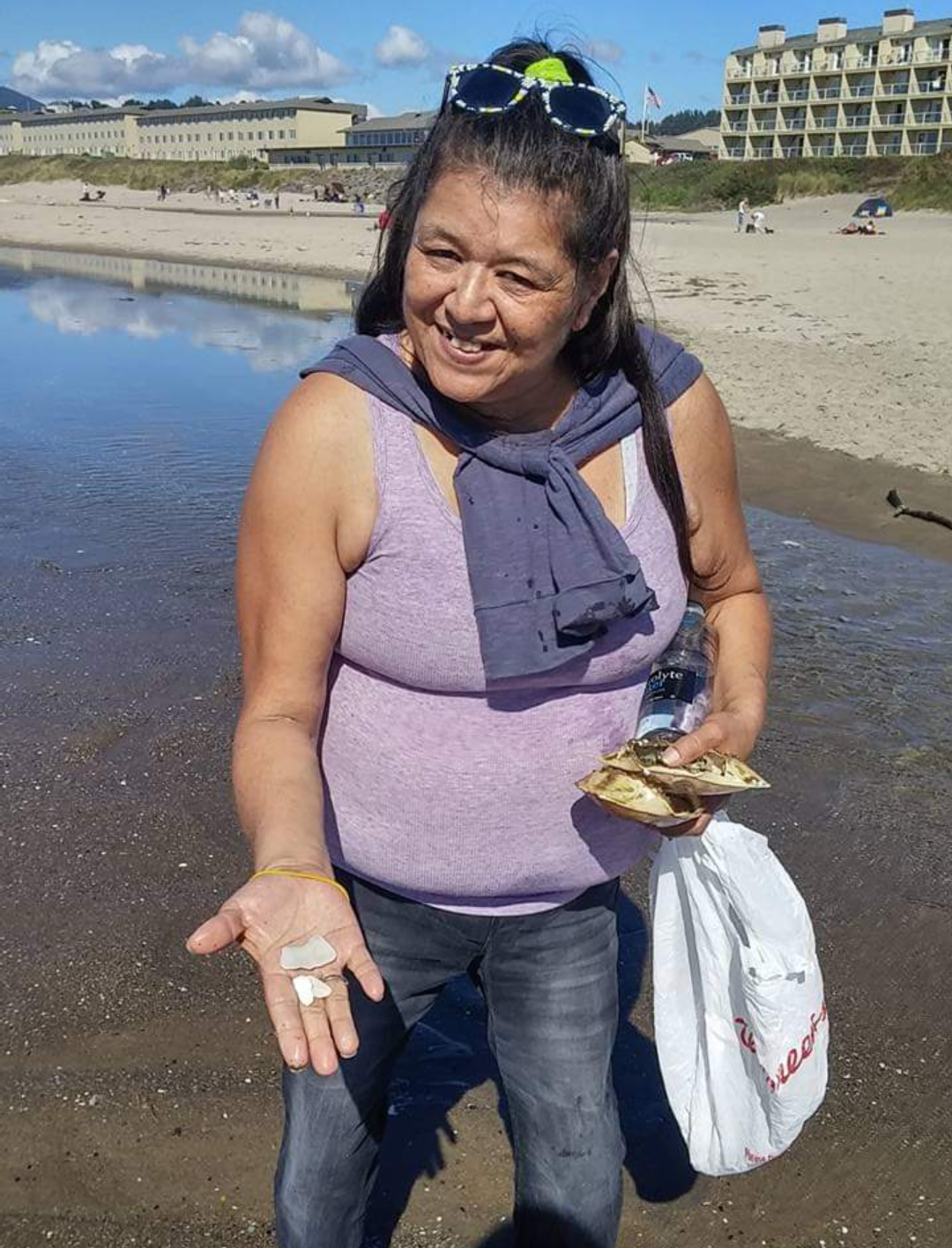 Denise Darcel Haskins
April 17, 1960 – April 4, 2020
Denise Haskins was born in Portland, Ore., on April 17, 1960, where she lived with her family. She moved to Tacoma, Wash., where she had two children, Levi Jerome Liebelt and Jessica Ann Liebelt. She then moved back to Portland where she lived from 1983-89 and then she moved to Grand Ronde, Ore.
Denise worked for the Confederated Tribes of Grand Ronde and went to school to get her registered nurse certification and worked in the Elders disability nursing home. Sometime afterward, Denise became disabled herself and made her residence on the Grand Ronde Reservation.
She loved to go to the beach and collect seashells and rocks. She called his her "water therapy." She loved being with her family and grandchildren. She loved to color with her grandchildren and loved monkeys. She loved her culture and traditions, and loved to watch her grandchildren dance. She was very proud of them. She loved her animals, Sissy and Gracy.
Denise also liked to bake treats with her grandchildren to pass out to her family. For the last part of her years, she took care of her mother as well.
Denise was 59 years old when she passed away in Grand Ronde.
She was preceded in death by her father, Bud Haskins Sr.; husband, Leroy Lee Liebelt; brother, Buddy Haskins Jr.; sister, Debbie Haskins; and brother, Nathaniel (Fig) Jackson.
She is survived by her mother, Marilee Norwest; brother, Shannon Haskins; sister, Diane Haskins; sister, Charisse Jackson; brother, Brian Jackson; daughter, Jessica Liebelt; son, Levi Liebelt; grandchildren, Tristan, Nacoma and Kalea Liebelt; daughter-in-law, Nichole Liebelt; and son-in-law, Rafel Valdivia.
She was known to some of her friends as "Beasty" and her friends really loved her. She will be missed.
A celebration of life will be held after coronavirus restrictions are lifted. Dallas Mortuary Tribute Center is caring for the family.
Other passings
Sheryl Ann Norred
Oct. 29, 1957 – April 4, 2020
Columbia Funeral Home in St. Helens, Ore., is assisting the family. At this time, funeral services are not scheduled.
Nelda Lee Logan
April 1, 1953 – March 25, 2020
West Valley Funeral Home in Sheridan is assisting the family. A celebration of life will be held at a later date.
Dorothy Lee Thies
Nov. 26, 1931 – April 1, 2020
Wilson's Chapel of the Roses in Roseburg, Ore., is assisting the family. There will not be a funeral service and the family will hold a celebration of life at a later time.