Tribal Government & News
Spirit Mountain Community Fund distributes 30 grants on March 11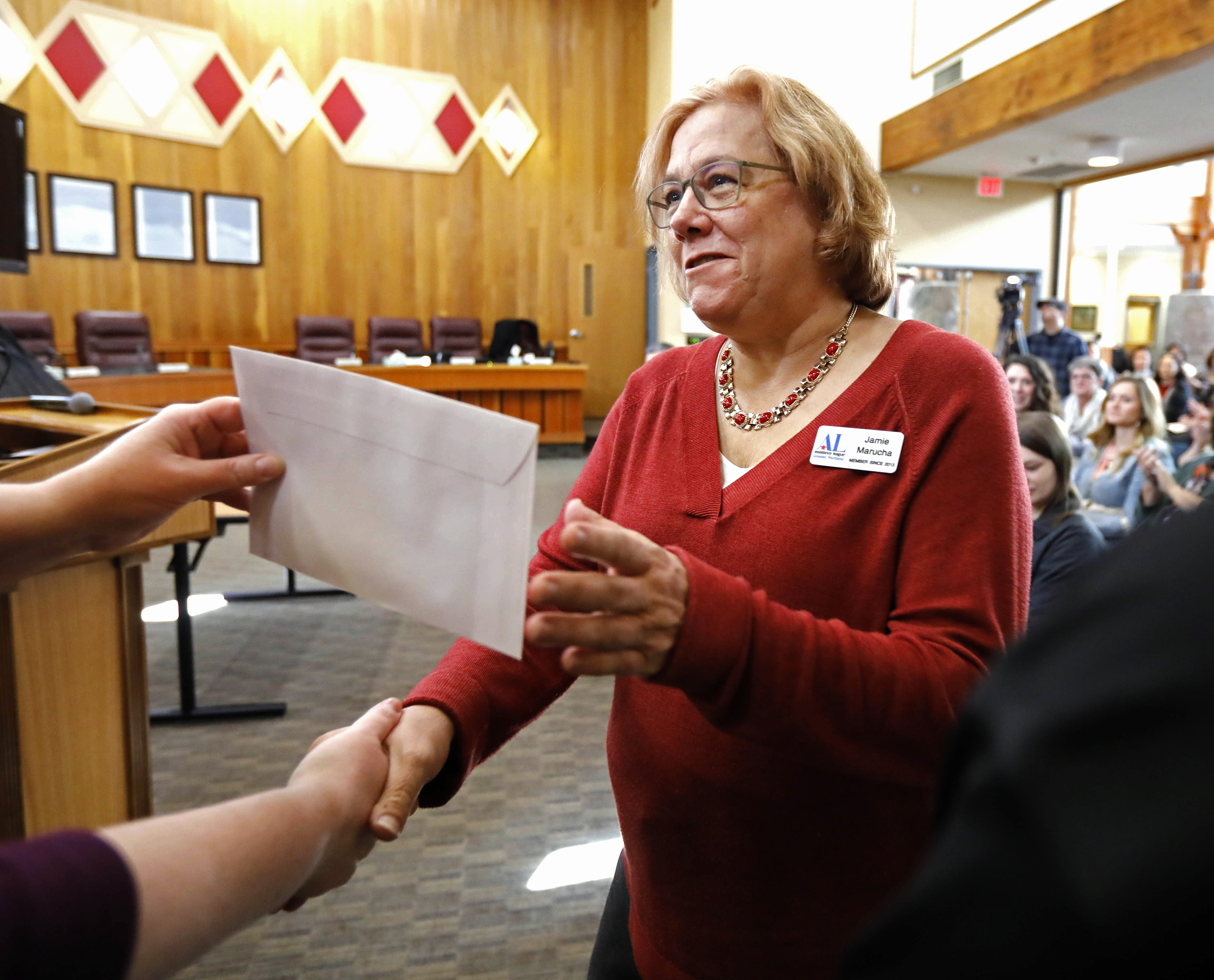 By Danielle Frost
Smoke Signals staff writer
Spirit Mountain Community Fund, the philanthropic arm of the Confederated Tribes of Grand Ronde, surpassed the $83.5 million mark in giving when it awarded $701,418 in grants on Wednesday, March 11.
Twenty-two large grants and eight small grants were awarded during the first-quarter check presentation held in the Governance Center Tribal Council Chambers. The grants included projects in arts and culture, education, social justice, environmental preservation, salmon restoration and health.
The 30 grants also increased the number of grants awarded during the last 23 years to 2,840. The grants have been distributed to 1,195 nonprofit organizations in 11 northwest Oregon counties.
Lands Manager Jan Looking Wolf Reibach opened the check presentation with a prayer and played a drum song.
Spirit Mountain Community Fund Executive Director Michael Cherry introduced Tribal Council members in attendance, which included Jack Giffen Jr., Secretary Jon A. George, Steve Bobb Sr. and Kathleen George. Giffen and Kathleen George also serve on the Community Fund Board of Trustees.
"What an honor it is to have you here today," Cherry said. "Our time of check presentations is one of joy and happiness."
Attendees watched a 14-minute video that surveyed the Tribe's history and featured organizations that have been helped by Community Fund grants.
Community Fund Program Coordinator Angela Sears said it was important to recognize how far the Tribe had come since Restoration in 1983.
"Once our leaders saw the success of Spirit Mountain Casino, they wanted to help organizations in their greatest time of need," Sears said. "That's why they decided to donate 6 percent of casino proceeds to local nonprofits. We are blessed to be able to help fund the work you are doing in your communities."
The Community Fund features a different nonprofit organization at every quarterly grant presentation. The first quarter featured Safe Families for Children of Lincoln County, a volunteer organization that helps families in crisis who lack outside support to keep their children out of the foster care system.
Sears then read off this quarter's grant recipients while Cherry distributed the checks. Kathleen George, Giffen and Bobb shook recipients' hands.
Large grants recipients were:
American Heart Association Inc. of Portland, $27,808, for its Health Intergenerational Powwow & Blood Pressure Awareness Program;
Boost Oregon of Portland, $13,400, for vaccine education for black and Latinx parents;
Boys & Girls Club of Corvallis, $15,000, for its High School Teen Program;
Children's Course Inc. of Gladstone, $33,500, for its capital campaign to build a new youth learning center;
Classroom Law Project of Portland, $16,750, for The Oregon Civics Reach Project: Lane County Expansion;
Columbia Riverkeeper of Hood River, $13,400, for its clean water action project;
Crag Law Center of Portland, $20,100, for protecting coastal forest habitat for Oregon Coho salmon;
Daisy Chain of Eugene, $50,000, for creating healthy alliances in new mothering by training and expanding a highly trained team serving culturally specific families;
Tillamook County Habitat For Humanity, $11,725, for its Landfill to Living Room Waste Reduction Upcycling expansion project;
Hearts With a Mission of Newport, $50,000, for Safe Families for Children of Lincoln County;
Jackson Street Youth Shelter of Corvallis, $26,700, for its emotional well-being for homeless and at-risk youth program;
Lincoln County Child & Family Day Treatment Center of Toledo, $100,000, for its Olalla Center Relief Nursery therapeutic classroom start-up;
Looking Glass Youth & Family Services Inc. of Eugene, $10,050, for its Riverfront School GED Program;
National Indian Child Welfare Association of Portland, $50,000, for supporting Native children and families;
Northwest Center for Alternatives to Pesticides of Eugene, $12,060, for empowering growers to protect clean water and salmon;
Oregon Law Center of Eugene, $33,500, for its Rural Access to Justice: Mobile Legal Services program;
Polk County Fire District No. 1 of Independence, $10,041, to purchase portable ventilators for pre-hospital treatment;
Salem Dream Center, $50,000, for Supporting Children & Families: Emphasizing Mental, Physical Wellness & Education program;
Shadow Project of Portland, $36,000, for expanded reading mentoring for students in special education;
Freshwater Trust of Portland, $20,100, for its Salmon River Habitat Restoration Project;
Wallace Medical Concern of Portland, $35,000, for Housing for Health: Focus on Homeless Children and Families;
West Valley Fire District of Sheridan, $16,284, for a new power load and gurney system.
Small grants that were distributed included:
Assistance League of Portland, $5,000, for its Operation School Bell Program;
Connections365 of Salem, $7,500, for its Improved Health & Educational Outcomes for Youth Through Extracurricular Activities program;
Dallas Oregon Recreation Inc. of Dallas, $5,000, for Funding Youth Athletics by DORI;
Fire Technology Foundation of Albany, $6,000, for thermal imaging cameras;
Fish of Albany Inc., $4,000, for its Snacks for Packs program;
McMinnville Area Habitat for Humanity, $7,500, for its Women Build 2020 program;
Reach Northwest of Newberg, $7,500, for its Foster Kid Summer Camps;
Recovery Outreach Community Center of Salem, $7,500, for its Clearwater Program. "Remember us when you see this blanket and remember our story," Cherry said.
The Community Fund also raffled off an Ikanum Pendleton blanket at the closing of the check presentation that went to Reach Northwest.