Health & Education
On-time graduation rates for Native American students improve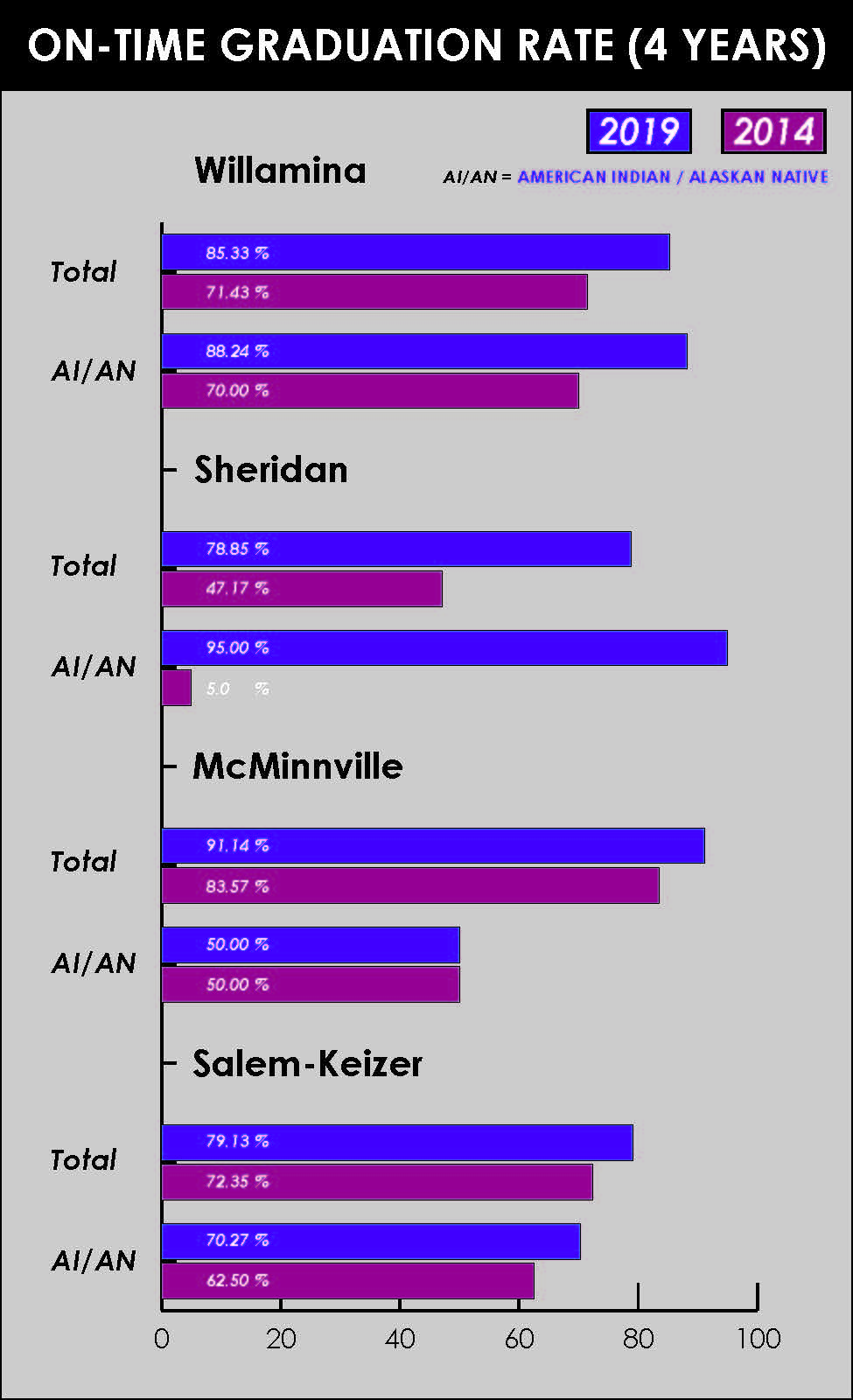 By Danielle Frost
Smoke Signals staff writer
High school graduation rates for Tribal students are improving.
According to numbers released by the Oregon Department of Education on Thursday, Jan. 23, Native American on-time graduation is up 14 percent statewide compared to five years ago. Local school districts also posted big increases.
"We are very proud of the gains students have made toward graduating on time," Willamina School District Superintendent Carrie Zimbrick says. "I would credit the gains to the entire staff. We have made a concerted effort to improve student outcomes through improved instructional practices."
Willamina has the largest Native American student population in the area, with approximately 40 percent of students identifying as such, and most of those are Grand Ronde Tribal members or descendants.
During the past five years, on-time graduation rates at Willamina High School have jumped from 70 percent to 88 percent, higher than the statewide average of 80 percent for all students.
Zimbrick also credits parent and mentor support from the Tribal Education Department, and work done by teachers to identify students at risk of dropping out.
"Bart Baldwin, Carrie Neville and Heather Hughes have focused on identifying our students at risk of dropping out or not completing their credits on time, creating a plan or program, and an opportunity to complete those credits and earn their diploma," Zimbrick says.
Although the percentage of Native American students in Sheridan is much smaller at 5 percent, the graduation rates are telling: From 2014 to 2019, on-time percentages jumped from 5 percent to 95 percent.
Sheridan Superintendent Steven Sugg credits working with the Tribe's Education Department and hiring a graduation coach funded through state grant money.
"We have hired staff dedicated to helping students attend and earn credits to help them stay on track to graduate," he says. "Our district has set a goal of improving equitable processes and policies across the district. We have formed an equity committee and have completed two professional training opportunities for staff. I believe all of these factors have helped our AI/AN students be successful."
Sugg says the district plans to continue working on improving the school culture to be more inclusive and inviting for students.
"We will work with Tribal education leaders to support students and families," he says. "We will work to implement the new Tribal curriculum into our schools so that all of our students can benefit."
The Salem-Keizer School District Native graduation rates have risen from 62.5 percent on-time in 2014 to 70 percent in 2019. Approximately 4 percent of students identify as Native American.
"We have an Indian Education program with amazing staff who support students and families," says Public Engagement Specialist Aaron Harada. "In addition to tutoring and academic support, they build relationships with students and their families, and provide cultural enrichment events as well."
All of the district's six high schools have Native American clubs as another way to engage students and build connections, he says. Additionally, the Indian Education program works with its parent advisory committee to plan events and discuss services offered to students.
"The committee also plays a big part in planning for the annual Indian Education graduation ceremony, where graduating seniors are presented with an eagle feather," Harada says.
In McMinnville, approximately 1.5 percent of the student population is Native American with on-time graduation rates consistent at 50 percent in the past five years.
Grand Ronde Youth Education Program Manager Tim Barry says he and his staff utilize a number of tools to keep students on track for graduation. These include tutoring, mentorship, planners, Native-guided study classes offered at local schools, reviewing assigned classes and assisting with school staff.
Staff also attend important parent/student meetings, collaborate with on-campus and outside agencies for assistance as needed and offer the Summer Credit Recovery program at the Tribal campus to keep credits on track.
"Student attendance, parental involvement and consistency with schools and students are all factors to success," Barry says.