Tribal Government & News
Community Fund approaching $83 million in giving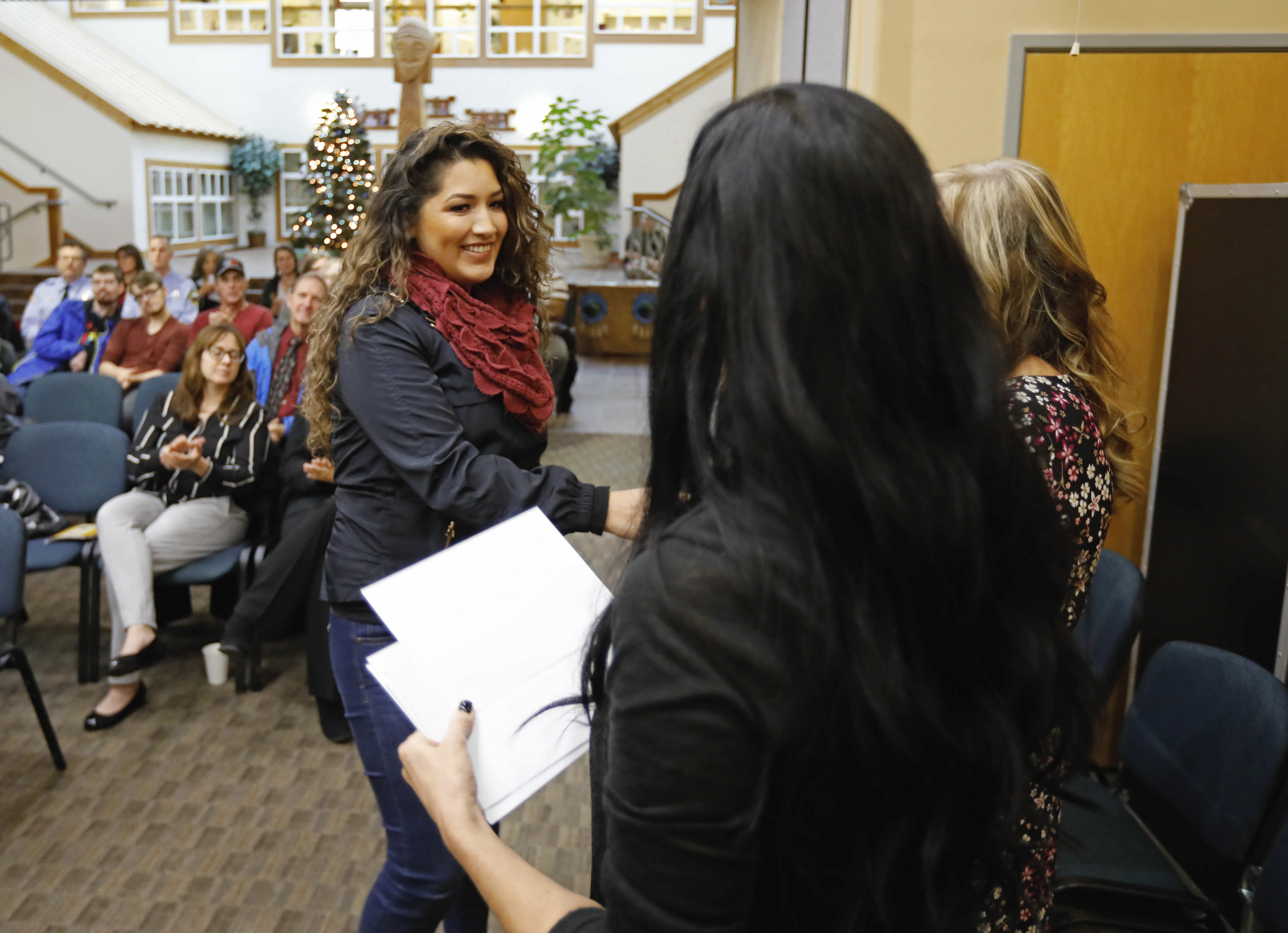 By Danielle Frost
Smoke Signals staff writer
The awarding of 19 large grants and seven small grants totaling $699,660 on Wednesday, Dec. 11, propelled Spirit Mountain Community Fund to almost $83 million in giving since it was started in 1997.
The 26 grants also increased the number of grants awarded during the last 22 years to 2,810. The grants have been distributed to 1,165 nonprofit organizations in 11 northwest Oregon counties.
The Tribe's philanthropic entity held its fourth-quarter check presentation in the Governance Center Atrium. The Community Fund receives 6 percent of Spirit Mountain Casino proceeds to distribute to charitable groups in the areas of health, education, public safety and environmental preservation, among others.
The presentation opened with an invocation by Tribal Council member Steve Bobb Sr. and a prayer song by Tribal Council Secretary Jon A. George. Tribal Council member Denise Harvey, who served on the Community Fund Board of Directors, also attended.
Afterward, a video was shown that highlighted the history of the Tribe and Community Fund, as well as the work done by some past and current grant recipients.
"It is such an honor and a privilege to partner with you," Community Fund Executive Director Michael Cherry said.
This quarter's highlighted grant recipient was Lutheran Community Services Northwest of McMinnville, which received $48,000 for its expansion of A Family Place Relief Nursery in Willamina. The nursery offers respite care to underserved children from birth to age 5 and their families through utilizing a specialized classroom, offering parent education and home visitations.
Harvey thanked the nonprofit organizations for their work.
"The people of Oregon are so lucky to have you here," she said. "I truly appreciate the work you do."
Community Fund Program Coordinator Angela Sears announced grantees' names while Cherry, Board of Trustees Chair Chip Lazenby and Harvey shook recipients' hands.
"The joy of doing this is making the community and state a better place to live," Lazenby said.
Following the check presentation, Oasis Ministries of Portland won a Pendleton blanket that was raffled off.
Large grant recipients during the Dec. 11 event were:
Falls City School District, $50,000, for its FACES Afterschool Program;
Neighbors For Kids of Depoe Bay, $49,000, for its Family & Community Support project;
Lutheran Community Services Northwest of McMinnville, $48,000, for A Family Place Relief Nursery expansion;
Mental Health For Children Inc. of Springfield, $50,000, for its ABA-Autism Research and Treatment Clinic capital construction project;
CASA For Children Inc. of Portland, $36,539, for its Strategies for Strengthening Diversity, Equity & Inclusion project;
Bridge Meadows of Beaverton, $38,500, for Strengthening Communities Through Intergenerational Health and Well Being program;
One Hope, $9,711, for reducing trauma of vulnerable children in Florence;
Advantage Smiles for Kids of Portland, $44,000, for providing necessary orthodontic treatment for under-resourced youth;
Oregon Health & Science University Foundation of Portland, $38,500, for OHSU Wy'East Pathway: Increasing Native American Physicians;
Benton Furniture Share of Corvallis, $15,400, for its Life is Better When a House is a Home program;
Albertina Kerr Centers Foundation Inc. of Portland, $38,500, for Albertina Kerr program operations support;
Volunteers of America Inc. of Portland, $38,500, for its Family Relief Nursery;
Lines For Life of Portland, $40,000, for its YouthLine suicide prevention effort in schools;
Perrydale Domestic Water Association, $38,500, to repair the Decade-Brown Road drinking water booster;
College Possible of Portland, $15,400, for its intensive summer transition programming for graduating high school seniors;
Verde of Portland, $38,310, for community-led action for environmental justice in Cully;
Constructing Hope of Portland, $30,000, for a job developer for construction career placement and retention;
Dundee Fire-Rescue Volunteers, $19,250, for extrication equipment;
And CAUSA Oregon of Salem, $11,550, for immigrant family community navigation and resources.
Small grant recipients during the Dec. 11 event were:
American Military Encouragement Network of Damascus, $7,500, for feeding military families and support for veterans, soldiers' families and children;
Oasis Ministries Portland, $7,500, for Homeless Life Packs;
Our House of Portland Inc., $7,500, for Esther's Pantry expansion project;
Solar Energy International of Portland, $7,500, for solar job readiness women's training;
The ALS Association Oregon and Southwest Washington Chapter, $5,000, for its ALS medical support program;
Volunteer Caregivers of Albany, $7,500, for transportation services;
And World Stage Theatre of Portland, $7,500, for the greater Portland region August Wilson Monologue competition.