Tribal Government & News
Grand Ronde 'food desert' a deterrent to Tribal members moving home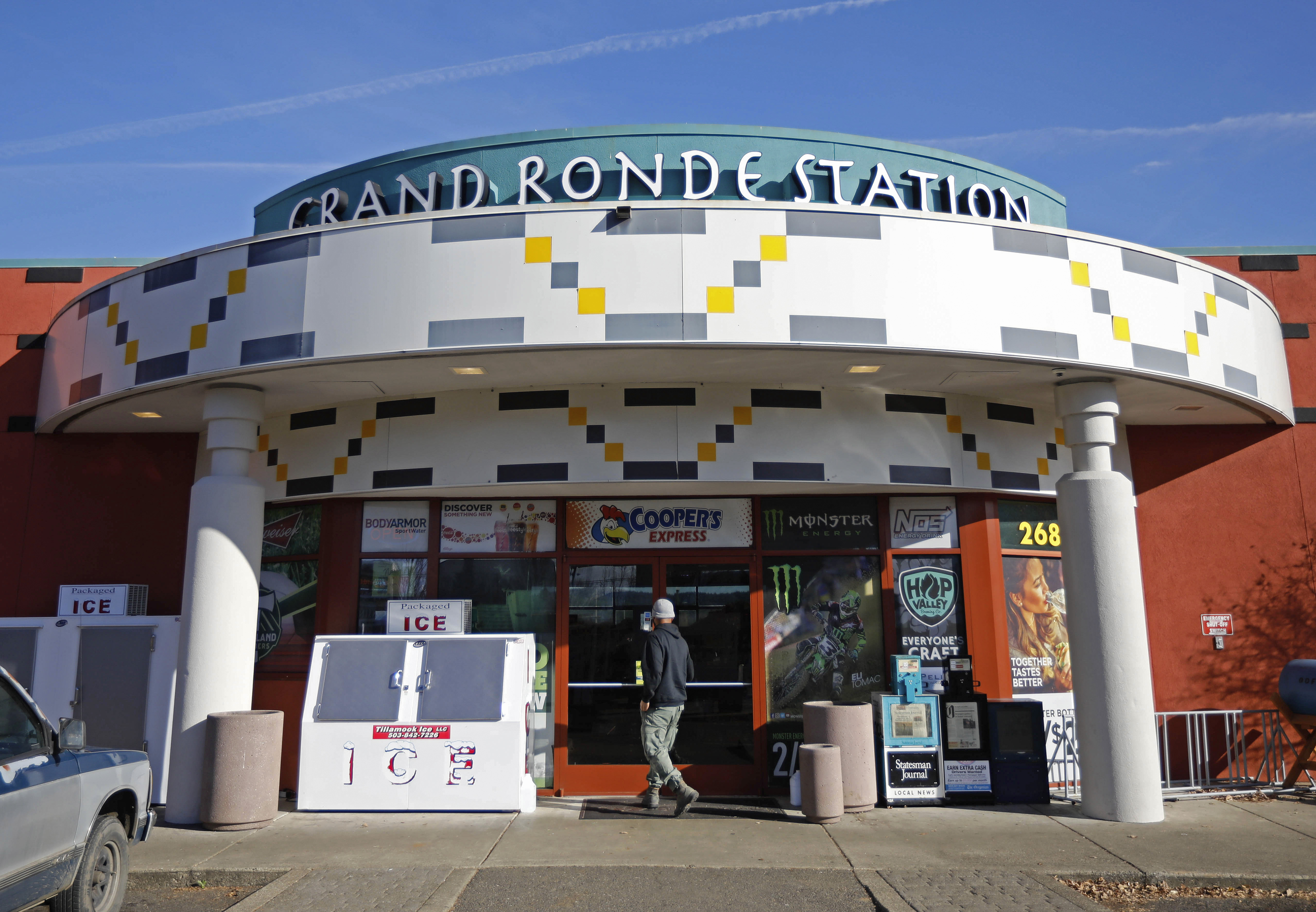 (Editor's note: This is the last in a series of Smoke Signals stories in 2019 that examine the infrastructure of Grand Ronde and how many Tribal members could conceivably return to live in the community safely and comfortably. The first three stories examined the area's water supply, transportation needs and housing availability.)
By Danielle Frost
Smoke Signals staff writer
When it comes to enticing more Tribal members to move home, many cite the lack of a nearby grocery store as the biggest drawback.
Stores such as a Safeway, WinCo, Grocery Outlet or Albertson's are more than 20 miles away in McMinnville, Dallas or Lincoln City, and are not exactly convenient for those wanting to grab a few ingredients for dinner.
"We need to have a grocery store here or at least expand (Grand Ronde Station)," Tribal Council member Denise Harvey says. "I'm not worried about it being profitable because it provides a service to our Tribal members."
The Grand Ronde Tribe's Strategic Plan states as a goal that it wants to "attract new Tribal members, diversify and grow the population, and promote a healthier, sustainable community."
In order for the Tribe to be successful in accomplishing that goal, Harvey and others say that the "food desert" barrier needs to be removed.
"In order to get people to eat healthy, you need to change the environment of the community first," Harvey says. "You can't just tell people the health risks and ask them to eat healthy."
Food deserts are defined as areas that lack whole food providers who supply fresh protein sources, as well as fruits and vegetables. Instead, people living in food deserts typically rely on convenience stores that provide processed, high-sugar foods, which are known contributors to a variety of health ailments, such as obesity and Type 2 diabetes.
The opinion that Grand Ronde needs a grocery store to improve community health outcomes and attract more Tribal members to move home is nothing new.
In 2015, a survey of Tribal members found that almost 75 percent felt a community grocery store was a necessity, and those who have attended subsequent input meetings over the years echo the sentiment.
Following the survey results, Tribal Council voted in 2016 to have ECONorthwest conduct a feasibility study to determine if there is enough demand to justify a stand-alone grocery store in Grand Ronde. The study found that demand could not sustain a full-sized store because it would require $10 million in annual sales to survive. At the time, the total community grocery spending was estimated at $2.7 million. However, the study concluded that expanding Grand Ronde Station near Spirit Mountain Casino might be a viable option.
These findings resulted in a 2017 study by Pepper Foster Consulting to identify options within the Grand Ronde Station site. Ultimately, the study found it unlikely that Grand Ronde Station would be able to compete on either price or selection with "big box" grocery stores in Dallas or McMinnville. However, the study did recommend reconfiguring the store to make one side a community store that sold basic items such as produce, cheese, milk, eggs, meat and other necessities.
As of 2019, the study's suggestion has not yet been implemented.
"The main objection I am hearing is that it would not be profitable," Harvey says. "I think a grocery store would be a bonus, and that we could attract a lot of the traffic heading to and from the coast."
She notes that although the Grand Ronde Food Bank – iskam mfkHmfk haws – does a good job providing fresh fruits and vegetables to the community, there are limits on the availability and choice of products.
Food Bank Program Manager Francene Ambrose has said that many local families prefer to buy produce rather than take what is available at the food pantry because of quality and selection.
Tribal Economic Development Director Bruce Thomas says that a full-sized brick-and-mortar grocery store operates on only a 3- to 5-percent profit margin, and that includes a large number of steady customers.
"I've never seen a town of this size able to support a grocery store," Thomas says. "Most people here have access to a car to drive to stores (in other areas) and the cost of grocery delivery services would be far lower than the cost of building a regular store, and the waste that would result if you can't sell the product."
Tribal Council Vice Chair Chris Mercier lives in Grand Ronde and feels a grocery store could be supported by the community.
"There is a Grocery Outlet in La Pine and that's a fairly remote community," he says of the central Oregon town south of Bend with a population of approximately 1,900 residents. "We shouldn't be so worried about profitability. If we build something like a WinCo or a Grocery Outlet, it will attract customers. Right now, people who come to the food bank are from all over the area."
The 2010 U.S. Census estimated there were 1,661 people living in the Grand Ronde Census Designated Place. George says the most recent population count is approximately 1,800 people in 700 households.
Mercier adds that an emphasis on healthy eating and lifestyles won't work as well without a local place to purchase fresh, affordable groceries.
"I live in Tribal housing and I know a lot of people who go to the convenience store every day to get a soda and bag of chips (for a meal)," he says. "I think if those people could go to a grocery store, they might make better health choices, but they need to learn how much better fresh things taste."
Tribal Planning Director Rick George says a plan is currently in the works to establish a "tipping point" for population numbers needed to support a full-sized grocery store.
"Until we hit the tipping point, we can't sustain a store," George says. "We need to be careful and just like with our housing, cut risks as much as possible and see what you can do as a solution in the meantime. Find out what is reasonable now and in the long term. Population is what drives development."
This opinion is shared by the Housing Department officials as well, who told Smoke Signals in a previous interview that the community had everything it needs in the way of basic services except a grocery store, and that maybe when enough housing units are built and filled it would be something that the Tribe could support fully.
Another possibility would be to site a smaller store that caters to rural areas, such as IGA. Currently, the nearest one is 10 miles away in Willamina, which is a 15-minute drive or nearly 30-minute bus ride from Grand Ronde.
Unlike the chain store business model, IGA operates as a franchise through stores that are owned separately from the brand.
Many of these stores operate in small-town markets and belong to families who manage them. There are more than 1,100 IGA grocery stores in the United States.
West Coast Area Director Doug Walter says one of the first things he does when potential store owners reach out to him is see where the closest supplier to the store is located. Currently, the nearest supplier to Grand Ronde would be located in Portland, but that site is expected to close soon, making Centralia, Wash., the next closest location.
"The thing to look at next is doing a site survey to determine its viability," Walter says. "Sometimes there are a lot of tax breaks that are available, so it can be a great opportunity."
Convenience store options
Besides having a potential expansion of Grand Ronde Station, other ideas that have been circulated include a weekly farmer's market and having local convenience stores stock fresh fruits and vegetables, along with other grocery basics like milk and eggs.
A recent survey of available fresh items revealed that American Market, American Market 2 and Grand Ronde Station all carry items that one would not typically expect to see in a convenience store. However, one store employee noted that the fresh items "don't move very fast." This could be due to those items being less affordable than at a grocery store.
American Market, located at the intersection of Highway 18 and Grand Ronde Road, offers milk, eggs, butter, cheese, yogurt, sour cream, lunch meat, potato salad, limes, mushrooms, tomatoes, potatoes, garlic, onions, carrots and lettuce.
American Market 2, a half-mile west on Highway 18, has cottage cheese, yogurt, milk, eggs, bacon, frozen corn, shredded cheese, lunch meat and butter.
Grand Ronde Station sells bananas, cheese, lunch meat, cream cheese, bread, milk, eggs, butter and prepared salads, along with a selection of healthy snacks.
Not surprisingly, a majority of the items are higher priced than in grocery stores.
During the 2017 survey, respondents indicated that they would shop locally if more options were available at prices that were competitive with stores such as Wal-Mart and WinCo. In a Marion-Polk Food Share hunger study, many clients indicated that they lacked regular access to a car and either carpool to get groceries or rely on local convenience stores.
Other grocery options
Grocery delivery services are on the rise, with companies from Amazon to Uber getting in on the action. Some say grocery delivery to Grand Ronde might be an effective temporary solution until demand is high enough to sustain a physical store.
Thomas says alternative solutions, such as the Social Services Department coordinating grocery store transport, is another idea.
"Not everything needs to cost $1 million," he says. "There are other ways."
Thomas adds that Tribal grocery delivery services also should be considered.
"The cost of delivery would be far less than the Tribe having a grocery store," Thomas says.
George agrees that delivery service is something that should be researched.
"Because of its financial situation, the Tribe has the ability to be creative," he says. "We can look into options now and in the long term."
A partnership that has worked in other rural areas is the Raley's Food for Families Program. Since 1986, the Sacramento-based grocery store has raised more than $36 million for local food banks, which in turn have provided more than 40 million meals to those battling hunger. There are 74 Food for Families food bank partners across central and northern California and Nevada. The food banks identify what's most needed in their communities and Food for Families provides them with the items.
Julie Rollofson Teel, Food for Families board member, says the partnership works well because Raley's absorbs all the overhead costs of the program, and uses its wholesale purchasing power and product donations to have a greater effect.
"One hundred percent of every donation goes directly toward feeding the hungry," she says. "We send everything to the food banks directly from our store. What we found is by doing that, we are feeding more people this way. Not everyone wants to go to a huge food bank or has the ability to do so."
Another suggestion Teel has is establishing a food co-op.
A food co-op is a grocery store that is owned by those who shop there. Members decide which foods and products will be offered, where they are purchased from and what kinds of quality standards the products must meet.
Typically, co-ops also try to offer high-quality foods at fair prices for both customers and producers. According to an article in tasteofhome.com, doing business this way helps keep money in the community by supporting local farmers, fishers and other vendors, and creates jobs.
"What is great about co-ops is that it provides jobs, creates food literacy and typically offers cooking classes and budgeting tips," Teel says. "It brings people in the community together and you have a better 'buy in' when those who shop there also own it."
She adds that lack of access to fresh foods is something that can happen anywhere.
"Food deserts can exist in a variety of circumstances," she says. "It's up to us to help make it better."