Tribal Government & News
Grand Ronde hosts training on working in Indian Country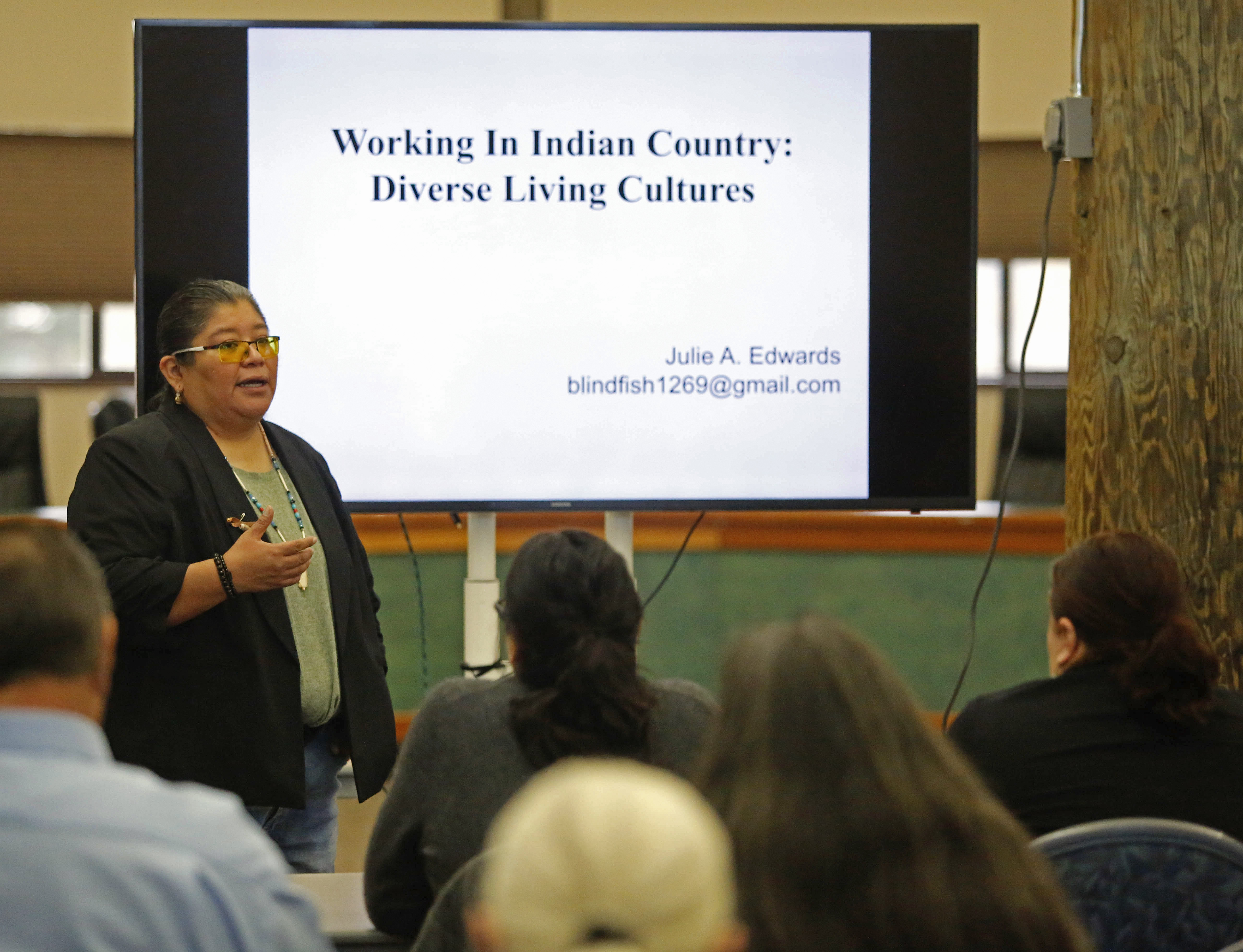 By Danielle Frost
Smoke Signals staff writer
When Colville Tribal member Julie Edwards began working in law enforcement on the Colville Reservation in Washington state, she found herself becoming increasingly frustrated by nonTribal officers who didn't understand the endemic challenges of policing Indian Country.
"They didn't understand that you don't just put people in jail to solve the problem," Edwards said. "Trying to explain the differences in Indian Country to nonTribal people was really difficult."
Edwards and Colville Confederated Tribes Wenatchi Cultural Facilitator Bernadine Phillips visited Grand Ronde on Tuesday, Oct. 22, to conduct a community training about working in Indian Country.
Social Services Manager Dana Ainam coordinated the effort after being approached by Tribal Council member Steve Bobb Sr., who had attended the training elsewhere and requested it be brought to Grand Ronde.
The presentation covered topics such as understanding Tribal history and trauma, and the effect it has on employees working with Tribal members in Indian Country. In addition to the daytime employee training, a community training was held that evening. Twenty people attended.
Forty-two participants attended the morning presentation. Tribal Council member Jack Giffen Jr. also attended.
Ainam thanked employees for their commitment.
"We've been doing trauma-informed training for a few years now, but this is presented in a different format," she said.
Child & Family Services Foster Care Coordinator Kevin Simmons performed a song to open the presentation, followed by Edwards giving a blessing in her Native language.
"The purpose of this training is to understand the history of the local Tribes," Edwards said. "I don't know about how it is in Grand Ronde, but on our Reservation we have a lot of rotation in personnel. If people don't understand the history, it is hard to connect with the people you are serving. … Grand Ronde has a beautiful culture. As employees, it is something you should understand."
Edwards said that while Tribes had their own cultures, languages and traditions, one common thread is that the United States has recognized Tribal sovereignty since its infancy.
"From the very beginning (of the United States), we were recognized by the government," she said. "It's in the Constitution."
Edwards also discussed historical trauma and the continued effects on Tribal people, especially when dealing with law enforcement domestic matters.
"In law enforcement, you end up going to some really bad calls dealing with families' dark, dirty secrets," Edwards said.
She gave the example of how a woman knew her boyfriend was doing "unspeakable" things to her children, but refused to acknowledge it publicly or press charges.
"I didn't realize how far back this pattern went until I sat down with a Jesuit priest who had been in the community for a long time and asked him," Edwards said. "It goes back generations to this woman's grandmother, and had happened for so long it had become an accepted practice in that family."
She added that some of the self-medicating behaviors victims of historical trauma may engage in include alcohol and drug abuse, rape, and emotional and sexual abuse, which cause further trauma and perpetuate the cycle.
"In law enforcement and social services, you deal with some people so much, you get impatient with them," Edwards said. "But we don't know what caused them to go down that road to begin with. I was born a fetal alcohol baby and had a serious anger issue when I was a child, but I turned out OK. Now, we have a lot of fetal alcohol and drug issues with kids right out of the womb."
Edwards said that spirituality is very important to Native people and while some attend Christian services, there tends to be a blend of beliefs that encompasses traditional spirituality within their Tribes and a deep connection to the natural environment.
"Most Indian traditions teach about interconnectedness to all things leads to a relationship between Creator/God, fellow man and nature," she said. "Prayer is quiet and a meditation, and can include verbal, song or time spent in service doing something for someone else. There are lots of different ways to thank Creator. … A sweathouse can be used for a bath or a sacred way to pray. Getting into a lake or a river was also a way that Natives prayed."
Edwards concluded the training by saying that while in negotiations with the Washington Department of Fish and Wildlife, officers with the agency listened to the presentation to increase their cultural sensitivity while on Tribal land.
"This has really helped that relationship," she said. "It has helped build understanding."