Health & Education
Children's books mine Indigenous experience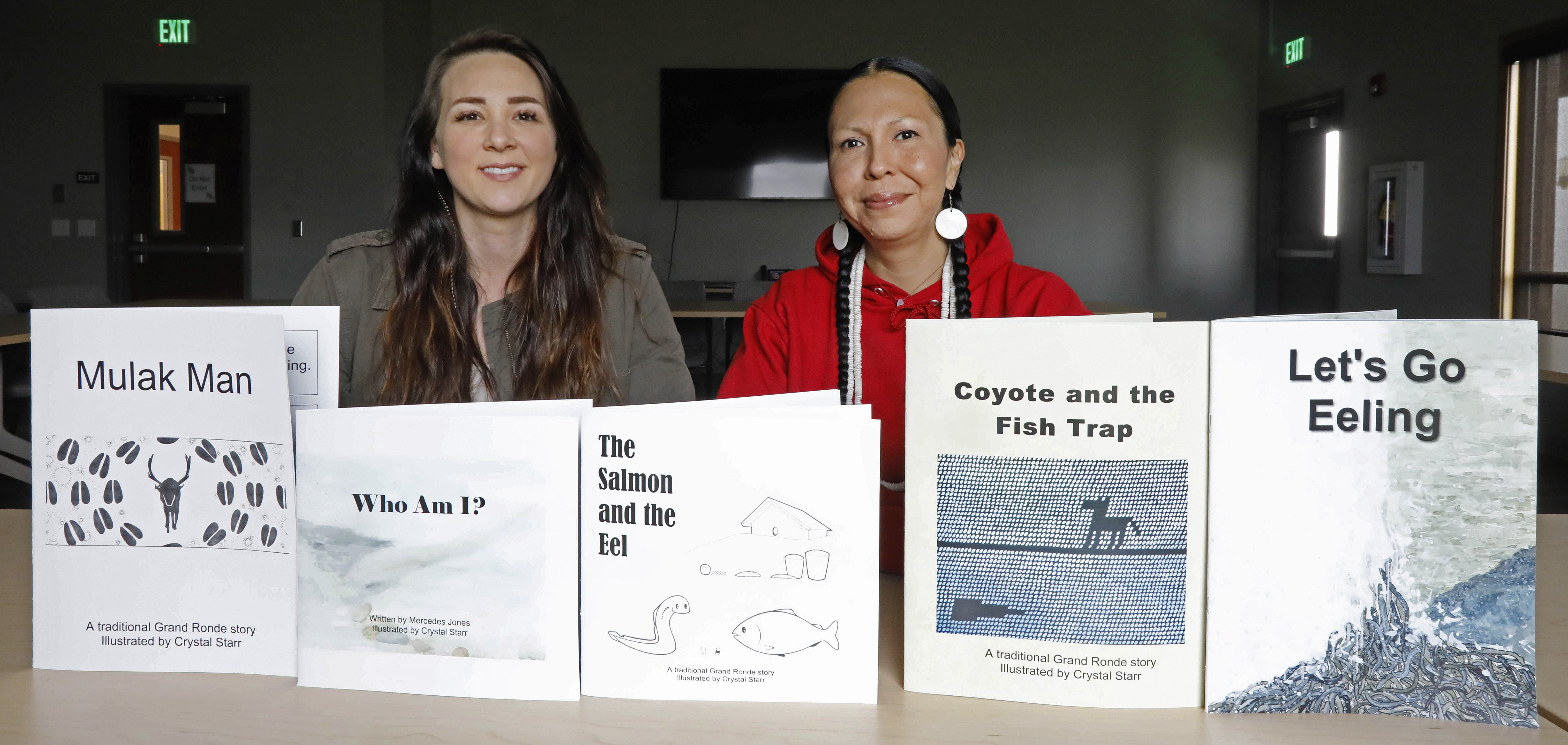 By Danielle Frost
Smoke Signals staff writer
When Mercedes Jones was a child, she often felt out of place as an Indigenous person in the classroom.
Very little of what she learned involved Tribal practices, histories or stories, despite the fact that Oregon has an extensive Tribal history.
Now, she's helping to ensure that the next generation will have a different experience.
Jones, the Tribe's curriculum specialist, recently published a series of children's books that focus specifically on Grand Ronde stories that have been passed down by oral traditions through the generations.
"As with most Native-based curricula, children's books about Tribal practices, histories and Tribal stories are very far and few between or don't exist at all," she says.
When Jones began her position in 2014, a primary goal was to create more Native American curriculum and teach youth about local Tribes.
In 2016, the Tribe's language program received an Administration for Native Americans grant to develop kindergarten through third-grade curriculum in Chinuk Wawa. Jones began working with Judith Fernandes, a language teaching consultant at the Northwest Indian Language Institute.
"While writing a unit on Pacific lamprey, Judith and I thought how great it would be if we created a story about a Tribal family who went to Willamette Falls to harvest lamprey," Jones says.
She began researching lamprey and the harvesting process, met with a Tribal biologist to ask questions and with Cultural Resources staff to ensure the story line included accurate information.
Then, Jones and Fernandes contacted Crystal Starr Szczepanski, then a Chinuk language specialist who now works in Cultural Resources.
"She is an incredibly talented artist, part of our community, worked in the language program at the time and is an Alaska Native," Jones says. "We knew that she would depict the family in the story and the illustrations in a culturally appropriate way. Our young people would finally have a story where they saw themselves … one they could identify with."
Fernandes has been working with the Tribe for more than 16 years and served as curriculum creator before Jones.
"We cranked out as many picture stories as possible, but they were much less professional looking," Fernandes says. "It was urgent to create a literature base for children in the immersion program."
Fernandes adds that a problem many Tribes struggle with is converting oral storytelling to book form.
"The hardest part is to come up with the illustrations," she says. "It's not easy to crank out drawings. Crystal has taken a full year on some of them. The children absolutely need the pictorial aspect to understand what is being read to them."
After that book was finished, the trio created other books to accompany the curriculum. First was a story called "Who Am I?" which shows glimpses of a Pacific lamprey in its habitat. Then, students use their investigative skills to guess what the creature is.
"This book helps introduce students to Pacific lamprey and begins the lamprey unit," Jones says. "We also created books that are traditional Grand Ronde stories, such as 'Mulak Man' and 'Coyote and the Fish Trap.' "
With the passage of Senate Bill 13, which directed the Oregon Department of Education to develop kindergarten through 12th grade Tribal history curriculum focused on Oregon's nine federally recognized Tribes, each Tribe also received funding to develop its own curriculum.
"With those funds we took the opportunity to create another book based on a Grand Ronde traditional story called 'Salmon and the Eel,' " Jones says. "I called on Crystal again for those illustrations and she worked her magic, which resulted in another beautiful book."
The books are available free to teachers and currently are being used in the Tribe's K-3 Immersion Program, as well as local schools. However, due to high demand, Jones is unable to supply classrooms with sets. There are also copies of the books in the Tribal Library.
"We distributed a copy of each book to educators who attended the 2019 Education Summit and we had educators from all over the state attend," Jones says. "Now that Senate Bill 13 is getting ready to roll out, I have a long list of requests from teachers for books coming my way over the last few months."
Plans for more books are in the works, but topics are undecided at this point.
"We hope to continue the work and create (more) children's books about Grand Ronde stories, histories and practices to give (them) books they see themselves in and can identify with," Jones says.