Tribal Government & News
Housing Department encouraging incremental population growth in area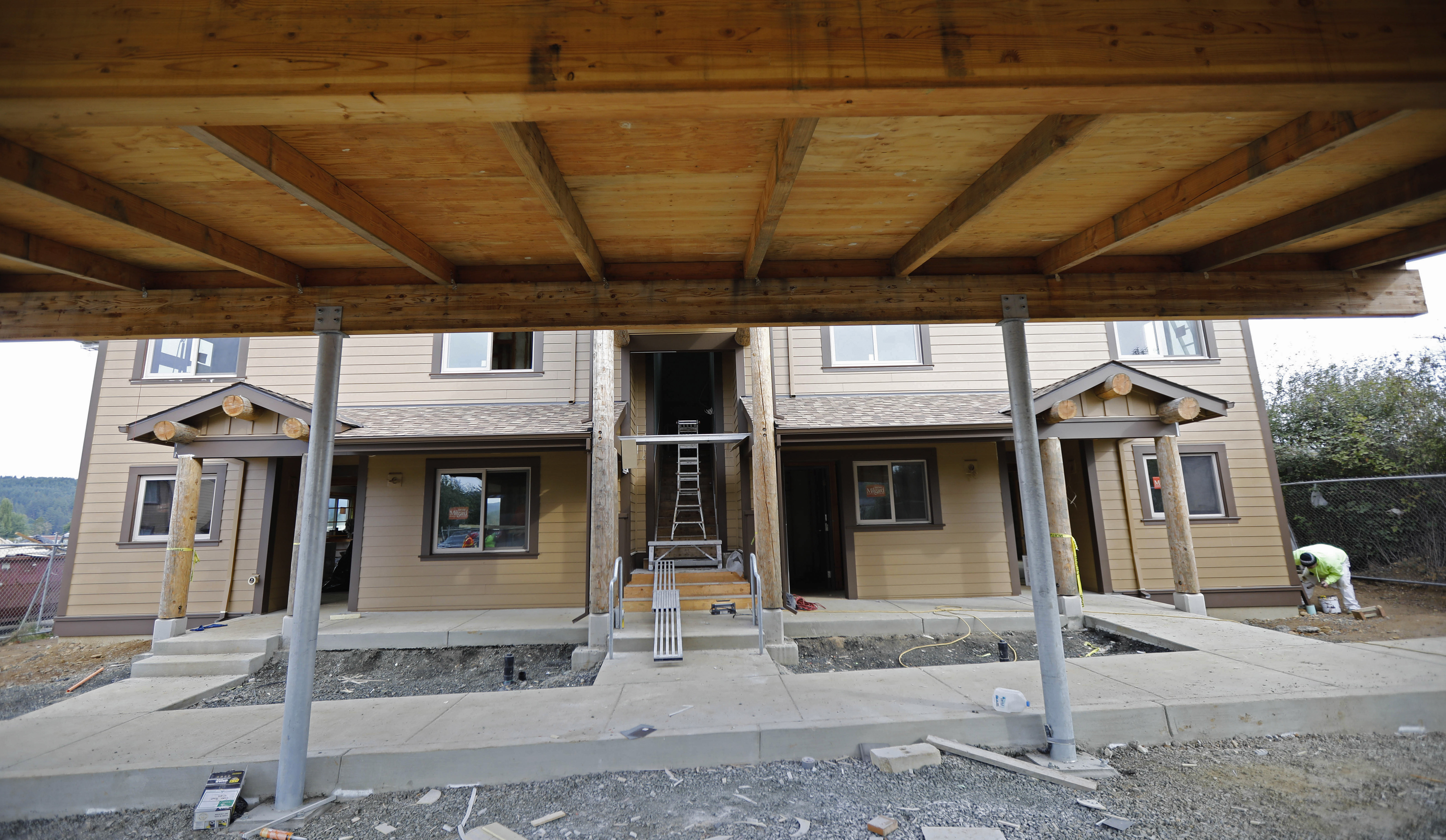 (Editor's note: This is the third in a series of Smoke Signals stories in 2019 that examine the infrastructure of Grand Ronde and how many Tribal members could conceivably return to live in the community safely and comfortably. The first two stories examined the area's water supply and transportation needs.)
By Dean Rhodes
Smoke Signals editor
The Grand Ronde Tribe's Strategic Plan states as a goal that it wants to "attract new Tribal members, diversify and grow the population, and promote a healthier, sustainable community."
If the Tribe is successful in accomplishing that goal, where is the growing population going to live?
The Tribe currently has 225 potential places where Tribal members can live in the Grand Ronde area, ranging from leased mobile home sites to Elder housing to low-income and market rate homes to apartments.
And there is consistently a waiting list for every conceivable housing option. Occupancy rates in 2018 were between 94 percent and 100 percent for all Tribal housing, according to the Housing Department's annual report.
"Our biggest waiting list is one bedrooms," says Housing Department Manager Shonn Leno, citing more than 20 people waiting on that particular Tribal housing option to open up. "Our Elder wait list is about the same. … It is really hard to forecast the turnover. Our oldest one-bedroom application is a person who applied in 2016. It can take a while."
Current housing
The first Tribal housing project, Grand Meadows, opened in 1997. It is a 36-lot manufactured home subdivision on Tribal property at McPherson and Grand Ronde roads that is available to Tribal members. Although the mobile homes are privately owned, residents pay a monthly land lease fee to the Tribe that is placed into an account to fund future infrastructure maintenance.
Elders housing (Ilip Tilixam) opened in August 2000 and now includes 61 units that include two-bedroom, one-bath units arranged in duplexes, triplexes and fourplexes. There also are three three-bedroom units specifically designed for grandparents who are raising their grandchildren.
Chxi Musam Illihi opened in June 2003 and now includes 108 units for mixed-income Tribal families and consists of one- to five-bedroom units. It consists of both low-income and market rate units. Low-incomes units, controlled by federal funding restrictions, are more basic housing while market rate units have higher-end materials, such as nicer flooring or countertops.
Chxi Musam Illihi apartments opened in May 2015 and features 20 units designed for single Tribal members.
In all, the estimated resident count in Tribal housing is approximately 500 people, Leno says.
Upcoming housing projects include a currently under-construction second phase of the apartment complex that will add eight more units in two separate buildings. In addition, the southwest corner at the intersection of Grand Ronde and Hebo roads will be the location of more Elder housing. The site will house 24 more units and may be open for occupation by late 2021 or early 2022.
The new apartments and additional Elder housing will increase the number of Tribal housing options to 257.
Housing Department Administrative Program Manager Joan Dugger says that the Tribe has applied for a $5 million federal grant that, if received, would allow the Housing Department to build out the planned 48 apartment unit complex on the north side of Tyee Road with 20 more apartments – five more buildings that include four apartments each.
"We have a decent chance at that," Dugger says.
Land availability plentiful
The Grand Ronde Housing Department is in an enviable "Field of Dreams" scenario: If they build it, Tribal members will come.
Land availability is not an issue, says Leno, who easily lists properties in Grand Ronde owned by the Tribe that could be used to build housing.
Sites include the 86.48-acre Rink property east of Grand Meadows, the eight-acre Windsor property south of Grand Meadows and east of the Grand Ronde Fire Station, and several smaller lots along Grand Ronde Road that are big enough for two or three lots.
"They are all close depending on how big of a neighborhood you want to build initially," Leno says. "We've looked at doing a pilot one initially to kind of show that we can do it here in Grand Ronde and that it will work."
Leno says that home ownership would fill a housing void in the area.
"If you look at the overall spectrum of housing, we have what I consider introductory housing. So a person could get in the introductory low-income housing. As they move up the (income) scale, they could actually rent a market rate unit and then there is kind of a void where a person does not have the opportunity for home ownership, but then we also have Elder housing on the other end," Leno says. "So the void we have is in the home ownership piece where a person could buy their own homes and move out of a rental."
Leno says a recent survey of Tribal members and employees is currently being analyzed to determine how many people are prepared to buy a home in Grand Ronde. Since the homes would be built on trust land, the Tribe would extend 99-year leases to homeowners, which would help them acquire traditional mortgages. The Tribe is also currently awaiting approval of its Tribal Leasing Ordinance from the Bureau of Indian Affairs that would allow the Tribe to write and approve leases locally instead of sending each and every lease away for federal approval.
Home ownership also could help retain professionals who work at the Health & Wellness Clinic who would like to move to Grand Ronde and not commute 20 or more miles, but currently can't find any place to live.
"Home ownership is our next phase of opportunity in Grand Ronde where people can own their own homes," Leno says.
Dugger adds that Tribal Council has made home ownership a priority. "All this survey information we are doing will result in developing a preliminary recommendation to council on how many and what we exactly think would be most likely for us to build," she says.
How it would work is still to be determined, but once a piece of Tribal land is identified for home development, the Tribe could contract with a home builder who would construct the homes for prospective buyers who would select their own floor plans and home options.
Lure of coming home
The lure of moving back to Grand Ronde is a highly individual decision, but Leno and Dugger say that reconnecting with culture and community are the biggest draws.
"People want to be part of something bigger than themselves," Leno says, adding that the distance from a large city and the pastoral setting are quickly morphing from being a detriment to an asset. "People are trying to get away from a busy life."
Elders like the proximity of the Health & Wellness Center, the Wellness Program regularly checking on them if they request it and the social and activity options offered by the Elders Activity Center.
Another nonissue is sewage disposal. Although the public sewage system is at capacity and has been since 2003, the two Tribally-owned sewage treatment plants located in Elder housing and Chxi Musam Illihi are at approximately 65 percent capacity, giving the Tribe room to grow, says Engineering & Public Works Manager Jesse White.
"They were built for expansion. We forecasted that Grand Ronde was going to grow and we built them accordingly," Leno says.
As reported in this series' first story, water is plentiful. Grand Ronde Community Water Association Manager Karl Ekstrom estimates that the association, which currently serves 960 members, could serve as many as 1,900 connections based on its engineer's estimates.
The challenges, Leno says, are not surprisingly connected with the federal government and its funding. Housing & Urban Development funding to maintain Tribal housing units has not received a cost-of-living increase recently while maintenance and repair costs increase.
Add to that an increasingly expensive number of units that are contaminated by drug usage and must be rehabilitated before they can be rented out and you have a situation where the Housing Department might have to curtail building because the funds are not available to maintain more units.
"The more you build, obviously the more you have to take care of," Leno says. "But they are not giving you dollars to do that. We can build, build, build, but we're going to eventually run out of money to maintain it."
Another big drawback is the lack of a nearby grocery store. Stores such as a Safeway or Albertson's are more than 20 miles away in McMinnville, Dallas or Lincoln City.
"Maybe when we get enough units and enough people here, that will be something we can support fully," Dugger says. "Right now we don't have the number of people who can sustain a grocery store. We're not there yet."
"As far as looking at starting a community, we have everything but that," Leno says. "We have fire. We have police. We have a lot of essential medical care close by. So that is like the one piece for people that is not here."
Despite any drawbacks, however, Tribal members are still interested in returning to their homeland and reversing the effects of the federal government's relocation efforts instituted following Termination in the 1950s.
Is there a maximum population for Grand Ronde?
"I have lived my whole life here," Leno says. "If you would have told me as a kid that you're going to have 500 people live out here right in this local area, everybody would have looked at you and said, 'Wow.' You can't really predict what it would look like. We have 500 people here and it seems like we're making it work.
"So if you added another 500, I'm sure you'd have those folks who'd say it's too crowded … but they would have said the same thing before we built any of this also. I think leadership does a good job of expanding where we need to expand based on our population increases. If it comes in increments and doesn't come in as an overall flood, I think we'll be just fine."