Gaming
General Council briefed on Spirit Mountain Casino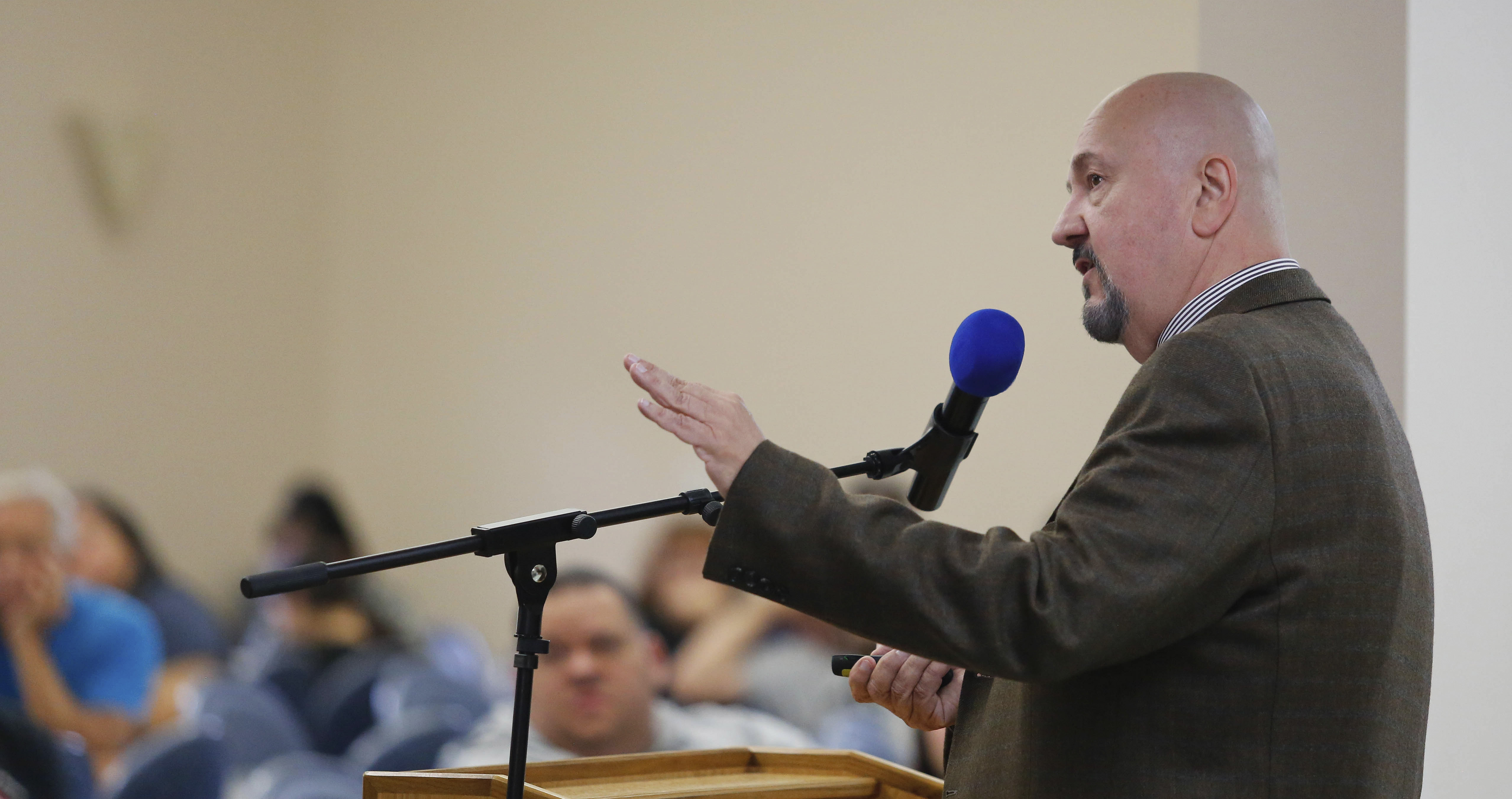 By Dean Rhodes
Smoke Signals editor
More than two years after the opening of the Cowlitz Tribe's Ilani Casino in April 2017, Spirit Mountain Casino General Manager Stan Dillon's assessment to the Tribal membership remains consistent – Ilani, and the Oregon Lottery, are tough competitors but Spirit Mountain is no lightweight either.
Dillon and Spirit Mountain Casino Executive Marketing Director Shawna Ridgebear gave the first presentation of the new General Council meeting cycle on Sunday, Sept. 8, in the Tribal Community Center.
Dillon said that although Ilani is getting more aggressive in comping high-roller players, Spirit Mountain is doing well, especially in the first seven months of 2019.
In 2018, the casino was 7.8 percent over budget and is matching budget projections so far this year.
Dillon said the challenges continuing to confront Spirit Mountain include a difficult hiring market in which the state unemployment rate is low and there are a reported 30,000 unfilled jobs in Oregon. In reaction, the casino is using gaming technology to make operations more efficient.
"Everyone is wanting help somewhere," Dillon said.
As far as gaming competition, Dillon pointed to the Oregon Lottery preparing to begin sports wagering and Ilani opening its convention center and convenience store as additional amenities at its Ridgefield, Wash., gaming facility.
In reaction, renovation work continues on the lodge to ensure Spirit Mountain remains competitive. Lodge renovations will continue through September 2020 because large portions are not being shut down, he said.
The casino also recently purchased 191 new slot machines and 46 upgraded slot machines, which represent 13 percent of the slots on the casino floor. "Those newer machines produce about three times more than the older games, so it is really important for us to do that," Dillon said.
Dillon said Spirit Mountain is close to renegotiating its compact with the state of Oregon to allow it to offer sports wagering as well. Chinook Winds in Lincoln City started offering sports wagering in August.
Other new amenities to look forward to at Spirit Mountain will be a 60-spot recreational vehicle park that will include hookups and WiFi. A completion date has not been set, he added.
Ridgebear said that casino losses in customers remain below projections in 2019. For example, the casino was projected to lose 44.3 percent of its customers in Portland after Ilani opened and that number stands at 21.9 percent. Overall, she said, the projected 32.1 percent loss in customers is actually 8.4 percent in 2019.
"In marketing, our goal is to adjust, measure and win," she said.
Ridgebear also gave an overview of various marketing campaigns, including the Tribe now having 16 billboards and six highway banners in the Portland and Salem metropolitan areas.
"You can't drive through Portland or Salem without seeing our messages," Ridgebear said.
She said that casino entertainment, which has featured several tribute shows recently, helps Spirit Mountain provide entertainment that can be offered at a reasonable price. Recent tribute bands have performed the music of The Eagles, Queen, Led Zeppelin and popular female country singers.
Unlike Ilani, which can leverage its connection to the Mohegan Sun in Connecticut in booking big-name acts, Spirit Mountain cannot book expensive acts and still offer reasonably affordable ticket prices, she added.
Spirit Mountain also has agreed to co-sponsor with Toyota the Portland Trail Blazers' 50th anniversary season and is gearing up to celebrate the casino's 25th anniversary in 2020.
In other action, Election Board Vice Chair Michael Mercier delivered the Tribal Council election results from Saturday, Sept. 7, that saw all three incumbents – Denise Harvey, Kathleen George and Jack Giffen Jr. – re-elected to three-year terms.
Iidavirre Mahto, Peter Grout and Earnest Norton won the $100 door prizes and Tyrell Soderberg, Connie Bobb, Wayne Peters, Nancy Norton and Michelle Anderson won the $50 door prizes. Bobb donated her winnings to the Veterans Special Event Board.
The next General Council meeting will be held at 11 a.m. Sunday, Oct. 6, in the Tribal Community Center.
General Council opened with a cultural presentation of drumming and singing by Tribal Council Secretary Jon A. George, Tribal Council member Lisa Leno and Youth Council members.
The entire meeting can be viewed by visiting the Tribal government's website at www.grandronde.org and clicking on the Government tab and then Videos.