Culture
Walking On -- Mary Ford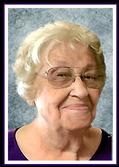 Mary Ford
April 5, 1935 – Aug. 22, 2019
Tribal Elder Mary Ford was born in Eugene, Ore., on April 5, 1935, to Irene (Cooper) and Russell Jeffers. She spent her early years on Wolf Creek with her parents and siblings.
Mary attended Crow High School, where she participated in many different activities and made numerous lifelong friends. While in school, she volunteered at the hospital where she was born.
After graduating from high school in 1953, she went on to complete business college in Eugene. Soon after, she began her professional life working in the accounting department at WT Grants. It was a chance encounter at a local diner in Eugene where Mary ran into her future husband and love of her life, Earl Ford. Within months, Mary and Earl were engaged and then married on July 3, 1956. They were blessed with their firstborn, Jeff, in 1957 followed by a brother, Timmy, in 1958. Sadly, Timmy passed away in 1961. Sisters Beth and Laurie joined the family in 1962 and 1963, respectively.
Earl established his career in the timber industry while Mary cared for the children and home. When their youngest child started grade school, Mary determined that staying home was not for her and made the decision to ask for a job at Crow Elementary School. At the time, the principal said there were no available jobs, but called Mary back the next day and asked if she was interested in doing playground duty. Mary said, "Of course," and with whistle in hand she began a 25-year career that brought her immense joy, love and happiness. Some of her fondest memories were made working at Crow Elementary and it gave the opportunity to touch so many lives.
Mary was a master craftswoman at knitting and crocheting and shared this gift with many people in her life. Be it a graduation, wedding or new baby, Mary often marked the occasion with one of her handmade afghans. Mary was the hub that kept the family going, providing the wonderful holiday meals and picnics for hunting and road trips; she did it all.
Aside from her family and all of the children that touched her life, Mary's greatest love and pastime was sports. Mary adored any and all sports. However, she particularly loved Crow Cougar sports. Mary was the ultimate fan and loved watching her own children participate, as well as every other children who participated at Crow sporting events. Mary was a girl's volleyball official for many years, which kept her close to the action.
As Mary got older, she developed a love for the Oregon Ducks, the Seattle Mariners and the Golden State Warriors. She knew the statistics and each player better than most sports reporters (this is not an exaggeration). She dazzled those around her with her knowledge and genuine love of athletics.
After Mary and Earl retired in 1994, they spent their time traveling around the country, and began gambling at local casinos. They also spent precious time with their children, grandchildren and great-grandchildren.
In 2008, Mary was diagnosed with a rare blood cancer. Earl and the rest of her family were with her throughout the 11-year battle. Mary fought hard and while she did she had the unwavering support of her lifelong friends, her hairdressers, coffee girls and her family.
Mary is survived by daughters, Beth (Dave) Petrushkin and Laurie (Brian) Coggins; granddaughters, Lindsey (Dusty) Harrah, Kaci (Chris) Stanley, Christina Ford and Jessica Egli; grandsons, Kevin Petrushkin and Jeremy (Kallie) Egli; and great-grandchildren, Evelyn and Bennett Harrah and Wyatt and Hadley Stanley.
If friends should desire, contributions can be sent to the Crow High Athletic Fund, 25863 Crow Road, Eugene, OR 97402.
A service will be held at noon Saturday, Sept. 7, at Musgrove Family Center, 225 S. Danebo, Eugene, Ore., with a reception to follow at the same location. A private family burial will follow the reception.