Tribal Government & News
Community Input meeting attracts 25 attendees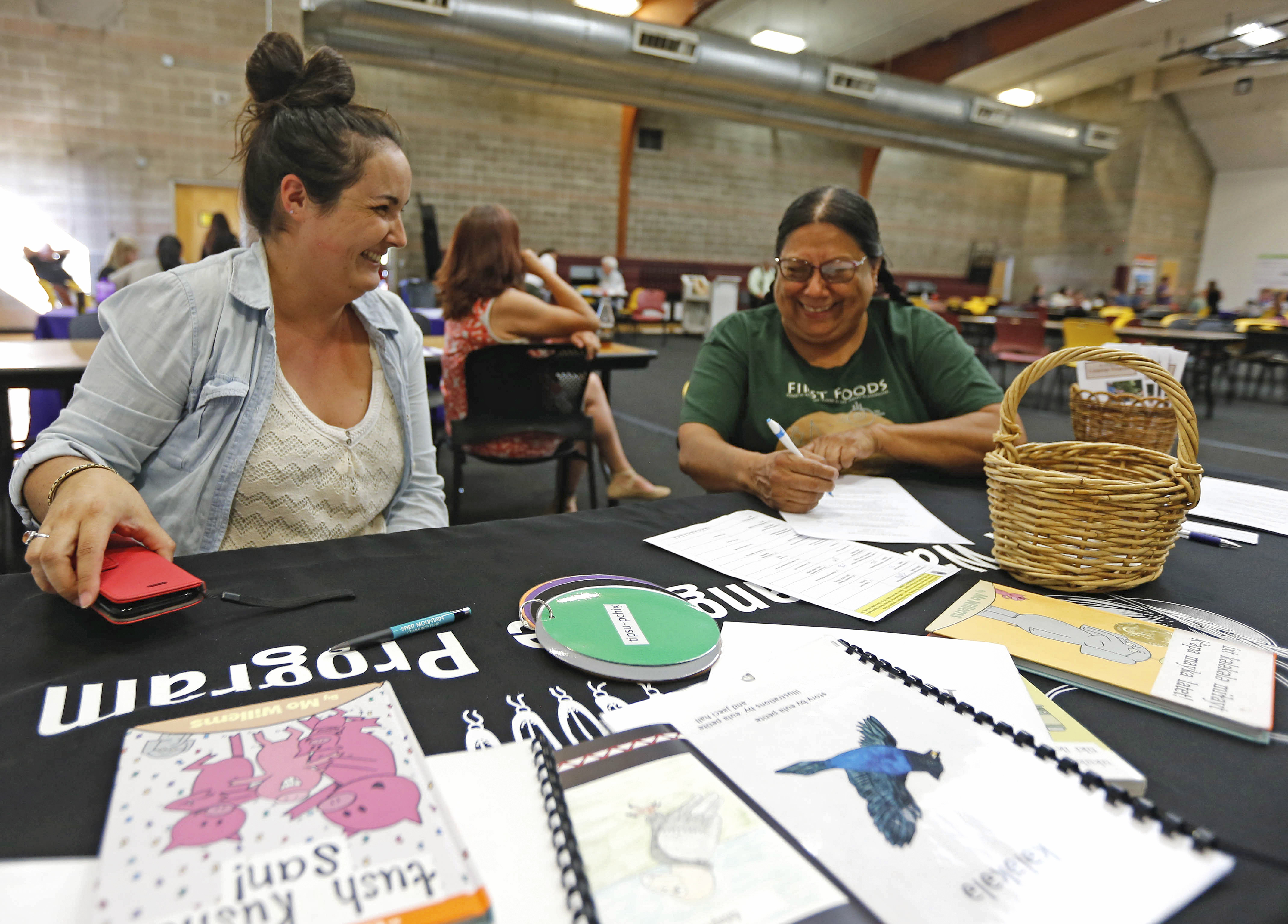 By Danielle Frost
Smoke Signals staff writer
As the new Young Child Wellness Community coordinator, Keri Kimsey looks for opportunities to connect with Tribal families to assist the Tribe's youngest members.
The annual Community Input meeting was a chance to do just that.
Kimsey's department was one of several represented at the event, held in the Tribal gym on Wednesday, June 12. It attracted approximately 25 people in addition to 30 staff members.
"People are interested in getting to know what we are doing here," she said. "That's good because this is a new position at the Tribe."
Kimsey's grant-funded job is through the Linking Actions for Unmet Needs in Children's Health, or LAUNCH, a childhood wellness program targeted at children from birth through 8 years of age. Its goal is to expand the use of culturally relevant prevention and wellness promotion practices in a range of child-friendly settings.
Kimsey carried a stack of surveys with her to the Community Input meeting, passing them out to whomever came by the table.
"I would encourage Tribal families with young children to let us know what their needs are," Kimsey said. "I can bring the surveys to them if it helps."
The event was organized by Planning & Grants Development Manager Kim Rogers, who said the main focus of the event was to review current projects and programs, take suggestions for improvements and use input for strategic planning.
"The input gathered at this event will be taken and used with different programs, grants and future plans," Rogers said.
The evening began with an invocation by Higher Education Manager Brian Langley before a dinner consisting of roast beef in gravy, mashed potatoes, salad and cookies.
Tribal Council members Jack Giffen Jr. and Michael Langley also attended.
Tribal Planning Director Rick George said the annual Community Input meeting is an opportunity to engage with the membership and find out more about their desires, needs and wants for the future of Grand Ronde.
"This provides an opportunity to collect important information that is required by grants," George said. "It's also a chance to hear from the community and put that into program planning."
Departments represented at the event included Tribal Police, Emergency Management, Housing, Education, Recreation, Natural Resources, Youth Prevention, Domestic Violence, Geographic Information Systems, Planning & Grants Development, Cultural Resources, Tribal Court, Social Services, Tribal Employment Rights Office, Employment, Food Bank, Behavioral Health, Vocational Rehabilitation, Dental, Child Wellness, Food Bank and Health & Wellness Center.
Tribal Elder Faye Smith was attending for the first time.
"I mainly came here out of curiosity," she said. "I wanted to see the different programs that were represented here and what they all had to offer."
Seven-year-old Tribal member KaLea Liebelt said she enjoyed visiting the Dental information table the most.
"I got a lot of stuff," she said, pointing to a bag filled with toothpaste, floss and toothbrushes. "I learned that you have to make time to brush your teeth. If not, you'll get cavities."