Culture
Walking On -- Brandon Thomas Clark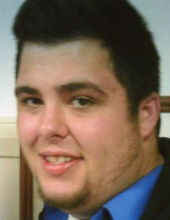 Brandon Thomas Clark
Oct. 6, 1990 – May 3, 2019
Brandon Clark of Clio, Mich., 28, walked on Friday, May 3, 2019, at his residence.
Funeral services will be held 3 p.m. Friday, May 10, 2019, at the O'Guinn Family Funeral Home in Clio. Kim Christensen and the Rev. Kyle Maddox will officiate with cremation to follow.
Family will receive visitors at the funeral home, 503 N. Mill St., Clio, from noon to 8 p.m. Thursday, May 9, and from 2 p.m. until the 3 p.m. service on Friday, May 10. In lieu of flowers, memorial contributions may be made to the family for Brandon's son, Easton's, education.
Brandon was born Oct. 6, 1990, in Flint, Mich., to Lorrie Bedard and Ryan Clark. He graduated from Clio High School in 2009. Brandon became engaged to the love of his life, Kayleigh Parkinson, in September 2016.
He was owner and operator of K&B Auto Detailing and More in Clio. Brandon was a member of the Confederated Tribes of Grand Ronde in Oregon. He enjoyed everything that had to do with music and loved playing his guitar. Brandon also enjoyed baseball, wrestling and getting tattoos. Everyone who knew him would say that was a family man with a heart of gold and would give you the shirt off his back. His best friends were his brothers and he was an extremely proud father.
Surviving are his son, Easton Clark; fiancée, Kayleigh Parkinson; parents, Lorrie (Chuck) Nettleton and Ryan (Susana) Clark; brothers, Ryan (Haley) Clark, Evan (Brooke) Clark, Perry (Marci) Nettleton and Jason Clark; grandparents, JoAnne Kondrat, and Bob and Martha Nettleton. He also was preceded in death by a grandmother, Thelma Jean Bedard.
To sign the family's guest book or share an online condolence, visit www.oguinnfh.com.