Culture
World War II veteran Herman Hudson honored with Quilt of Valor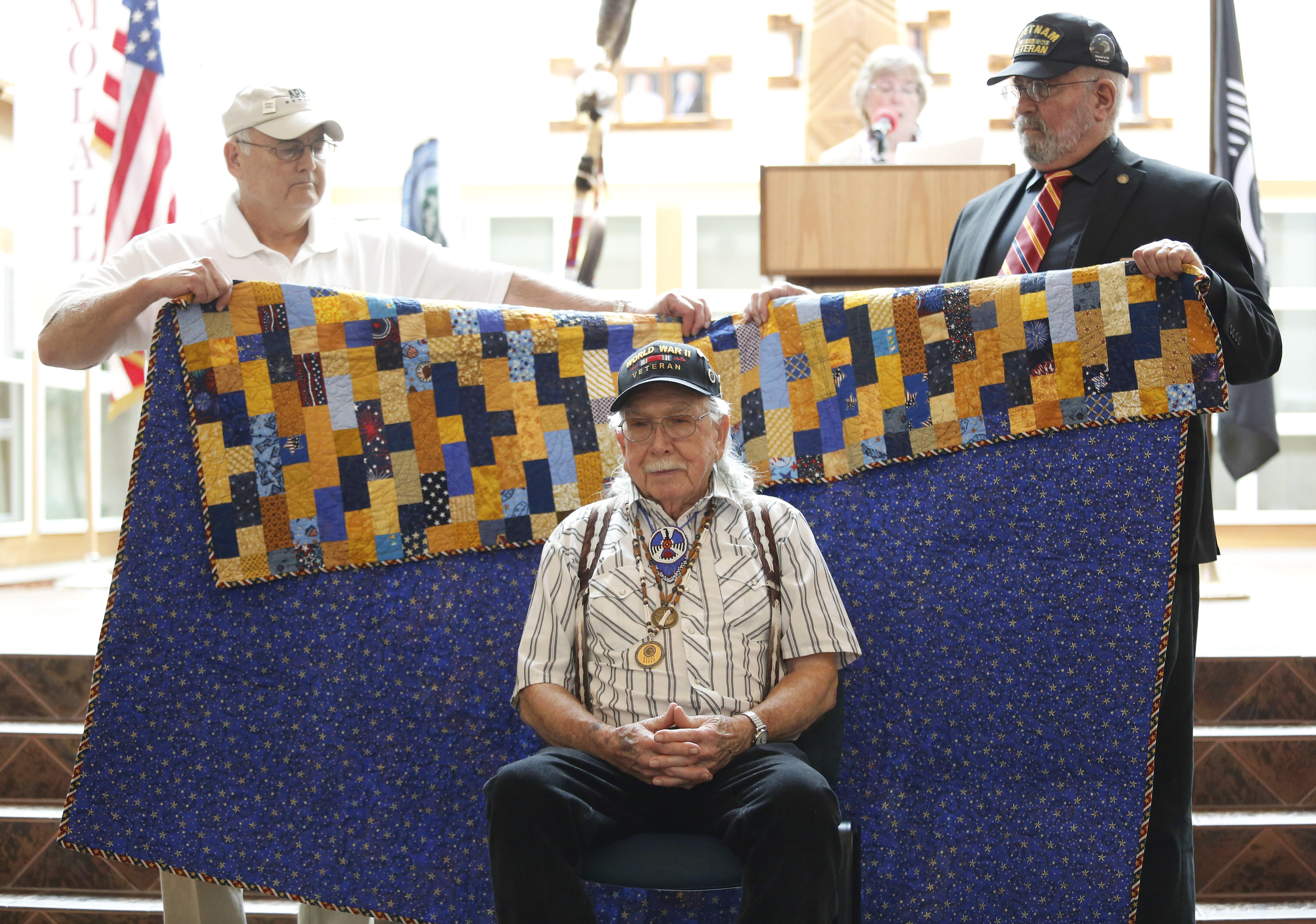 By Danielle Frost
Smoke Signals staff writer
Seventy-four years ago, veteran Herman "Junior" Hudson concluded his military service after serving in the Navy from 1942 until World War II ended in 1945.
On Friday, April 19, the 94-year-old Tribal Elder was honored with a Quilt of Valor in the Governance Center Atrium in front of a large crowd of family, friends, fellow veterans and Tribal employees. He is one of a few Native American World War II veterans still living and most likely is the Grand Ronde Tribe's last surviving World War II veteran.
Hudson, who still drives and is quick to smile, easily walked up to a podium to receive his quilt from fellow veterans and Quilts of Valor volunteers Bob Eldred and JV Torgerson.
"This is beyond words," he said after the ceremony had concluded. "To be honest, I am very humbled by it."
Hudson was nominated to receive the honorary quilt by Tribal Council member Steve Bobb Sr., a Vietnam War-era Marine Corps veteran who previously received a quilt and then was asked to nominate a worthy veteran to receive one.
"Junior, which he prefers to be called, is one of our beloved Tribal Elders," Bobb said. "He represents our Tribe and people with majestic dignity and vigorous energy. He is one of the 'Greatest Generation.' "
Hudson is the Tribe's fifth eldest Elder and the eldest male Elder.
Quilts of Valor are individually made and World War II veterans are currently being prioritized to receive them due to their advancing age.
Friday's ceremony began with a procession by the Grand Ronde Color Guard, followed by an honor song led by Cultural Advisor Bobby Mercier, Historic Preservation Technician Nicolas Atanacio, Cultural Resources Department Manager David Harrelson, Cultural Protection Specialist Chris Bailey, Cultural Education Coordinator Jordan Mercier and Cultural Collections Specialist Nick Labonte.
After an invocation by Air Force veteran and Tribal Elder Jerry George, Tribal Council Vice Chair Chris Mercier spoke to attendees.
"I always feel really inadequate when I am asked to speak at these events," he said. "Since I came back to the Tribal community, I have learned a lot about veterans, more than at any other point in my life. I can't imagine being 18 and serving in a time of war. Whenever we get a chance to honor veterans, we should jump at it. World War II, where Mr. Hudson served, was one of those times when the fate of the planet was hanging in the balance. On behalf of Tribal Council, I thank you."
Other Tribal Council members in attendance were Michael Langley and Secretary Jon A. George. Marine Corps veteran Reyn Leno and General Manager Dave Fullerton also attended.
Maureen Orr Eldred, the Oregon coordinator for Quilts of Valor, said that a passion for creating quilts provides the organization's volunteers an opportunity to acknowledge veterans.
"We quilters believe that the right way to handle any situation is to make a quilt," she said.
The Quilts of Valor Foundation was founded in 2003 by Catherine Roberts, a nurse in Delaware whose son was serving in Iraq. The first quilt was awarded in November of that year at Walter Reed Army Medical Center to a soldier from Minnesota who lost his leg in Iraq.
Since then, the foundation has awarded almost 213,000 quilts to military personnel and veterans.
"We're privileged to honor you today," Eldred said to Hudson. "You served our country when asked and then returned without acknowledgement. Thanks for your service."
Hudson attended high school in Keizer and Salem until his junior year at Salem's North High School, when he joined the Navy in 1942. He served in the South Pacific aboard the U.S.S. Nevada, escorting fleet oilers. He was discharged in 1945.
The quilt, "From Sea to Shining Sea," was designed in a medley of blues, creams and golds by Marianne Fons of Iowa, and pieced together by Tom Korn of Salem. After the quilt was wrapped around Hudson, he was gifted a traditional dentalium necklace made by Jon A. George, which was based on the colors of the World War II Victory medal.
Hudson's daughter, Kathryn Dunham of Lacey, Wash., wiped away tears as the ceremony ended.
"I have no words," she said. "He is the most amazing father ever and a caregiver to everyone and everything."