Tribal Government & News
General Council briefed on Social Services Department's successes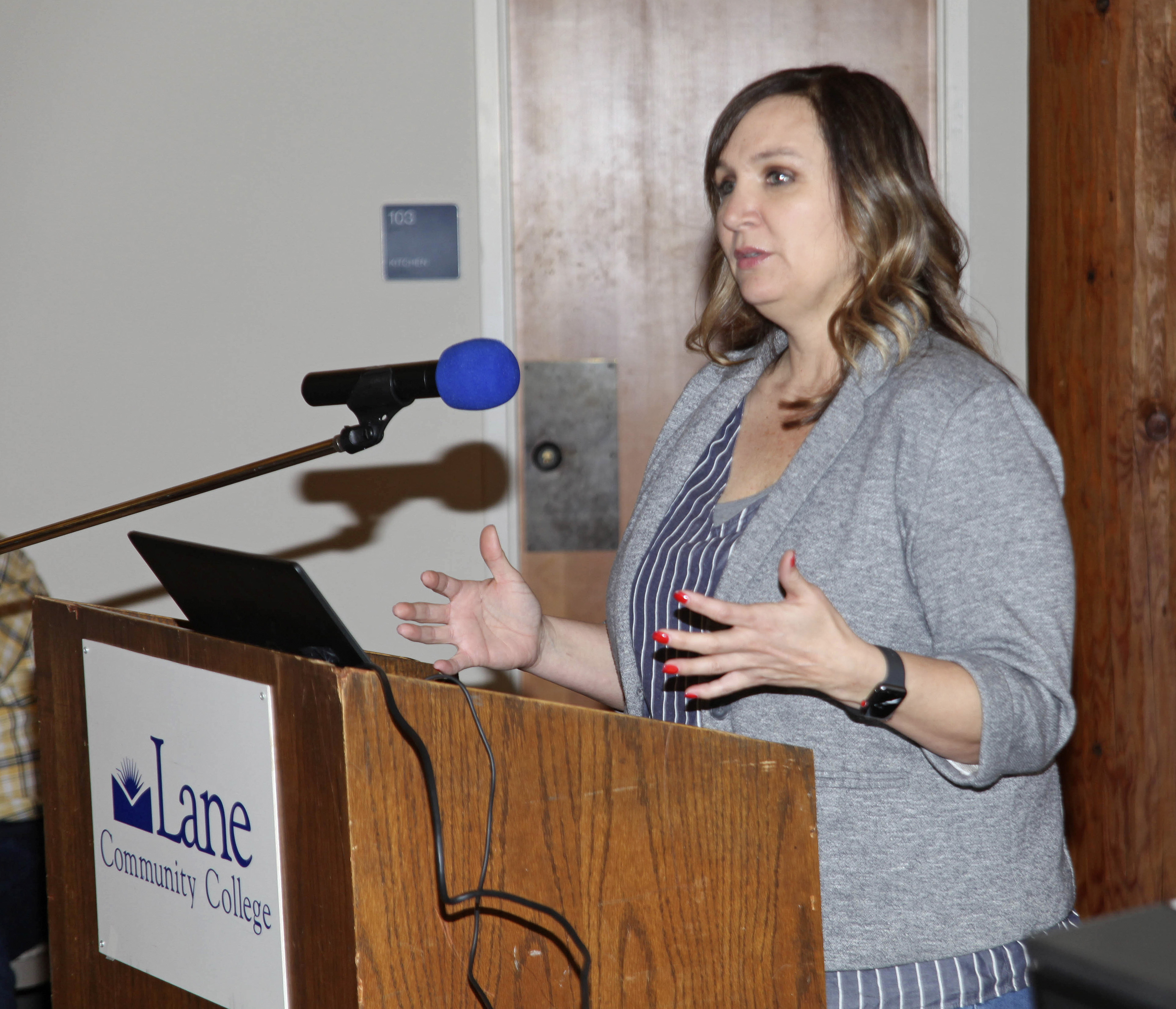 By Dean Rhodes
Smoke Signals editor
EUGENE – Social Services Department Manager Dana Ainam briefed General Council on her staff's accomplishments, including a substantial decline in Tribal children involved in the child welfare system, during the Sunday, April 7, General Council meeting held at the Lane Community College longhouse.
Ainam supervises a 27-member department that handles issues as diverse as child welfare cases, emergency assistance to Tribal members, domestic violence and employment training programs.
"We say that we are a program that is committed to providing a community of caring." Ainam said. "We want to be a program that provides safety for our community. We want to honor our culture and spirituality. We want to be a trustworthy team. We want to work in partnership with people. It's important to collaborate. We always want all of our members to have choice when they are coming to get services from us."
Ainam added that the Tribe's Social Services Department seeks to meet clients where they are, not where staff members might want them to be. In addition, there is no "wrong door," meaning Social Services staff members will help clients find the services they need even if it is not offered by their department or the Tribe.
Among the accomplishments Ainam highlighted is the decline in Tribal children involved in the child welfare system from 97 in 2007 to 34 in 2018.
In 2018, Social Services received 345 reports of abuse or neglect of Tribal children and only 114, or 33 percent, were assigned for assessment. Of those 114, nine resulted in the department filing petitions: two in Tribal Court and seven in state court.
"We're always looking at keeping families together whenever possible," Ainam said about the Children & Family Services program. "We really celebrate that success."
Social Services' emergency assistance programs helped 65 Tribal members in 2018, with the majority of those cases – 50 -- being help in paying rent. In addition, 219 children were helped by the school clothing program, which includes income eligibility requirements, and 675 were helped through the school supply program.
Ainam said that the two employment programs in her department – 477 and vocational rehabilitation – helped a total of 158 Tribal members with a combined 60 percent success rate.
Social Services also supervises the Men's Transitional House near Uyxat Powwow Grounds, which currently houses an average of three men monthly, and is working on revitalizing the domestic violence program with new Program Coordinator Danielle Murrell on board since September.
Ainam concluded her presentation by detailing the "learning lessons" her department has experienced, including gaining community member trust, staying committed to departmental values and beliefs, being consistent with clients and keeping staff members trained and motivated.
"Together, we strengthen our people," Ainam said.
Ainam fielded four comments and questions from Tribal members and Tribal Council members following her presentation.
Michelle Volz, Connie Bobb, Barbara Feehan, Oidavirre Mahto and Luke Volz won the $50 door prizes and Russell Wilkinson, Debi Anderson and Bob Chapman won the $100 door prizes.
The next General Council meeting will be held at 11 a.m. Sunday, May 5, in the Tribal Community Center in Grand Ronde.
After lunch, the last of three Community Input meetings was held, soliciting possible topics to be included as advisory votes on the September Tribal Council election ballot. About 20 Tribal members remained to provide input during the meeting, which was moderated by General Manager David Fullerton.
The meeting opened with a cultural presentation. Tribal Council Secretary Jon A. George drummed and was joined by several members of the Youth Council in singing.
The entire meeting can be viewed on the Tribal government's website at www.grandronde.org by clicking on the News tab and then going to Videos.