Culture
Spirit Mountain Community Fund tops $80 million in giving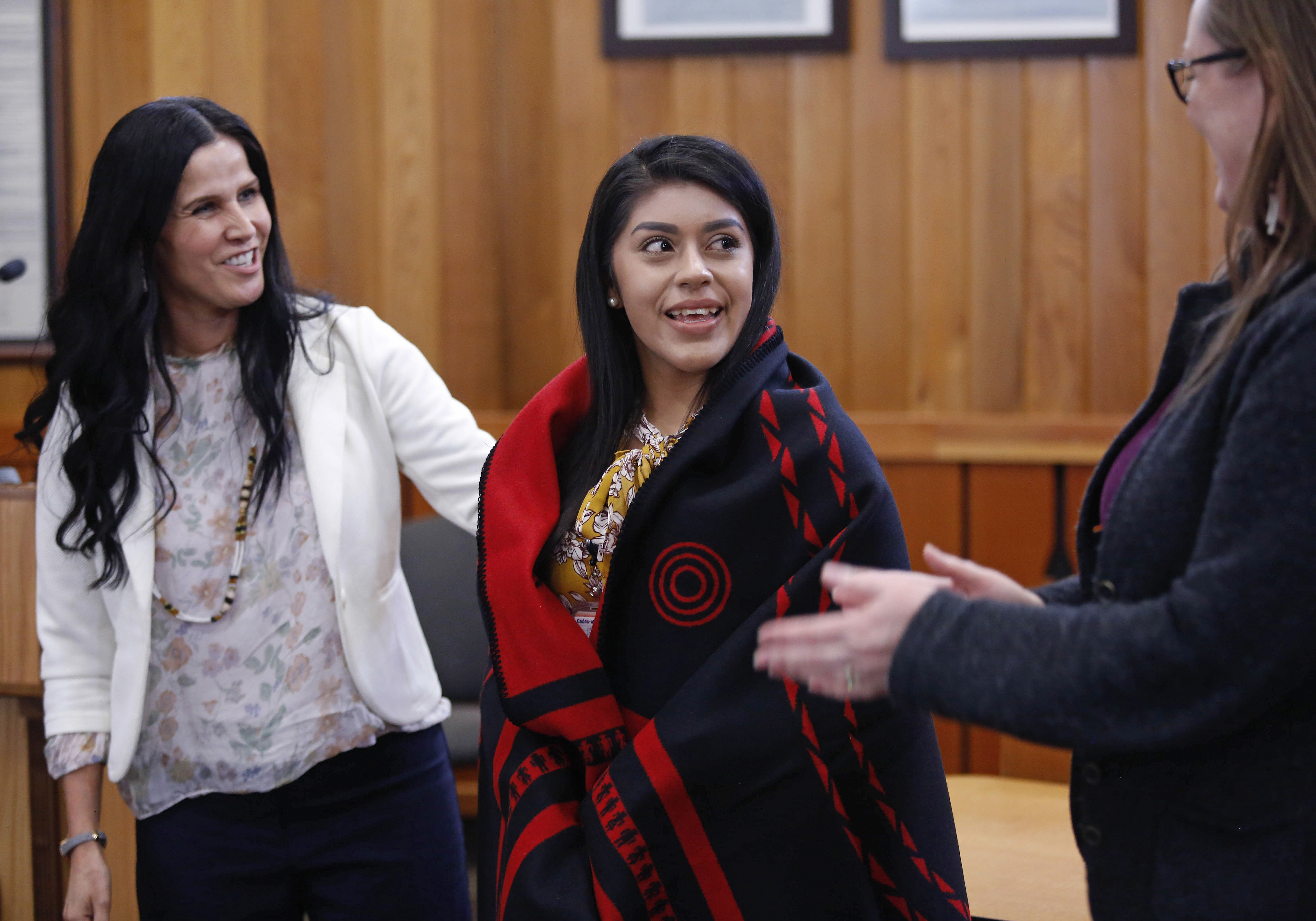 By Danielle Frost
Smoke Signals staff writer
Spirit Mountain Community Fund, the philanthropic arm of the Confederated Tribes of Grand Ronde, surpassed the $80 million mark in giving when it awarded $544,500 in grants on Wednesday, March 13.
Sixteen large grants and eight small grants were awarded during the first-quarter check presentation held in the Governance Center Atrium. The grants included three arts and culture projects, nine education projects, one environmental preservation project and 11 health projects.
Since its inception in 1997, the Community Fund has awarded 2,727 grants to 1,139 nonprofit organizations for a total of $80.47 million in giving. The Community Fund receives 6 percent of Spirit Mountain Casino's proceeds to distribute to nonprofits in 11 northwest Oregon counties.
Tribal Elder and former longtime Tribal Council Chairwoman Kathryn Harrison opened the check presentation with a prayer and Tribal Lands Department Manager Jan Looking Wolf Reibach performed on Native American flute.
Spirit Mountain Community Fund Executive Director Michael Cherry introduced Tribal Council members in attendance, which included Tribal Council Secretary Jon A. George and Kathleen George, who also serves on the Community Fund Board of Trustees.
Attendees then watched a 14-minute video that surveyed the Tribe's history and featured organizations that have been helped by Community Fund grants.
Community Fund Program Coordinator Angela Sears discussed new initiatives the fund is currently working on, including starting a podcast and newsletter, as well as the creation of a wall dedicated to the Community Fund that soon will be erected at Spirit Mountain Casino.
The Community Fund features a different nonprofit organization at every quarterly grant presentation. The first quarter featured ChickTech, which helps young women get interested in the male-dominated field of technology.
Chief Executive Officer and founder Janice Levenhagen-Seeley said her experiences of trying to get hired and then work in a field dominated by males prompted her to start the nonprofit, which now has 27 chapters across North America and had 1,500 volunteers in 2018.
"Our mission is to get more girls interested in technology," Levenhagen-Seeley said. "We're excited to envision a future for the technology industry that includes all women across the United States."
She added that she felt "uplifted and joyful" following the site visit conducted by Cherry and Sears.
Sears then read off this quarter's grant recipients while Cherry and Kathleen George distributed the checks.
Large grants recipients were:
Clackamas Women's Services of Oregon City, $50,000 for expanding its children's program;
Portland Homeless Family Solutions, $50,000 to help prevent homelessness for families with children;
St. Vincent de Paul Society of Lane County Inc. of Eugene, $50,000 for its transitional housing project;
ChickTech of Portland, $35,000 to foster technology education for girls in rural Oregon;
Dental Foundation of Oregon in Wilsonville, $50,000 for its tooth taxi;
Boys & Girls Clubs of Emerald Valley in Eugene, $20,000 for its Healthy Habits program;
Children's Institute of Portland, $35,000 for culturally responsive support to infants and toddlers at Earl Boyles Elementary School;
Long Tom Watershed Council of Eugene, $25,000 to fund Native youth internships to support traditional ecological knowledge;
All Hands Raised of Portland, $25,000 to strengthen kindergarten transition;
Bridgeway House of Eugene, $25,000 to fund a home therapy program for autistic children;
Downtown English of Springfield, $20,000 for its literacy program;
KindTree-Autism Rocks of Eugene, $12,000 for its Training for Success program;
Willamette Riverkeeper of Portland, $20,000 for its Pearl Shells of Wisdom effort;
Micro Enterprise Services of Oregon, $30,000 to provide business training and capital for immigrants and entrepreneurs of color;
Asian Pacific American Network of Oregon, $7,500 for afterschool programs to build Pacific Islander youth leadership skills;
August Wilson Red Door Project of Portland, $40,000 for its "Evolve!" project.
Small grants that were distributed included:
Tyron Life Community Farm, $7,500 for its "Staying Sacred in a Violent Society" project;
Oregon Children's Theater Company of Portland, $5,000 for "Ticket to Read: Linking Literacy to Live Theatre";
Gleaners of Clackamas County Inc. of Oregon City; $7,500 to purchase a warehouse forklift;
Florence Food Share, $2,500 for health projects;
Philomath Youth Activities Club Inc., $7,500 for its special dietary needs project;
Kukatonon of Portland, $5,000 to expand its African dance troupe;
Mid-Valley Healthcare Inc. of Lebanon, $7,500 for its "Next Steps" project;
William Temple Housing of Portland, $7,500 for its family counseling program.
The Community Fund also raffled off an Ikanum Pendleton blanket at the closing of the check presentation that went to Mid-Valley Healthcare.
"On behalf of Spirit Mountain Community Fund, the Board of Trustees and Tribal Council, we want to say hayu masi for everything that you do to make Oregon a brighter and better place," Cherry said. "Today, we celebrate you, your organization and your steadfast work to fulfill our mission and our vision at Spirit Mountain Community Fund."
"I want to thank you all, each and every one of you, for the work that you do in your community," said Kathleen George. "This is what Spirit Mountain Community Fund was created for, to invest in our communities at the grassroots level, to invest in the citizens who in their community see a problem, see a need and they step up and say, 'I can make that better.' So I want to thank each and every one of you for doing that."
Tribal grants also were funded in the first quarter, which totaled $650,000. Those grants included:
$84,000 to the Burns Paiute Tribe to fund a cultural and heritage center;
$75,000 to the Confederated Tribes of Coos, Lower Umpqua & Siuslaw Indians for a Tribal museum and cultural center;
$80,000 to the Confederated Tribes of Siletz Indians for phase one of Siletz River habitat restoration;
$75,000 to the Confederated Tribes of Grand Ronde for the Grand Ronde Depot preservation project;
$84,000 to the Confederated Tribes of Umatilla Indian Reservation for furniture, fixtures and equipment for an education facility;
$84,000 to the Coquille Indian Tribe for construction and site preparation for the Ko-Kwell Wellness Center;
$84,000 to the Confederated Tribes of Warm Springs for the Old Historic Commissary rehabilitation construction project;
And $84,000 to the Klamath Tribes for a water preservation project.