Tribal Government & News
Oregon Tribes tell their stories during State Capitol event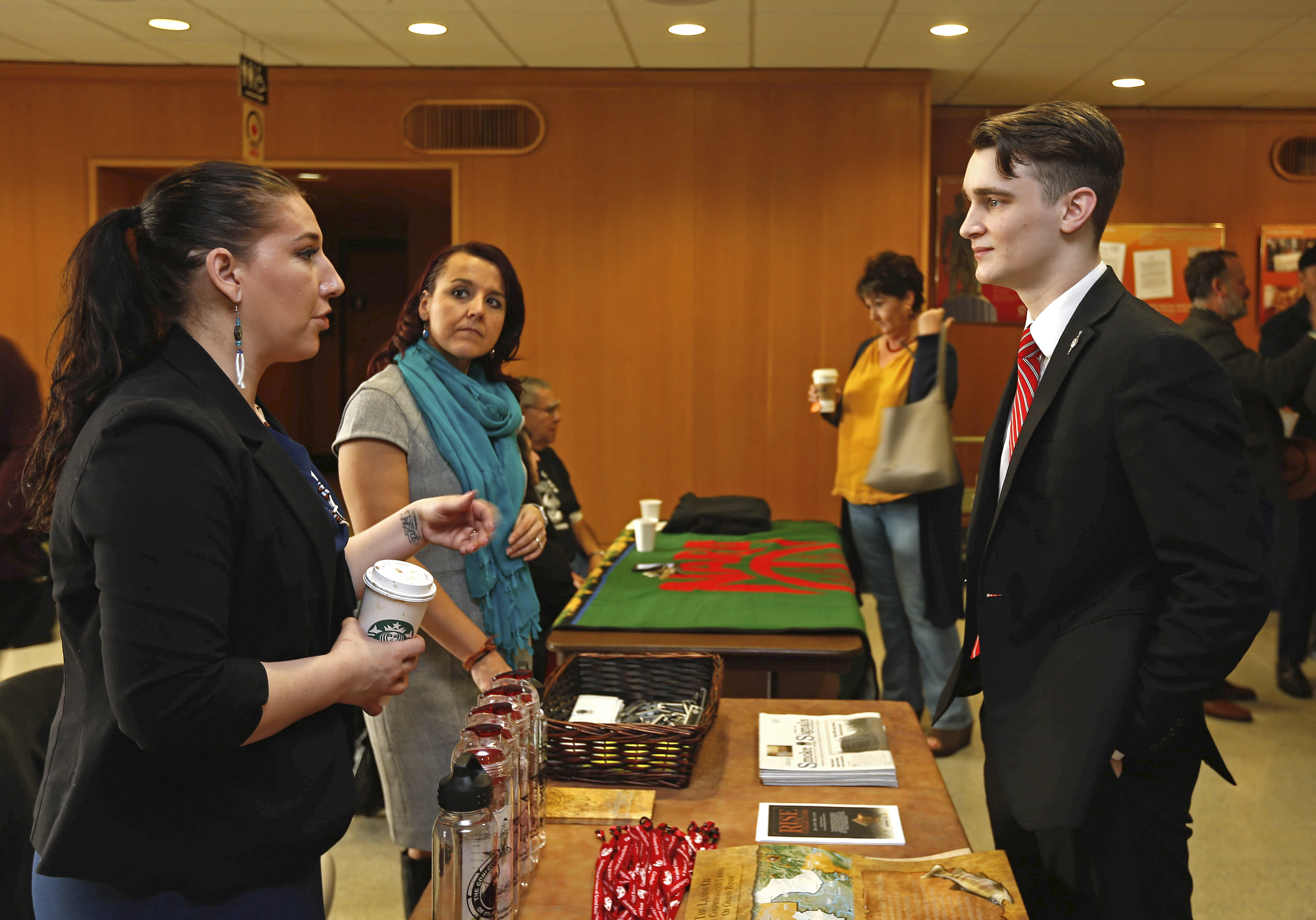 By Danielle Frost
Smoke Signals staff writer
SALEM -- Steven Richmond became interested in learning more about Oregon's first peoples while taking a Native American legal studies class in college.
"I've learned a lot about Tribal issues and want to know more," the Western Oregon University sophomore said.
Since Richmond is also serving as an intern for Oregon Rep. Dan Rayfield of Corvallis, Tribal Legislative Information Day at the State Capitol on Thursday, Feb. 21, provided ample opportunity to visit with representatives from Oregon's nine federally recognized Tribes.
Richmond headed to the Confederated Tribes of Grand Ronde's table first because his legal studies class is co-taught by Tribal member and lobbyist Justin Martin. There, he chatted with Tribal Council Chief of Staff Stacia Hernandez and Deputy Press Secretary Sara Thompson.
"I want to learn more about what the priorities are," he said.
"Who We Are" was the theme of Tribal Legislative Information Day.
Held annually at the State Capitol, the event provides an opportunity for Oregon's Tribes to highlight who they are and what makes Tribal governments different from the various special interest groups and stakeholders with whom legislators and state agencies mostly interact.
Hernandez said the best part about the event is the opportunity for networking.
"It's a chance to work with legislators and educate folks who come in about the Tribe," she said. "We also network with other Tribes across the state."
Hernandez added that Information Day is an important opportunity to correct misconceptions Oregonians may still have about Tribal people.
"A lot of people are completely unaware of the rich history of the Tribes in this state," Hernandez said. "We have come a long way in that regard, but many still do not know the history and the work that we do in the community."
Spirit Mountain Community Fund Director Michael Cherry and Program Coordinator Angie Sears were on hand to answer questions about the philanthropic arm of the Tribe, which awards grants to benefit qualified nonprofit organizations in 11 western Oregon counties, as well as to other Oregon Tribes.
"I think it's important to interact with all of the different Tribes and talk with other people," Sears said. "That way we learn more about what they are doing and their services."
The Confederated Tribes of Grand Ronde's giveaway table included ceded lands maps, the Community Fund's annual report, copies of Smoke Signals, notepads, pens, keychains, lanyards, water bottles and highlighters.
Grand Ronde Tribal Council member attendees included Vice Chair Chris Mercier, Secretary Jon A. George and Lisa Leno. Other staff members in attendance were General Manager David Fullerton, Finance Officer Chris Leno and Tribal Council Administrative Assistant Shannon Ham-Texeira.
The Tribe provided a light breakfast and the Legislative Commission on Indian Services provided coffee and water.
During the four hours the Tribes were at the Capitol Galleria, a steady stream of school groups, Capitol staff, agency directors and staff, legislators and staff, lobbyists and members of the public visited the tables.
Tribal Legislative Information Day has been held for more than 13 years. The Legislative Commission on Indian Services serves as event host along with fellow commission members and staff. 
After missing the event last year due to inclement weather, the Native American Rehabilitation Fund returned and brought 1,000 cookies in lieu of frybread to hand out to attendees. Their table, next to Grand Ronde's, proved to be a popular spot for attendees.
Other Tribal tables included information on governmental structure, pottery, baskets, first foods, stone tools, Native plants, youth and Elders programs, treaty information, health programs, social service offerings, maps and bead work.
"Tribal Information Day at the Capitol was a success because Oregon's Tribes proudly displayed information about (themselves)," said Danny Santos, interim executive director of the Legislative Commission on Indian Services. "Legislators, staff, lobbyists and the general public had the opportunity to be educated on Tribal matters. Whether it was about history, culture or policy, people got to learn from the different and unique perspective of Oregon's sovereign nations. The Legislative Commission on Indian Services appreciates the participation and support of Oregon's Tribes and the Native American Rehabilitation Fund."
It was Lisa Leno's second year attending since being elected as a Tribal Council member in September 2017. Last year she wasn't sure what to expect, but this time around she said she enjoyed the opportunity to visit with other Tribes.
"I really enjoyed it last year, but in my second year it's a chance to reconnect with people," Leno said. "All the people I've seen this year are those I worked with in Social Services so it's been a lot of fun. I enjoy being here. It's an opportunity to share about different Tribal issues with each other and to reconnect. It's also a good opportunity to educate the community about our Tribe. Everyone has done a great job of giving a glimpse of who we are as a people."